City break in Magdeburg. Active leisure ideas for Magdeburg - attractions, recreation and nightlife
Magdeburg offers various entertainments fitting every fancy to its guests. The city visitors will get a chance to explore the local natural attractions and recreate in beautiful parks, walk through exciting colorful marketplaces and visit different shopping centers and in the evening set off to one of the night clubs. Established in 1950 the Zoological garden of Magdeburg has turned to an excellent place of family recreation. The total floor area of the garden equals 12 hectares. Its territory hosts more than a thousand of animal species brought from different parts of the world.
1. Banks and state institutions get open not later than 8.30 and work till 17.30 – 18.00. The stores get open not later than 9.30, the upscale malls and department stores can be open till …
Open
The garden features a magnificent artificial pond, giraffe house as well as numerous enclosures with exotic animals. Another attractive park is set in the bottom land of the Elbe river. Its opening was held not long ago – in 1999. The Magdeburg park offers to its guests to try different incredible attractions and roundabouts and the fans of quiet leisure will have a chance to enjoy walking through the scenic garden.
The fans of the outdoor leisure will love the Grand Krakow meadow. The area of this nature reserve also hosts a beautiful garden, sport grounds, a large stage for holding different events and entertaining centers for the youngest visitors. Copyright www.orangesmile.com
The City Carré Magdeburg shopping center is placed not far from the railway station. The center is of immense popularity among city residents and guests. Among dozens of stores and departments one will find the shops and boutiques of different trends. The center offers the upscale clothing stores, perfume showrooms and jewelry boutiques and popular supermarkets. After a long shopping tour the visitors of the center can relax and recreate on one of the benches and enjoy the live plants or visit the neighboring café.
Near Magdeburg Railway Station, you will find the popular shopping center City Carré Magdeburg, one of the biggest and most visited in the city. A significant part of its stores set very …
Open
One of the favorite types of active entertainment in the capital of Saxony-Anhalt is air tours, which provide a unique opportunity to fly a private plane or helicopter. Of course, not as a pilot (you will be explained the basics of aircraft managing, though) but as a passenger. The wonderful tour, thanks to which you can feel the adrenaline coursing through your body, is complemented by amazing views from the aircraft's window. Those who wish to play golf will be happy to explore a golf club that bears the city's name and have a good time enjoying the perfectly organized game process and picturesque green landscapes. Nearby is Reitclub Herrenkrug Equestrian Center where you can have a wonderful time mastering horseback riding.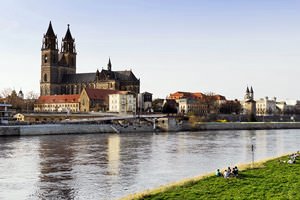 Carl Miller Bad will be a great swimming complex for those wishing to swim a lot. However, the outdoor center is only available in the summer season. Beautiful picnic and sunbathing areas complement the swimming center in the best way possible, making it a wonderful place for family recreation. In Nemo Center, you can find not only wonderful pools with several water slides for small tourists, but also thermal zones, a jacuzzi, and a sauna. Since the complex is indoor, visitors have the opportunity to visit it all year round. Apart from that, you can sunbathe, visit a cafe on-site and have a good time in lounge rooms.
Discovering the architecture of Magdeburg from bird's eye view! Cathedral of Magdeburg, St.-Johannis-Kirche, Hyparschale, Sternbrucke, all those monuments are defining the image of Magdeburg …
Open
Near Nemo is Elbauenpark, a great place with a pastoral atmosphere where it is always nice to walk. A tourist bus runs around the park, which is striking with its magnificent green landscapes. You can also find a mini-farm with domestic animals and a playground for children. Besides, visitors to the park would be happy to check out several interesting places: Messe Magdeburg that often holds exhibitions and festivals, Seebuehne with its great venue for musical and theatrical performances, as well as Schmetterlingshaus, which houses a magnificent collection of butterflies and lizards. This is a real tropical paradise, but absolutely safe, unlike the wild jungle.
Fans of colorful performances are encouraged to visit Kabarett Magdeburger Zwickmuehle and watch one of its great shows. If you'd rather prefer movie premiers, you'll certainly appreciate CinemaxX, the most popular cinema in town. The second most popular one is CineStar, therefore it is worth going here if there are no tickets left in the above cinema. Those interested in sports competitions should head to MDCC-Arena or GETEC-Arena where football matches are held. If you prefer watching sports over a glass of beer in a cozy atmosphere, it would be worthwhile to mention Roter Stern sports bar.
Kloster Unser Lieben Frauen, Altes Rathaus, Bordelandhalle, as well as many others, they all become the world's cultural heritage objects and remain as iconic monuments for Magdeburg …
Open
Laser Planet is another great center for those who want to spend time actively. As is clear from the name, its visitors can play laser tag as a team with friends or family and thus increase the level of trust between the participants. The most popular escape clubs in Magdeburg are EscapeVenture with its mystical and scientific rooms and Mission Exit, which offers visitors to find real treasures. Your quest must be completed in 60 minutes. The capital of Saxony-Anhalt boasts several wonderful bars and clubs where you can have a good time after dusk. These include lounge bars such as CoCo-Bar and Cocktailbar One, Montego Beach Bar, as well as the bars called The Hyde and Schweizer Milchkuranstalt Fürstenwall offering an impressive beer list.

This guide on active recreation and leisure in Magdeburg is protected by the copyright law. You can re-publish this content with mandatory attribution: direct and active hyperlink to
www.orangesmile.com
.
City tours, excursions and tickets in Magdeburg and surroundings
Reference information
National and city parks around Magdeburg
♥ National Park 'Harz' , 85.9 km from the center.
On the map
Photo
♥ National Park 'Hainich' , 143.5 km from the center.
On the map
Photo
Amusement parks near Magdeburg
♥ Amusement park 'Erlebniswelt Seilbahnen Thale' Thale, 60.3 km from the center.
On the map
Photo
♥ Amusement park 'Erlebnistierpark Memleben' Memleben, 96.9 km from the center.
On the map
Photo
♥ Amusement park 'Belantis' Leipzig, 108.2 km from the center.
On the map
Photo
♥ Amusement park 'Hugo Haase Park' Stellingen, 112 km from the center.
On the map
Photo
Michelin-starred restaurants in Magdeburg
♥ Restaurant 'Landgasthof Bauernstub'n' Niedere Börde-Dahlenwarsleben. Type - Classic cuisine|Creative|Country. 9.7 km from the center.
On the map
Photo
Photogallery of picturesque Magdeburg
Search for active leisure and attraction spots on Magdeburg map
City break ideas for neighbours of Magdeburg
Guide to your best city break in Magdeburg - popular places for recreation and leisure. Things to do during the day in Magdeburg - attractions, parks, beaches, aquaparks, racing tracks, biking trails or waterski. Recommendations (with addresses, phone numbers and links) where to spend your time in the evening (bars, discos, clubs, etc.). We share some good ideas and the question 'What to do in Magdeburg?' disappears immediately.