Shopping in Magdeburg - authentic goods, best outlets, malls and boutiques
Near Magdeburg Railway Station, you will find the popular shopping center City Carré Magdeburg, one of the biggest and most visited in the city. A significant part of its stores set very attractive prices. Here you can buy good new clothes, shoes, and accessories, as well as cosmetics and perfumes. Year-round sales in the shops make the mall even more attractive. Besides shops, a wide selection of restaurants and cafes is available to customers.
The most popular children's landmark in Magdeburg is Zoologischer Garten. This zoo is well-known for its beautiful decoration. It has plenty of greenery and equipped places for …
Open
Nearby is EldoRado specialized store, which is especially popular with active tourists. It sells bicycles and various accessories for them. Those who like cycling tours will be offered a large selection of convenient backpacks and bags, gloves, and bicycle spare parts, which can make two-wheeled vehicles as comfortable as possible.
Thrifty tourists should pay attention to Worhl store that offers its customers men's and women's clothing from the popular brand Esprit. This one is noteworthy for year-round sales allowing to buy clothes and accessories at a discount of up to 50%. Despite the regular huge discounts, all the products are of high quality here. Copyright www.orangesmile.com
Magdeburg features a vast choice of restaurants, bars, pubs and cozy coffee houses. The Landhaus Hadrys restaurant is an attractive gastronomy establishment serving ethnic cuisine. There one …
Open
Magdeburg has several great shopping passages. One of the largest is Allee-Center Magdeburg that houses shops of various profiles. Besides clothes and shoes, they sell interesting home decorations, jewelry, and souvenirs. On the ground floor, there is a popular supermarket, as well as several cozy cafes where you can buy take away sweets.
Boerde Park is a relatively small shopping center, but the range of interesting goods presented here is still pretty wide. A large part of the shopping space is occupied by a supermarket, where, in addition to products and fresh pastries, they sell interesting household goods and children's toys. A souvenir shop located on the ground floor of the mall offers a large selection of postcards, magnets, and t-shirts, and women will love cosmetics stores.
Magdeburg is famous for its amazing historical traditions and holidays. Here, interesting symbols of national culture can be seen at every step. One of the most famous natives of the city is …
Open
FLORA-PARK Shopping center is largely focused on fans of the modern fashion. It has interesting youth-oriented clothing and footwear stores. Women are attracted to the mall by its large Thaha cosmetics store, which sells very beautiful cosmetic gift sets. It will be nice to visit the shopping center with children, for whom playgrounds and rides are equipped here.
Those with a sweet tooth would probably be interested in Bolchen Bonbonmanufaktur Magdeburg, a shop specializing in all kinds of sweets. Many of the signature sweets presented here are handmade, so they cannot be found in other shops in the city. All the sweets in the store are sold by weight, so even thrifty travelers will be able to purchase some interesting sweet souvenirs for loved ones.
The first reference of Magdeburg dates back to the 805. The great many of significant events embodied in the city landmarks and sights took place in the 12 centuries of the city history. The …
Open
A very interesting store is Die Magdeburger Salzgrotte, which is recommended for ladies who prefer organic cosmetics. It shares the same building with a salt cave, offering customers a large selection of natural sea salt with various flavorings, as well as creams for different skin types and other care products. Die Magdeburger Salzgrotte employs experienced professionals who are always ready to help you make sense of the variety of goods.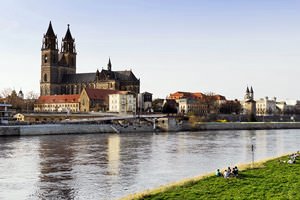 The main shopping streets of the city are Breiter Weg and Ernst Reuter Alley. It is here that one should look for the most popular shopping centers and pavilions. Travelers should pay special attention to local shoe stores where moderate prices and high quality are harmoniously combined. On the major shopping streets, tourists can also enjoy a huge selection of souvenir shops. In some of them, visitors are offered detailed city maps and guidebooks describing local attractions.

This guide to shopping in Magdeburg is protected by the copyright law. You can re-publish this content with mandatory attribution: direct and active hyperlink to
www.orangesmile.com
.
City tours, excursions and tickets in Magdeburg and surroundings
Reference information
Designer outlets in Magdeburg and nearby
♥ Outlet 'Designer Outlets Wolfsburg' An der Vorburg 1 Wolfsburg 38440 Germany, 66.4 km from Magdeburg.
On the map
♥ Outlet 'DESIGNER OUTLET BERLIN' Alter Spandauer Weg 1, Wustermark OT Elstal, 14641, Germany, 101.7 km from Magdeburg.
On the map
♥ Outlet 'DESIGNER OUTLET NEUM' Oderstrasse Neum 24539 Germany, 239.7 km from Magdeburg.
On the map
Photogallery of Magdeburg best places
Search for shopping areas, streets, boutiques and supermarkeets on Magdeburg map
Shopping advices for the whole region around Magdeburg
Shopping advices for Magdeburg. The best spots for buying designer clothes and local delicacies from Germany - shops, galleries, boutiques and outlets. We provide you with the shopping streets map, so you can plan your efficient shopping routes, while hunting for authentic souvenirs, goods, drinks, shoes and clothes in Magdeburg.