Sightseeing in Wiesbaden - what to see. Complete travel guide
Wiesbaden in considered the main city of the district that has the same name. The district is referred to a German province Hessen-Nassau and is located 5 km away from the Rheine River. In 2005 the population of this city estimated 286 thousands of people. Wiesbaden is also one of the oldest resorts of Germany.
In Wiesbaden you will find a great variety of gastronomic facilities of various levels and will be offered to try food of various culinary traditions. Rest in local restaurants will bring …
Open
The city is located in a kettle that reliably protects Wiesbaden from cold winds, making this place famous for its mild climate with an average yearly temperature of +10,5C. Besides that fact there are many underground hot springs that do not let the ground to get cold. These peculiarities have made it possible to create a resort here.
Because of these hot springs (there are over 900 of them in Wiesbaden) the resort successfully cures people sick in skin tuberculosis, gout, rheumatic joint diseases and other joint-related problems caused by effusion. Copyright www.orangesmile.com
Every year in the middle of August Wiesbaden hosts the world-famous wine festival - Rheingau Wine Festival. The festival traditionally attracts fans of this drink from all over the world. …
Open
Here you will also be able to drink famous Kochbrunnen water. In small portions this water increases the producing of saliva, releases mucus in respiratory tracts, and works as a diuretic. These functions of the water are widely used in respiratory and viral infections. In large portions Kochbrunnen has an aperient effect.
Among places of interest in Wiesbaden we should definitely mention Palace Square with Duke's Palace, New and Old Town Halls, Marktkirche Church, and Museum of Wiesbaden that exhibits a large collection of modern art, pictures by multiple artists and numerous ancient artifacts from Nassau Duchy. Casino of Wiesbaden can be truly called a museum as it has been visited by such famous people as Otto von Bismarck, Richard Wagner, Elvis Presley; the novel "Player" by Dostoevsky is written in the memory of the author's gambling in the casino of Wiesbaden. Finally, climb Neroberg Mountain in order to see panoramic views of the city. Here are also built "Greek Chapel" and a Russian Temple of St. Elisabeth.
A beautiful Russian church, which is located on Mount Neroberg, is considered the main symbol of the city. The church was built in a unique Russian-Byzantine style and is a replica of Christ …
Open
The city has a huge selection of historical attractions, for which one exciting excursion is not enough. Here you can see the legendary Sooneck Castle, which a few years ago was recognized as a UNESCO World Heritage Site. According to historical data, this castle was built in the 11th century. For several hundred years, the castle's owners were knights-robbers. For a long history of its existence, the castle was rebuilt more than once. Today, it houses an interesting historical museum. In it you can see collections of old weapons, unique works of art, antique furniture and hunting trophies, as well as other interesting exhibits.
The most interesting religious monument of Wiesbaden is the Wiesbaden's Market Church. The very first church was built in its place in the Middle Ages. However, by the middle of the 19th century, it was completely destroyed. In 1853, in its place the building of a new church began. It is possible to admire the spectacular view of this church even now. The main value of the historical church is considered to be the organ that was installed in it as far back as 1863. This unique musical instrument made the church a permanent venue for music festivals. The church is also noteworthy for its luxurious decoration, and for more than 150 years it has not changed at all.
Wiesbaden will definitely please fans of active pastime by a huge choice of entertainment. The city's center is the location of Holiday Park - a favorite place of rest of both locals …
Open
St. Elizabeth's temple is no less interesting. It was also built in the middle of the 19th century and is a vivid example of Russian-Byzantine architecture. Remarkable features of the church are the golden domes. The interior decoration of the temple also amazes with its luxury. Beautiful rocks of marble of various shades were used for its decoration. In the church there are many ancient frescoes, as well as an old iconostasis, which were installed in it, right after its foundation.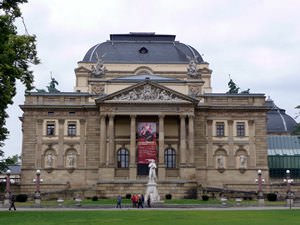 One of the most interesting and picturesque streets of Wiesbaden, suitable for hiking, is Schwalbacher Straße. The very first road appeared here more than 300 years ago, and in the first half of the 19th century it was modernized. Today, along the main city road, there are beautiful historical buildings. Also, a legendary mineral spring is located here. It was by chance discovered as far back as 1731. A few years later it was transformed into a beautiful fountain, which continues to decorate the street even now.

This guide to iconic landmarks and sights of Wiesbaden is protected by the copyright law. You can re-publish this content with mandatory attribution: direct and active hyperlink to
www.orangesmile.com
.
City tours, excursions and tickets in Wiesbaden and surroundings
Sights around Wiesbaden from our guide 'Extreme places on Earth'
Waldspirale
From the series
"The Most Bizarre and Fancy Living Houses"
Check on the map:
Distance from Wiesbaden center - 36.7 km.
The building roof is a huge green terrace with plants and flowers, the comfortable recreation zones for sunbathing. The residents of the multi-apartment complex independently cultivate 'the green component' of their dwelling. In accordance with the contract, the tenants in whose dwelling or on the balcony the trees and flowers grow are obliged to care for them. So one of the main conditions of the stay is in the original house. …
Read further

Burg Rheinstein
From the series
"Gothic Architecture – Magnificent Monuments"
Check on the map:
Distance from Wiesbaden center - 29.3 km.
The castle owes much of its current impeccable appearance and status as an important cultural center to the opera singer Hermann Hecher. The old castle was reconstructed and turned into a real cultural treasure under his leadership in 1975. Its visitors can see a lot of valuable historical and artistic exhibits today. This managed to completely recreate the setting of the old kitchen in the castle in 2006. A collection of old kitchen utensils is kept in it today. Not only daytime but also very exciting night excursions are held for tourists in the castle of Reinstein. A wonderful cafe opened on the territory of the castle not so long ago. …
Read further

Search touristic sites on the map of Wiesbaden
Sightseeing in regions nearby Wiesbaden
All about Wiesbaden, Germany - sightseeings, attractions, touristic spots, architecture, history, culture and cuisine. Prepare your trip together with OrangeSmile.com - find out the 'must see' things in Wiesbaden, which places to visit, which excursions to take, where the breathtaking views are waiting for you. Planning your trip with this travel guide will help your to get the most out of Wiesbaden in few days.