Sightseeing in Leverkusen - what to see. Complete travel guide
Leverkusen is an industrial town in Germany located in the Northern Rhine - Westphalia, on the Rheine River between Dusseldorf and Koln. The population of this city estimated 161.3 thousands of people in 2005.
Leverkusen is attractive with a wide selection of inexpensive stores. For quality and cheap clothes, one can go to Shirts & More. This women's clothing store is within walking distance of …
Open
Leverkusen is the main department of the famous pharmaceutical company "Bauer". Here is located the football club with the same name.
This city features the oldest, most beautiful and picturesque Japanese Garden. Seems, just to make this place look even more beautiful, the garden is surrounded by factories and their pipes, which make the contrast even more vivid. In this garden you can finally understand the philosophy of Japan. Spring is an exceptionally good time for visiting this place as on this time of the year all trees and plants in the garden start blooming, making the complete picture truly stunning. The beauty of the Japanese Garden amazed its visitors starting directly from its main entrance.
Football lovers can visit the stadium and feel the splash of emotions from a football match. Tourists are welcome to visit the local bar and express their feelings with a glass of beer, looking a TV that broadcasts football games. Copyright www.orangesmile.com
In Leverkusen, travelers with children can take a walk in picturesque places and visit interesting sights. The ideal place for a summer walk would be the Japanischer Garten. This charming …
Open
In 2010 a new trading center and a main city's town hall were opened in the center of Leverkusen. New technologies and achievements of the architecture were used in the building, so it looks truly spectacular. The roof of the town hall resembles a flying soccer of a huge size. It glows at night because the "soccer" is the location of many cafes, bars and boutiques that produce this "cosmic light".
A lot of interesting historical sites are concentrated in the Opladen area. The most famous architectural monument of these places is the beautiful Vila Remer, which was built in the Middle Ages. Now in the historic district there are mostly residential houses. Locals continue to live in beautiful houses that were built 300 - 400 years ago. Only some particularly large buildings are occupied by state institutions. While walking around this area, you can make a lot of beautiful memorable photos.
Leverkusen is characterized by a very satisfying cuisine with a clear predominance of meat dishes. Traditional German sausages, stews, and grilled meats, rich meat soups, and stews - all …
Open
There are several interesting sacred monuments in the city and its surroundings, which will be interesting not only for pilgrims, but also for ordinary tourists. The beautiful cross of the Virneburg, which is an impressive crucifix made of stone, was made in 1752. In the middle of the 18th century, locals built this beautiful monument on sacred ground. For many years, they come to this place to pray. For a long history of existence, this monument remained practically unscathed. Presently, it is possible to notice the remains of the ancient inscription which was put on the cross more than 250 years ago.
The main religious symbol of the city is the Protestant Church of Christ. Its construction began in 1904 and lasted for two years. The church is characterized by an incredible beautiful design. Its height is more than 14 meters. The high tower of the church can be seen from many city streets. The religious construction was badly damaged during the Second World War, but by 1949, it had been completely restored. Currently, it is used not only for worshiping, but also as a cultural center. It often hosts interesting exhibitions and even concerts of classical music.
Leverkusen was formed as an industrial city and even today its industrial potential is actively developing. It got its name in honor of the famous entrepreneur Carl Leverkus who decided to …
Open
In Leverkusen works the cultural center Bayer Erholungshaus. It is known far beyond the city limits. Its location is a beautiful historical building, which in 1908, was built specifically for cultural events. The main sponsor of the construction of this luxurious cultural center was the company Bayer. Cultural and entertainment events of various levels are regularly held here some of them, of international significance. Most of the events taking place here are available to all those who desire.

This guide to iconic landmarks and sights of Leverkusen is protected by the copyright law. You can re-publish this content with mandatory attribution: direct and active hyperlink to
www.orangesmile.com
.
City tours, excursions and tickets in Leverkusen and surroundings
Sights around Leverkusen from our guide 'Extreme places on Earth'
Zeche Zollverein
From the series
"The Scariest Mines in the World"
Check on the map:
Distance from Leverkusen center - 50.9 km.
After admiring priceless artifacts in museums, it's worth to have a stroll through the deserted underground; just the simple descent via worn metal ladders makes adrenaline go rushing. Many mysterious stories are associated with Zeche Zollverein mines, as many industrialists have faced there with phenomenon of abnormal knocks. Tourists who visit these places often hear unexplained sounds. They are so distinct and realistic, that it seems that there is still active work in some areas of mines. …
Read further

Abteiberg Museum
From the series
"Famous buildings of Postmodern architecture"
Check on the map:
Distance from Leverkusen center - 43.5 km.
The year 1901 is considered the official date of the museum's foundation. It occupied several rooms in the city hall building for the first three years of its existence. The museum moved to the former Protestant school building in 1904. It was located there until 1925. The museum was moved to the Karl-Brandt House in 1926. It stayed there until 1944. This historic building was destroyed during the Second World War. So the museum had to find a new location. It was located in the Oskar-Kühlen-Haus building until 1982. The museum building is an outstanding architectural landmark of Monchengladbach today. …
Read further

Crouching Tiger and Turtle
From the series
"Furious Footways Around the World That Make You Dizzy"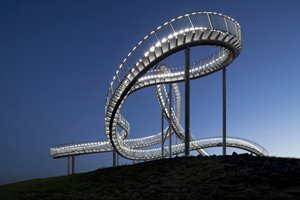 Check on the map:
Distance from Leverkusen center - 42.2 km.
The length of the staircase is 220 meters. It is open day and night. Admission is free. The original attraction in Duisburg was opened in 2011 and became instantly known worldwide and popular with lovers of unusual entertainments. 'Tiger and Turtle' staircase is located in the picturesque Angerpark. One of the most important secrets of the ladder is the traditional roller coaster dead loop, which is much easier to pass through than it might seem at first glance. …
Read further

Car rental on OrangeSmile.com

Thailand Relaxes Its COVID-19 Policy
New Year events in Thailand are likely to bring more people this year because everyone is tired of lockdowns and craving normal life. Many tourists, who book hotels in Pattaya, Krabi, or Phuket for the holiday season, also want to participate. As champagne has become an essential drink for New Year celebrations, the question regarding alcohol consumption comes to mind. The government allowed serving alcoholic drinks during the New Year countdown but only open-air cafes and restaurants with good ventilation will be permitted to do this until 1 am on 1 January 2022. This rule is nationwide.
Read this
31.01.2023
Search touristic sites on the map of Leverkusen
Sightseeing in regions nearby Leverkusen
All about Leverkusen, Germany - sightseeings, attractions, touristic spots, architecture, history, culture and cuisine. Prepare your trip together with OrangeSmile.com - find out the 'must see' things in Leverkusen, which places to visit, which excursions to take, where the breathtaking views are waiting for you. Planning your trip with this travel guide will help your to get the most out of Leverkusen in few days.