Sightseeing in Gummersbach - what to see. Complete travel guide
Gummersbach is a town that is referred to Köln administrative district. The town was founded in the Middle Ages; nowadays this is a center of Oberbergisch district. The population of the town estimates approximately 52.5 thousand of people. During last 10 years Gummersbach turned from an industrial town to a place known by its products and services. There is also a faculty of engineering sciences and informatics of the Koln College, where students can get education on such specialties as automatics, general and technological informatics, electro technic, economic informatics, machinery building, engineering economy, and informatics in mass media.
If you ask local people for help, they will never refuse to provide it. They are tolerant of everything, however, provided that the person respects the laws of the federal state of North …
Open
The town plays an important role in industrial sphere of the country as here are located large factories of processing industry. The majority of organizations are referred to electro technical industry and machinery building. There are many firms specializing in metal tools manufacturing and paper recycling in Gummersbach. The town is also known as an important transport crossing, from which you can get to Rheine-Mein region and Ruhr, as well as reaching Koln in the fastest way.
In the historic industrial city, there are many interesting old buildings. An important architectural monument is the Steinmüller plant. Many factory shops have preserved their original appearance. Despite the fact that the plant has long lost its importance, these historic buildings are not empty. In one of the workshops there was a concert hall, in which in addition to musical events, interesting exhibitions were held. A vast park, in which you can observe the most beautiful landscape decorations in the warm season, surrounds the building of the old factory. This park is perfect for active recreation; there are several sports grounds on its territory. Copyright www.orangesmile.com
Gummersbach is a paradise for tourists preferring calm and quiet cities, where people are never in a hurry. Here, life flows measuredly, like a walk in a park, which would be a real gift for …
Open
In the heart of the city, there is an ancient castle which was built more than 300 years ago. Once it was built for defensive purposes, and now in the castle is a number of state institutions. On certain days, excursions are conducted through the ancient castle, during which its interior can be evaluated.
There are very interesting religious sites in the city, among them the Protestant Baroque Chapel. It was built in the 11th century, and to this day it has not been possible to fully preserve this unique monument in the Romanesque style. The temple was almost completely destroyed. Today, only a small tower with a peaked roof reminds of the beautiful building.
You'll love Gummersbach if you prefer quiet cities where every moment spent on its territory can be enjoyed. Here, even the air seems to be cleaner, "unpolluted" by the worldly bustle, there …
Open
In the vicinity of Gummersbach is the popular tourist route Aggersundvej, which stretches along the banks of beautiful rivers. Lovers of nature spend exciting hiking and cycling here, during which they can see the most beautiful reservoir and an old dam.
A visit to Gummersbach will be interesting to fans of sports. This city has its own handball team, whose games are held in the local arena Schwalbe. During the championship, it is worth visiting the nearest game. For locals, annual handball competitions are one of the most popular entertainments.
Miniature Gummersbach is not deprived of attractive hotels. One of the most prestigious and upscale accommodation options in the city is Wyndham Garden Gummersbach. This hotel was founded in …
Open
Speaking about the entertainment available in the city, it is worth mentioning the presence of the shopping and entertainment complex Forum Gummersbach. It opened only a few years ago. Today there are more than 100 shops in the shopping center. Also, there are restaurants and cafes, a beauty salon, a fitness center and even a spa with a wide range of services.

This guide to iconic landmarks and sights of Gummersbach is protected by the copyright law. You can re-publish this content with mandatory attribution: direct and active hyperlink to
www.orangesmile.com
.
City tours, excursions and tickets in Gummersbach and surroundings
Reference information
Survived castles around Gummersbach
♥ Castle 'Gimborn Castle' , 6 km from the center.
On the map
Photo
♥ Castle 'Homburg Castle' , 13.1 km from the center.
On the map
Photo
♥ Castle 'Ehreshoven Castle' , 15.9 km from the center.
On the map
Photo
♥ Castle 'Burg Heid' , 18.7 km from the center.
On the map
Photo
♥ Castle 'Hückeswagen Castle' , 19.6 km from the center.
On the map
Photo
National and city parks around Gummersbach
♥ National Park 'Eifel' , 136.4 km from the center.
On the map
Photo
Sights around Gummersbach from our guide 'Extreme places on Earth'
Crouching Tiger and Turtle
From the series
"Furious Footways Around the World That Make You Dizzy"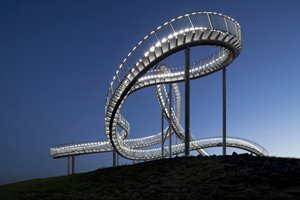 Check on the map:
Distance from Gummersbach center - 68.2 km.
The length of the staircase is 220 meters. It is open day and night. Admission is free. The original attraction in Duisburg was opened in 2011 and became instantly known worldwide and popular with lovers of unusual entertainments. 'Tiger and Turtle' staircase is located in the picturesque Angerpark. One of the most important secrets of the ladder is the traditional roller coaster dead loop, which is much easier to pass through than it might seem at first glance. …
Read further

Zeche Zollverein
From the series
"The Scariest Mines in the World"
Check on the map:
Distance from Gummersbach center - 61.9 km.
After admiring priceless artifacts in museums, it's worth to have a stroll through the deserted underground; just the simple descent via worn metal ladders makes adrenaline go rushing. Many mysterious stories are associated with Zeche Zollverein mines, as many industrialists have faced there with phenomenon of abnormal knocks. Tourists who visit these places often hear unexplained sounds. They are so distinct and realistic, that it seems that there is still active work in some areas of mines. …
Read further

Car rental on OrangeSmile.com

Preferred to Open 9 New Hotels in 2022
In September 2022, the Sommerro hotel in Oslo will start operating in a carefully restored 1930s Art Deco building. This building is a true landmark of Frogner, a historic neighborhood of the Norwegian capital. A multi-million-dollar renovation carefully turned the largest preservation project in Norway into a modern hotel with 231 rooms, including 56 residences. Preferred will open five more hotels in 2022, namely, The Wall Street Hotel in New York, Amrit Ocean Resort & Residences on Singer Island (Florida, the US), TOA Hotel & Spa in Zanzibar, Pendry hotel in Washington, and Pendry Park City hotel in Utah.
Read this
04.06.2023
Search touristic sites on the map of Gummersbach
Sightseeing in regions nearby Gummersbach
All about Gummersbach, Germany - sightseeings, attractions, touristic spots, architecture, history, culture and cuisine. Prepare your trip together with OrangeSmile.com - find out the 'must see' things in Gummersbach, which places to visit, which excursions to take, where the breathtaking views are waiting for you. Planning your trip with this travel guide will help your to get the most out of Gummersbach in few days.