Preparing your trip to Dusseldorf: advices & hints - things to do and to obey
1.
The main tourist office of the city is located in Altstadt district. It serves visitors daily from 10:00 am to 6:00 pm. Another tourist office can be found next to the Central Station. In these offices travelers can learn about upcoming cultural events, purchase tickets and city guides.
2. Summer is the most favorable time for rest. During summer months daily temperature is approximately 25 degrees and it rains rarely. However, even in summer travelers should not forget to take some warm clothes, because it can be really cool at night.
3. The city is very convenient to travel by public transport. As a rule, the cost of a trip is about 2 euros. Ticket for one day will cost 9€, and it applies to all types of public transport.
4. Travelers who expect to use their own car in the city should definitely not forget to buy a special sticker which confirms compliance with environmental transport regulations. Tourists who plan to rent a car should also check whether the vehicle of their choice has this label.
5.
Killepitsch liquor is known as the most popular souvenir that tourists bring from Dusseldorf. The best way to purchase it is to go to a shop located on Flingerstraße. Souvenirs made of porcelain and various crafts with national symbols are also very popular. Copyright www.orangesmile.com
6. The city is home to more than 200 hotel complexes of completely different levels. Every hotel can be fully "described" by the number of starts it has. Even modest mid-market hotels provide their guests with a rich selection of additional services.
7. The city and its surroundings are the location of several large breweries. During warm months there are summer cafes next to each of them. This is the place where beer connoisseurs can taste their favorite sorts of beer.
It's really hard to choose the most interesting entertainment of Dusseldorf, because the city offers a lot of interesting opportunities for rest. A visit to Rhine Tower will surely …
Open
8.
Tourists who plan to devote a lot of time to excursions and cultural institutions should definitely buy a greeting card named Düsseldorf WelcomeCard in any of the tourist offices. It entitles visitors to visiting some cultural and recreational facilities for free, as well as to discounts on public transport and the opportunity to purchase tickets to museums and galleries at a reduced price.

Preparing your trip to Dusseldorf: advices & hints - things to do and to obey You can re-publish this content with mandatory attribution: direct and active hyperlink to
www.orangesmile.com
.
What to visit being in Dusseldorf - unique sights
Crouching Tiger and Turtle
From the series
"Furious Footways Around the World That Make You Dizzy"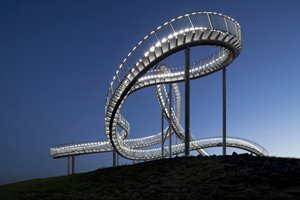 Check on the map:
Distance from Dusseldorf center - 17.2 km.
The length of the staircase is 220 meters. It is open day and night. Admission is free. The original attraction in Duisburg was opened in 2011 and became instantly known worldwide and popular with lovers of unusual entertainments. 'Tiger and Turtle' staircase is located in the picturesque Angerpark. One of the most important secrets of the ladder is the traditional roller coaster dead loop, which is much easier to pass through than it might seem at first glance. …
Read further

Abteiberg Museum
From the series
"Famous buildings of Postmodern architecture"
Check on the map:
Distance from Dusseldorf center - 24.5 km.
The year 1901 is considered the official date of the museum's foundation. It occupied several rooms in the city hall building for the first three years of its existence. The museum moved to the former Protestant school building in 1904. It was located there until 1925. The museum was moved to the Karl-Brandt House in 1926. It stayed there until 1944. This historic building was destroyed during the Second World War. So the museum had to find a new location. It was located in the Oskar-Kühlen-Haus building until 1982. The museum building is an outstanding architectural landmark of Monchengladbach today. …
Read further

City tours, excursions and tickets in Dusseldorf and surroundings
Car rental on OrangeSmile.com

Hilton builds third luxury hotel in Kyoto
The Hilton Kyoto hotel will be attractive to a wide range of guests. Leisure travelers will appreciate the close proximity to famous attractions such as Heian and Yasaka Temples, the Kyoto Imperial Palace, and the scenic Gion Historical District. In a few minutes, guests can reach the metro stations, the path to the sights of interest will not take much time.
Read this
02.04.2023
Photos of Dusseldorf
Services search (pharmacy, police, parking, banks) on Dusseldorf map
Tips for the cities around Dusseldorf
Travelling to Dusseldorf - advices and tips. What should be provisioned in advance, the rules you might want to follow, and the things you better avoid doing in Dusseldorf. We help you to make your trip smooth and easy, with no unexpected surprises.