Preparing your trip to Wuppertal: advices & hints - things to do and to obey
1.
While communicating with the locals, it is worth keeping in mind some important nuances. When you talk to other person, you should say not only his/her name, but also the position of the person. Calling each other by names only is the prerogative of close friends.
2. When you enter a public institution, you should not forget to greet all people present. Tourists should also not forget to reciprocate such signs of politeness. If you are about to enter a restaurant, you can greet the others by saying "Mahlzeit" - with this greeting you wish everyone to enjoy their meal.
3. Travellers usually like local bars and pubs a lot. The reason for this is in the fact that some bars and pubs serve their visitors with generous portions of various snacks in addition to beer. A visit to such a pub can easily replace a full dinner.
4. Tourists should not forget to monitor their belongings closely in public places. Bags and coats cannot be left unattended, and photo and video cameras are better to be carried in your hands, and not on your belt.
5.
When going for a walk, it is necessary to take a copy of your identity document. Many large restaurants, shopping centers and supermarkets accept payments by bank transfer, so keeping a large sum of money in cash is not necessary. Copyright www.orangesmile.com
6. Bicycle remains one of most common means of transport for local residents. This is a convenient way of moving not only in the territory of beautiful parks, but also in central streets of the city. There are special bike lanes next to all main roads for motorists. This makes using a bicycle even more secure. You can easily rent a bicycle in one of numerous rental offices.
7. Tourists who plan to rent a car will need a driver's license of international class and a credit card with the required amount of collateral in the account. Despite the fact that driving a car in the country is allowed for people starting from 18 years, some rental offices have the required minimal age of a client of 21 years.
Travelers who like to relax in hotels with an unusual setting will definitely like the comfortable Hotel Astor. Its interior is made unique by a very beautiful finish made from light wood, …
Open
8.
Tourists should not forget to leave tips in restaurants and cafes of the city. As a rule, the size of tips is 10 - 12% of the total order. Tourists are recommended to leave small rewards to taxi drivers, maids in hotel, hairdressers and guides.
9.
The city's streets are distinguished by exemplary purity, so in no case should travellers leave garbage in the wrong place. Visitors should also pay attention to special signs that prohibit smoking in the territory of facilities, shopping centers and other public places.

Preparing your trip to Wuppertal: advices & hints - things to do and to obey You can re-publish this content with mandatory attribution: direct and active hyperlink to
www.orangesmile.com
.
What to visit being in Wuppertal - unique sights
Zeche Zollverein
From the series
"The Scariest Mines in the World"
Check on the map:
Distance from Wuppertal center - 26.7 km.
After admiring priceless artifacts in museums, it's worth to have a stroll through the deserted underground; just the simple descent via worn metal ladders makes adrenaline go rushing. Many mysterious stories are associated with Zeche Zollverein mines, as many industrialists have faced there with phenomenon of abnormal knocks. Tourists who visit these places often hear unexplained sounds. They are so distinct and realistic, that it seems that there is still active work in some areas of mines. …
Read further

Crouching Tiger and Turtle
From the series
"Furious Footways Around the World That Make You Dizzy"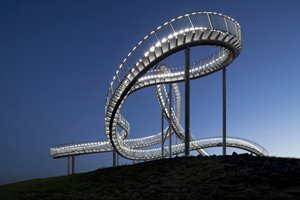 Check on the map:
Distance from Wuppertal center - 33.2 km.
The length of the staircase is 220 meters. It is open day and night. Admission is free. The original attraction in Duisburg was opened in 2011 and became instantly known worldwide and popular with lovers of unusual entertainments. 'Tiger and Turtle' staircase is located in the picturesque Angerpark. One of the most important secrets of the ladder is the traditional roller coaster dead loop, which is much easier to pass through than it might seem at first glance. …
Read further

City tours, excursions and tickets in Wuppertal and surroundings
Car rental on OrangeSmile.com

Saudi Arabia to Open 38 Hotels in Diriyah
Diriyah is one of the first mega projects in Saudi Arabia. Hotels and other infrastructure will start opening next year, and all works are expected to end in 2026. The first 18 restaurants in Bujairi Terrace will start operating already in early 2022.
Read this
05.06.2023
Photos of Wuppertal
Services search (pharmacy, police, parking, banks) on Wuppertal map
Tips for the cities around Wuppertal
Travelling to Wuppertal - advices and tips. What should be provisioned in advance, the rules you might want to follow, and the things you better avoid doing in Wuppertal. We help you to make your trip smooth and easy, with no unexpected surprises.