Preparing your trip to Monchengladbach: advices & hints - things to do and to obey
1. In the city, there is a big railway station. It regularly accommodates trains from different German cities. At the station, tourists can find detailed maps and booklets providing information about the city.
2. The popular type of transport here is bicycles. There are special cycle paths and parking areas everywhere. Tourists can use the services of a rental station and rent a bike for several hours and even days.
3. City restaurants, especially those specializing in regional cuisine, are distinguished by attractive prices. Thrifty tourists should also pay attention to bars where they can taste regional dishes.
4. For interesting gifts, many visitors come to the shopping center Minto. Besides typical souvenirs, you can also buy popular local specialties here.
5. The nearby international airport is located 20 km from the city. Many tourists prefer to travel to one of the German cities to Monchengladbach by train. Copyright www.orangesmile.com
6. During the vacation, active tourists should rent a car. The city is quite small so many interesting attractions are located in its immediate surroundings.
7. The climate here is mild, even in winter. The air temperature doesn't drop below 0°C. In summer, it is not too hot here. In July and August, the air temperature is up to 23C.
The guests of the city have an opportunity to take an interesting tour here. The starting point of most tours is the main city square Marktplatz Reid. For hundreds of years, the most …
Open
8. Fans of excursions and tours around picturesque sites should not plan their trips for autumn or winter. It often rains continuously at this time of the year.
9. City museums and entertainment centers have discounts for children. To take advantage of them, you need to show a document confirming the child's age.
10. In the market square, fairs are held several times a week. They will interest those who like unusual gifts. At fairs, local craftsmen present their products.
11. It is comfortable to see the sights on foot. They are all situated near each other. If you do not have enough time for long walks, you should rent a bicycle or order a segway tour.
12. The city is famous for its high-quality textile. At local shops, you can buy home textile and natural cotton clothes at reasonable prices.
13. At some city restaurants, there are breweries. Beer connoisseurs can taste exclusive beer varieties here.
14. Men should pay attention to luxury Van Laack shops. Monchengladbach is the home of this men's clothing brand that is famous by high quality too.
15. In the city, there are a lot of beautiful parks and gardens. Special services keep them in order. There are picnic areas and special garbage containers.

Preparing your trip to Monchengladbach: advices & hints - things to do and to obey You can re-publish this content with mandatory attribution: direct and active hyperlink to
www.orangesmile.com
.
What to visit being in Monchengladbach - unique sights
Abteiberg Museum
From the series
"Famous buildings of Postmodern architecture"
Check on the map:
Distance from Monchengladbach center - 0.8 km.
The year 1901 is considered the official date of the museum's foundation. It occupied several rooms in the city hall building for the first three years of its existence. The museum moved to the former Protestant school building in 1904. It was located there until 1925. The museum was moved to the Karl-Brandt House in 1926. It stayed there until 1944. This historic building was destroyed during the Second World War. So the museum had to find a new location. It was located in the Oskar-Kühlen-Haus building until 1982. The museum building is an outstanding architectural landmark of Monchengladbach today. …
Read further

Crouching Tiger and Turtle
From the series
"Furious Footways Around the World That Make You Dizzy"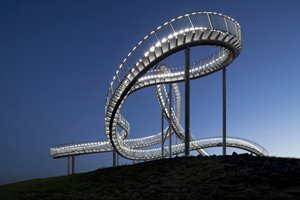 Check on the map:
Distance from Monchengladbach center - 28.8 km.
The length of the staircase is 220 meters. It is open day and night. Admission is free. The original attraction in Duisburg was opened in 2011 and became instantly known worldwide and popular with lovers of unusual entertainments. 'Tiger and Turtle' staircase is located in the picturesque Angerpark. One of the most important secrets of the ladder is the traditional roller coaster dead loop, which is much easier to pass through than it might seem at first glance. …
Read further

Dom Cologne Cathedral
From the series
"Gothic Architecture – Magnificent Monuments"
Check on the map:
Distance from Monchengladbach center - 46.5 km.
A beautiful sculpture of the Milan Madonna is located in the cathedral. It is also considered an outstanding sculptural creation in the Gothic style. Many beautiful legends are associated with Cologne Cathedral. According to one of them, the devil helped the architect Gerhard make drawings of the unique facade. The architect's wife managed to outwit the devil and save her husband's soul from a terrible fate. Another legend says that the devil was so angry at the deception that he predicted the end of the world on the day when the cathedral will be completed. Perhaps this is why one of the most beautiful Gothic cathedrals in the world was never completed. …
Read further

City tours, excursions and tickets in Monchengladbach and surroundings
Car rental on OrangeSmile.com

Saudi Arabia to Open 38 Hotels in Diriyah
Diriyah is one of the first mega projects in Saudi Arabia. Hotels and other infrastructure will start opening next year, and all works are expected to end in 2026. The first 18 restaurants in Bujairi Terrace will start operating already in early 2022.
Read this
01.06.2023
Photos of Monchengladbach
Services search (pharmacy, police, parking, banks) on Monchengladbach map
Tips for the cities around Monchengladbach
Travelling to Monchengladbach - advices and tips. What should be provisioned in advance, the rules you might want to follow, and the things you better avoid doing in Monchengladbach. We help you to make your trip smooth and easy, with no unexpected surprises.