Preparing your trip to Oberhausen: advices & hints - things to do and to obey
1. Oberhausen is a small city so it is comfortable to explore it on foot. All its major attractions are located within walking distance from each other.
2. The city has a large railway station, from which high-speed trains depart to the surrounding cities every day. They are also rich in interesting historical and natural attractions.
3. Many city museums and entertainment centers close quite early, no later than 7:00 pm. Some of them may have an extended working day on weekends but it is still better to clarify the working hours in advance.
4. In search of interesting souvenirs, many tourists go to CentrO Shopping Center. Here you can buy not only classic souvenirs but also the best regional delicacies.
5. For active tourists who travel as a group, it would be beneficial to rent a car. In the immediate vicinity of Oberhausen, there is a wide choice of entertainment and attractions. Copyright www.orangesmile.com
6. The most expensive restaurants and cafes are located in the central streets. Just a step away from the city center, you can find restaurants offering more attractive prices. Most of them specialize in regional cuisine.
7. Fans of event tourism will be interested in visiting the city during the film festival, as well as on Christmas holidays. Special entertainment programs are held in the city for such occasions.
Oberhausen will please tour-goers with a variety of historical attractions and cultural centers. In the city, you can find the LVR Industrial Museum, one of the most amazing and unique in …
Open
8. Oberhausen is famous for its picturesque parks and natural attractions. For fans of walks and tours, the most favorable period to visit the city is the warm season.
9. Shopping enthusiasts won't be bored in Oberhausen too. The city has one of the largest shopping centers in Germany, which regularly holds large sales.
10. There are no luxury hotels in the city. Even in the most sophisticated hotel, you can book a room for 60 euros per night. Apart from classic hotels, tourists can enjoy apartments for every taste.
11. Trams are the main form of public transport. They can get passengers to any area of interest. Tickets can be purchased in advance at newsstands or directly on the tram.
12. Another popular mode of transport is the bicycle. Most districts have special bike paths. There are several bike rental agencies in the city.
13. Fans of nightlife entertainment should pay attention to bars and restaurants located in the city center. The choice of nightclubs is limited, but bars and pubs can become a worthy alternative to them.
14. When visiting restaurants, it is worth considering that most of them serve very large portions. Regional restaurants offer hearty dishes so you can order one meal for two or even three people.
15. Besides restaurants, Oberhausen has many lovely pastry shops. They will be a godsend for the sweet tooth. The choice of cakes and pastries is really impressive here.

Preparing your trip to Oberhausen: advices & hints - things to do and to obey You can re-publish this content with mandatory attribution: direct and active hyperlink to
www.orangesmile.com
.
What to visit being in Oberhausen - unique sights
Crouching Tiger and Turtle
From the series
"Furious Footways Around the World That Make You Dizzy"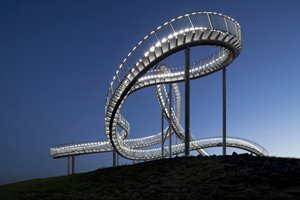 Check on the map:
Distance from Oberhausen center - 12.8 km.
The length of the staircase is 220 meters. It is open day and night. Admission is free. The original attraction in Duisburg was opened in 2011 and became instantly known worldwide and popular with lovers of unusual entertainments. 'Tiger and Turtle' staircase is located in the picturesque Angerpark. One of the most important secrets of the ladder is the traditional roller coaster dead loop, which is much easier to pass through than it might seem at first glance. …
Read further

Zeche Zollverein
From the series
"The Scariest Mines in the World"
Check on the map:
Distance from Oberhausen center - 13.5 km.
After admiring priceless artifacts in museums, it's worth to have a stroll through the deserted underground; just the simple descent via worn metal ladders makes adrenaline go rushing. Many mysterious stories are associated with Zeche Zollverein mines, as many industrialists have faced there with phenomenon of abnormal knocks. Tourists who visit these places often hear unexplained sounds. They are so distinct and realistic, that it seems that there is still active work in some areas of mines. …
Read further

City tours, excursions and tickets in Oberhausen and surroundings
Car rental on OrangeSmile.com

Saudi Arabia to Open 38 Hotels in Diriyah
Diriyah is one of the first mega projects in Saudi Arabia. Hotels and other infrastructure will start opening next year, and all works are expected to end in 2026. The first 18 restaurants in Bujairi Terrace will start operating already in early 2022.
Read this
30.09.2023
Photos of Oberhausen
Services search (pharmacy, police, parking, banks) on Oberhausen map
Tips for the cities around Oberhausen
Travelling to Oberhausen - advices and tips. What should be provisioned in advance, the rules you might want to follow, and the things you better avoid doing in Oberhausen. We help you to make your trip smooth and easy, with no unexpected surprises.