Shopping in Cologne - authentic goods, best outlets, malls and boutiques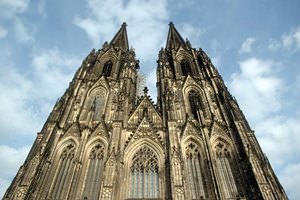 Cologne is a mosaic of shopping streets with lots of exciting shops located in historical buildings, and markets where you can walk and enjoy your holiday all day long. In the very heart of the Old Town is a popular Hohe Strasse shopping street. It will be difficult to find a more interesting place for buying souvenirs, since numerous old workshops where unique things are done, are found on this street. There are popular clothing stores with democratic prices, and plenty of cosy restaurants and cafes, where you can relax after a shopping spree.
You will find many priceless historical and architectural monuments in Cologne. Every tourist should not forget to visit them. We encourage you to pay your attention on the ensemble of 12 …
Open
High-end perfumery remains Cologne's trademark for several hundred years. Farina old perfume house was opened as early as 1709. It is a real city attraction. Here, they sell the original cologne brand Farina 1709 Eau de Cologne Original, whose secret of production is kept in the utmost confidence. This historic store is much focused on tourists, so you can buy very beautiful miniature bottles of cologne for 4 euros only.
Not far from the railway station is German Souvenirs store, which also remains at the height of popularity with tourists. It sells traditional souvenirs with national symbols at very affordable prices. Here, you can buy excellent T-shirts for 3 euros, miniature models of Cologne Cathedral, magnets and calendars, as well as plenty of other interesting souvenirs. Copyright www.orangesmile.com
Cycling around the city is very popular among travellers. Rent-A-Bike is considered the most famous bike rental service. Here you are allowed to rent a bike starting from a few hours till …
Open
Cologne is a perfect place for lovers of sweets. Numerous historical confectionaries operate here. One of the most famous one is Hussel. This is a real paradise for those with a sweet tooth. In this store, hundreds of branded varieties of chocolate and chocolate sweets are available to customers, yet, you can buy delicious figured chocolate that resembles real works of art. Here, they sell candy with bitter pepper for lovers of exotic, delicate milk chocolate for romantic natures, as well as dozens of varieties of chocolate and sweets with fruit fillings that children like so much. There are also chocolate gift sets, which tourists buy as souvenirs.
Travellers who like to wander in big shopping centres should go straight to Opern Passagen, the largest department store in Cologne. It can also be described as a historical attraction of the city, whose opening was held in 1964. The historic building has been completely restored recently. Nowadays, trade pavillions occupy more than 9000 sq.m. of its size. The most prestigious stores, including Casa Lana, Thomas Sabo and Villeroy & Boch boutiques are found here. It is here, that the most inveterate mods and fashionistas go in search for new accessories. Yet, you will find several popular cafes and restaurants there.
1. Tourists are recommended to purchase WelcomeCard, which gives you the right to get reduced fares in public transport. In addition to this, owners of the card receive a discount when …
Open
In Cologne there are many specialized beer stores, one of them is located next to the Altermarkt square. In Kölsch store you can buy chic pint glasses and a lot of souvenir attributes with symbols of the city. You can buy traditional tall Stangen glasses. In the city, it's customary to drink beer out of them.

This guide to shopping in Cologne is protected by the copyright law. You can re-publish this content with mandatory attribution: direct and active hyperlink to
www.orangesmile.com
.
City tours, excursions and tickets in Cologne and surroundings
Reference information
Shopping streets in Cologne
♥ Shopping area ' Hohe Straße' Cologne, 0.4 km from the center.
On the map
Photo
♥ Shopping area ' Schildergasse' Cologne, 0.6 km from the center.
On the map
Photo
Designer outlets in Cologne and nearby
♥ Outlet 'Designer Outlet Roermond' Stadsweide 2, Roermond, 6041, Netherlands, 73.5 km from Cologne.
On the map
♥ Outlet 'Maasmechelen Village' Zetellaan 100, Maasmechelen, 3630, Belgium, 87.9 km from Cologne.
On the map
♥ Outlet 'McARTHURGLEN LUXEMBOURG' Route d Messancy, 6780, Belgium,, 170.2 km from Cologne.
On the map
♥ Outlet 'Zweibruecken' Londoner Bogen 10-90 Zweibruecken 66482 Germany, 192.8 km from Cologne.
On the map
♥ Outlet 'Marques Avenue Talange ' Z.I. de Talange Hauconcourt, Talange, 57525, France, 198.1 km from Cologne.
On the map
Unique touristic spots around Cologne
Hershtrasse in Bonn
From the series
"Top 13 Most Fantastic and Colorful Streets and Quarters"
Check on the map:
Distance from Cologne center - 24.3 km.
Lovely cherry trees were planted along it in 1984 as a part of a large-scale ecological program of planting. Since then, in mid-spring the street turns into a small corner of Japan. Thousands of people come here every day to enjoy the blooming cherry trees. Many prefer to admire the trees in the evening, as they look even more unusual in the light of street lamps. Typically, trees bloom up to 10 days. It is very difficult to predict, when the alley will be flowering next spring. …
Read further

Zeche Zollverein
From the series
"The Scariest Mines in the World"
Check on the map:
Distance from Cologne center - 61.4 km.
Coal mining has been conducted in the mines until 1986, until the field was completely exhausted. However, it was decided not to close it. Currently, extensive underground tunnels and old factories house interesting thematic museums, and desert tunnels attract curious tourists no less than the halls with unique exhibits. …
Read further

Crouching Tiger and Turtle
From the series
"Furious Footways Around the World That Make You Dizzy"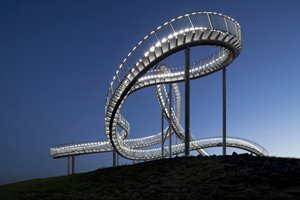 Check on the map:
Distance from Cologne center - 50.7 km.
The authors of the project of an unusual staircase are Heike Mutter and Ulrich Genth. They managed to combine in one structure two functions at once: to make an excellent viewing platform and an unusual attraction. Many tourists prefer to stroll through the stairs in the evening, when it is decorated with spectacular artistic illumination. The design is quite of impressive scale. Its height reaches 13 meters. From the highest point of the staircase opens a wonderful panoramic view of the city. …
Read further

Photogallery of Cologne best places
Search for shopping areas, streets, boutiques and supermarkeets on Cologne map
Shopping advices for the whole region around Cologne
Shopping advices for Cologne. The best spots for buying designer clothes and local delicacies from Germany - shops, galleries, boutiques and outlets. We provide you with the shopping streets map, so you can plan your efficient shopping routes, while hunting for authentic souvenirs, goods, drinks, shoes and clothes in Cologne.