Cuisine of Cologne for gourmets. Places for dinner - best restaurants
Cologne will surprise fans of gastronomic tourism with widest variety of restaurants, outdoor cafes and bars. The restaurant named Isenburg is one of the most luxurious dining facilities of the city. What makes this place really unique is its location – the restaurant is organized in an ancient fortress of the 13th century. Here guests are offered to try best French cuisine and more than a hundred of types of wine - the restaurant is equipped with its own wine cellar. Seafood lovers will enjoy visiting Scampino restaurant. The majority of food in its menu feature dishes from Mediterranean cuisine. The restaurant's interior is also notable for its extraordinary – the hall is decorated with massive wooden furniture and old paintings.
A charming and calm hotel, Boardinghome Cologne City will be liked by small groups of tourists and families with children. Comfortable, well-made modern apartments have everything needed for …
Open
Fans of Turkish cuisine will enjoy the menu of Merhaba restaurant. In addition to original Turkish food and drinks, the restaurant features a rich selection of French wines. On evenings guests can enjoy entertaining performances and concerts. The restaurant devoted to Persian cuisine, Ali Baba, has won recognition among both locals and tourists. Among the specialties of the restaurant are rice with spices, steamed vegetables, meat dishes, and delicious oriental desserts. El Inca is among those dining facilities that offer to try authentic national cuisine. The restaurant's menu, as well as its rich entertainment program deserves the highest praise. Guests of El Inca will never get bored.
The opening of Roter Platz restaurant took place in 2002. This restaurant specializes in preparation of dishes of Russian cuisine. The hall of the restaurant is decorated in the style of the Soviet era – you will see beautiful scarlet pennants, flags and leaflets with famous slogans on its walls. Fans of Oriental cuisine will find Ali Baba restaurant worth their closest attention. The specialties of the restaurant are rice with steamed vegetables, roasted meat with spices and delicious Persian sweets. Don't forget to try amazing wine. This restaurant has its own cellar that contains several hundred bottles including rare varieties of this amazing drink. Copyright www.orangesmile.com
Cologne is a mosaic of shopping streets with lots of exciting shops located in historical buildings, and markets where you can walk and enjoy your holiday all day long. In the very heart of …
Open
Cologne cuisine is very simple, hearty, and inexpensive. This fact will certainly please savvy travelers. Various beer restaurants and taverns are very widespread in the city. Naturally, they offer a selection of national cuisine meals besides drinks. Virtually any of local restaurants offer Halve Hahn – a hearty sandwich with fresh bread and butter, Gouda cheese, and onion. As a rule, this sandwich is served as an appetizer, before the main dish. Don't forget to try various meat dishes that are available in Cologne restaurants.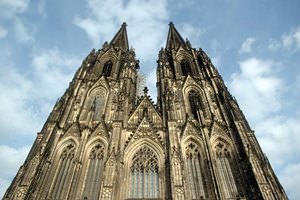 The complicated name Haxe mit Sauerkraut und Kartoffelpüree hides an incredibly delicious meal – roasted pork knuckle that is traditionally served with mashed potatoes and pickled cabbage. The hearty meat dish is particularly delicious with a glass of cold refreshing beer. Cologne is famous for its signature sort of beer that is called kolsch. Nowadays, it is possible to try this beer in most German cities, but experienced travelers sill recommend local restaurants to everyone who wants to enjoy authentic kolsch.
Discovering the architecture of Cologne from bird's eye view! Cologne Cathedral, Great St. Martin Church, St. Andrew Church, St. Kunibert Church, Colonius, Cologne Tower, all those monuments are defining the image of Cologne …
Open
Travelers, who visit one of the local restaurants early in the morning, will be able to choose from various traditional morning foods. Spigeleier, perhaps, remains the most widespread one. This scrambled eggs dish is served together with freshly baked bread. It is important to mention that people in Cologne respect and follow old bread making traditions. There are many historic bakeries that offer a selection of breads and buns that are cooked in accordance with old recipes that have not changed for several centuries. Various hot sandwiches are one more typical meal for breakfast. Locals call them bruschetta.
Vegetable meals and salads are treated like independent dishes in the national cuisine rather than a garnish. Vegetarian guests should also keep in mind that many local restaurants specializing in the national food serve salads with roasted meat, so it is better to clarify that in advance. Cologne locals are fond of meat, so for them there is nothing strange that beef and roasted chicken breasts are essential ingredients of vegetable salads. Various sausages are also an essential part of numerous national dishes. Travelers can see a rich choice and variety of this national product if they make a walk in one of the local food markets.
St. Maria im Kapitol, Cologne City Hall, Basilica of St. Severin, Basilica of St. Ursula, Lanxess arena, as well as many others, they all become the world's cultural heritage objects and remain as iconic monuments for Cologne …
Open
Located on the bank of the Rhine River, Cologne has always been famous for its mouthwatering fish dishes. Locals cook fish in a very simple way. They fry it and then serve with lemon, greens, and vegetables. Sun-dried herring is one of the unusual local specialties. Some fish species are used to cook thick and hearty soups. Even desserts are unusual and hearty in the national cuisine of Cologne. Travelers are recommended to try the cheese pie. It is cooked from a special type of cottage cheese that tastes magnificently with airy biscuits.

This guide to cuisine and restauraunt in Cologne is protected by the copyright law. You can re-publish this content with mandatory attribution: direct and active hyperlink to
www.orangesmile.com
.
City tours, excursions and tickets in Cologne and surroundings
Where to go for dinner in Cologne: recommended cafe and restaurants
La Vision
Where: Kaygasse 2, in the old town, Cologne; Telephone: +49 (0)221 200 80;
Päffgen
Where: Friesenstrasse 64 - 66, in the old town, Cologne; Telephone: +49 (0)221 135 461;
Früh Am Dom
Where: Am Hof 12-14, near the Dome, Cologne; Telephone: +49 (0)221 261 32 11; Metro: Hauptbahnhof;
Gaffel-haus
Where: Alter Markt 20-22, in the old town, Cologne; Telephone: +49 (0)221 257 76 92;
Daitokai
Where: Kattenbug 2, in the old town, Cologne; Telephone: +49 (0)221 120 048; Metro: Appellhofplatz;
Reference information
Michelin-starred restaurants in Cologne
♥ Restaurant 'Früh am Dom' KÖLN. Type - Country|Traditional cuisine. 0.1 km from the center.
On the map
Photo
♥ Restaurant 'taku' KÖLN. Type - Asian. 0.2 km from the center.
On the map
Photo
♥ Restaurant 'Peters Brauhaus' KÖLN. Type - Country|Traditional cuisine. 0.3 km from the center.
On the map
Photo
♥ Restaurant 'maiBeck' Köln. Type - Modern cuisine. 0.3 km from the center.
On the map
Photo
♥ Restaurant 'Em Krützche' KÖLN. Type - Classic cuisine|Country. 0.3 km from the center.
On the map
Photo
♥ Restaurant 'Alfredo' KÖLN. Type - Italian. 0.3 km from the center.
On the map
Photo
♥ Restaurant 'WeinAmRhein' Köln. Type - International. 0.5 km from the center.
On the map
Photo
♥ Restaurant 'Poisson' Köln. Type - Seafood. 0.8 km from the center.
On the map
Photo
♥ Restaurant 'Gruber's Restaurant' KÖLN. Type - Austrian. 1 km from the center.
On the map
Photo
♥ Restaurant 'Himmel un Äd' Köln. Type - Modern cuisine. 1.1 km from the center.
On the map
Photo
Cologne in photo set
Searching where to eat - restaurants and cafe on Cologne map
Cuisine and restaurants in the neighbours of Cologne
Travel notes on best cuisine and restaurants of Cologne (Germany) on OrangeSmile.com. Famous recipes and traditional dishes and courses in Cologne restaurants. Where to eat - our recommendations on popular places in Cologne, where you can taste delicious meal and also spend a good time with your friends.