Detailed hi-res maps of Cologne for download or print
The actual dimensions of the Cologne map are 2647 X 1872 pixels, file size (in bytes) - 1008604. You can open this downloadable and printable map of Cologne by clicking on the map itself or via this link:
Open the map
.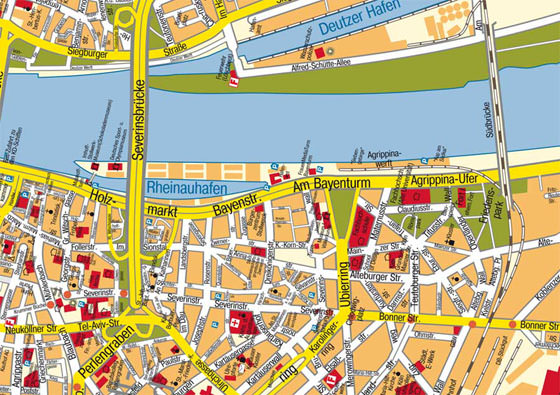 The actual dimensions of the Cologne map are 900 X 635 pixels, file size (in bytes) - 141090. You can open, download and print this detailed map of Cologne by clicking on the map itself or via this link:
Open the map
.
City tours, excursions and tickets in Cologne and surroundings
Moving around in Germany - transportation

The transport system in Germany is all about quality, reliability, punctuality and respectability. It is considered one of the best in Europe. The quality of the pavement is simply the top. Besides usual autobahns, cities and provinces are interconnected by railways and bus routes. Many travelers prefer to have transport by their side and rent a car. Driving the highway is free. In some major German cities, one-way car rent is allowed. It is worth considering that the price of gasoline in the country is quite high, so you should calculate the budget well. Before you go on a journey by car, you need to review the rules of the road, because German law has its own regulations. …
Open

Economy roadmap of Germany
Thanks to the fact that a three-tier budget system operates in Germany, one can clearly follow the development of the economy. The income tax in the country is progressive; it makes from 19 to 45%. VAT for today is 19%. The budget revenues for the past years were, in average, about $1.7 trillion; the country's expenditures are about 1.59 trillion dollars. The public debt of Germany is 61% of GDP. Despite the progressing indicators of the country's overall economy, unemployment has been rising in Germany since the beginning of the 21st century. This is especially evident in the eastern part of the country. This is largely due to the increase in social payments. The GDP per capita for 2010 is $ 37 432. …
Open

Car rental on OrangeSmile.com

The UK Encourages Travelers to Spend This Summer at Their Home Country
The 'Escape The Everyday' is not a new campaign. It was first launched in September 2020. The campaign mentions different destinations, highlights their major attractions, and focuses on experiences that travelers can enjoy in different parts of the UK. As restrictions are lifted, it is important to regain travelers' confidence in domestic travel and motivate them to visit beautiful places in the UK. The pandemic has been a difficult period for global tourism, and the UK is no exception. Today, VisitEngland wants tourists to rediscover their home country and visit its vibrant cities, resorts, towns, and villages.
Read this
27.07.2021
Search for services, infrastructure and sights on map of Cologne
Photogallery of Cologne sightseeing
Our guide chapters over Cologne
Detailed maps of neighbouring cities to Cologne