Family trip to Cologne with children. Ideas on where to go with your child
Travelers with children will never get bored in Cologne as the choice of entertainments in the city is simply gorgeous. There are many beautiful parks that are perfect for a walk at any time of the year. Rheinpark is one of such places. It is located on the bank of the Rhine River and is distinguished by unbelievably beautiful design. In summer, the park is always decorated with numerous flower beds and exotic plants. Children will enjoy walking in such a beautiful place. Visitors of the park can look at gracious pink flamingos and even make a ride on a mini train that crosses all most picturesque places of the park. In summer, interesting events and entertaining activities for children take place in the park nearly every day.
Im Wasserturm is an old water tower that attracted the attention of French architect Andree Putman and she put her creative vision into this project. The unusual architecture of the tower, …
Open
Flora Botanic Garden is a no less attractive place for travelers who love nature. This park is not distinguished by large size, but Flora never ceases to attract and amaze guests with its elegant design. During a hot day, there is nothing better than to relax in the shade of old trees, sit near old fountains or feed ducks in a small pond. For many years this park has been very popular with both locals and travelers with children.
Cologne Zoo remains one of the most frequently visited places among travelers. The zoo is really worth visiting as it is one of the three largest and oldest zoos in Germany. Cologne Zoo was founded yet in 1856, and the variety of its inhabitants is simply striking. Visitors will be able to see Asian elephants, reindeer, various predators and many other animals. The cage with lemurs is traditionally one of the most popular among travelers who come with kids. Cologne Zoo is distinguished by beautiful design. There are not many traditional or fully closed cages there, and in many places manmade deep moats are used to separate animals from visitors. Copyright www.orangesmile.com
Artotel Cologne, by Park Plaza is a hotel that combines outstanding architecture, modern facilities, and high-class interiors. However, original artworks, many of which were brought from …
Open
Stadtwald Park is a great place for a family picnic during the warm part of the year. Children will enjoy magnificent playgrounds with rides and slides. There is even a small zoo in the park, while a boat renting station is another advantage of this wonderful place. In summer, visitors are welcome to rent a boat and make a pleasant and relaxing ride on the lake, after which they can, for example, go feed deer that are absolutely not scared of people and are very friendly.
If you prefer more thrilling and less usual entertainment, don't forget to make a ride on Kölner Seilbahn cable road. The road is made above the Rhine and its length is almost 1,000 meters. During a ride there, you will be able to enjoy breath-taking views of the city, so not only children, but also adults will enjoy this memorable ride.
Le Meridien Dom Cologne is located in an impressive building with beautiful terraces, which offer breath-taking views of the city. Inside guests will find a charming and comfortable setting …
Open
Another popular entertaining destination, Das Phantasialand Amusement Park is located in Cologne suburbs. This park occupies a large territory that is conventionally separated into several thematic zones, and every zone is dedicated to some country or city. Every thematic region of the park has its own unique attractions. There are both safe rides for babies and thrilling rollercoasters for fans of extreme, which were praised by Michael Jackson himself. For many years the park has been a regular venue for various interesting events and festivals. Various acrobatic performances and open air shows regularly take place in Das Phantasialand.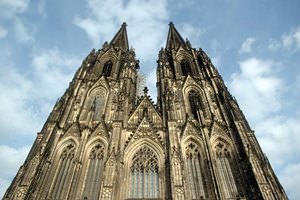 Cologne has attractions and landmarks to fit any taste, and Sea life Königswinter is worth is separate mention. This aquarium is also located in the city's suburbs. It is made as a giant tunnel, which has become home to more than 2,000 species of marine creatures.

This guide to family holidays in Cologne is protected by the copyright law. You can re-publish this content with mandatory attribution: direct and active hyperlink to
www.orangesmile.com
.
City tours, excursions and tickets in Cologne and surroundings
Photogallery of best places of Cologne
Children attractions (aquaparks, zoos, amusement parks) on the map of Cologne
Interesting places to visit with children around Cologne
Guide to sightseeing and entertainment for children in Cologne - parks, attractions, museums, zoos, water-parks. All fascinating and educational sites of Cologne, which are must visit and see for your child. Find out the best discovery routes and places for kids (local theaters, exhibitions and museums), where you can spend quality time together. Cologne for families with children.