Family trip to Wolfsburg with children. Ideas on where to go with your child
Wolfsburg will not disappoint its guests with its choice of entertainment. The whole family should definitely visit the Science Center Phaeno. All the expositions of this museum are interactive; young visitors will have the opportunity to communicate with a real robot, take a walk through interesting labyrinths and see with their own eyes how lightning occurs, and also take part in other incredibly interesting scientific experiments. For children, interesting team games are conducted in the museum, during which they can learn a lot of new and interesting things.
1. Currency exchange is quite problematic in the city. Exchange offices in banks are quite rare. They can be found near the railway station or at the airport, but it's still best to exchange …
Open
There are many beautiful parks in the city, one of the most picturesque amongst which is Allerpark. It is not just an ordinary park like others, where you can walk and enjoy singing birds, but a real entertainment center for the whole family. In summer, there are always interesting attractions in this park; you can ride on a roller coaster and extreme swings, while colorful carousels are available for the youngest visitors. In summer, cafes and souvenir shops are always operational in the park; you can comfortably relax here all day and have fun. There are usual playgrounds on the territory of the park, as well as recreation areas with benches, which are available for holidaymakers all year round.
Another unusual place, which is sure to please nature lovers, is the Wasserburg Neuhaus. In the territory of this beautiful quiet park, there are several historical sites, but its main decoration is a pond. It is home to very nice ducks, which children will love to feed. In the park, there are ideal conditions for walking and organizing a picnic. This park is suitable for walking at any time of the year. In winter, it is also very beautiful. Copyright www.orangesmile.com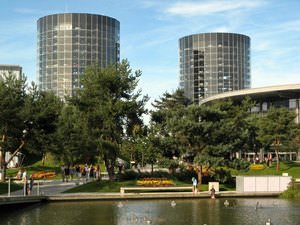 The city has several interesting auto museums; the most suitable for a family visit is the Volkswagen Auto Museum. In this museum, you can see the oldest Volkswagen cars. In some cars, visitors are allowed to sit, which is sure to please children. The museum is quite large and beautifully decorated. Some of the cars presented in it are painted in bright colors and resemble actual children's toys. Volkswagen Auto Museum is one of the largest museums of retro cars in the world. There are incredibly interesting and informative excursions in different languages ​​of the world for visitors.
The prestigious Wolfsburg Hotel Innside by Melia Wolfsburg attracts guests with not only an impeccable quality of service, but also with its original designer setting. Its rooms are …
Open
Those who prefer the original active entertainment, would like the center Monkeyman Hochseigarten. Here, visitors will have the opportunity to try out a lot of incredible rope attractions, go through various obstacle courses and take part in interesting games. All the attractions in the park are equipped among tree crowns. The staffs of the center closely monitor the safety of visitors and the serviceability of safety equipment. The original amusement park is one of the few in the world where suitable attractions and obstacle courses are found not only for schoolchildren and youth, but also for children from the age of 5. All year round, Wolfsburg offers its guests a huge choice of entertainment.

This guide to family holidays in Wolfsburg is protected by the copyright law. You can re-publish this content with mandatory attribution: direct and active hyperlink to
www.orangesmile.com
.
City tours, excursions and tickets in Wolfsburg and surroundings
Reference information
Amusement parks near Wolfsburg
♥ Amusement park 'Erse-Park' Uetze, 38.2 km from the center.
On the map
Photo
♥ Amusement park 'Freizeitpark Kirchhorst' Isernhagen, 58.5 km from the center.
On the map
Photo
♥ Amusement park 'Erlebniswelt Seilbahnen Thale' Thale, 77.4 km from the center.
On the map
Photo
♥ Amusement park 'Rasti-Land' Salzhemmendorf, 84.6 km from the center.
On the map
Photo
♥ Amusement park 'Serengeti Safaripark' Hodenhagen, 87 km from the center.
On the map
Photo
Aquariums in Wolfsburg and nearby
♥ Aquarium 'Sea Life Centre Hanover' , 73.9 km from the center.
On the map
Photo
♥ Aquarium 'Tropen-Aquarium Hagenbeck' Hamburg, 142.1 km from the center.
On the map
Photo
Famous sights of Wolfsburg
Homeless Cats Monument
From the series
"The Most Unusual Statues and Monuments"
Check on the map:
Distance from Wolfsburg center - 24.4 km.
In Germany, in the city of Braunschweig, there is the monument dedicated to the men without cats. The monument, which was erected in 1981, is impressively large and looks like a high stele, on which the bronze cats are fixed in different poses. All people who see the monument for the first time notice its incredible realism. The cat bellows opened more than 30 years ago became one of the main attractions of Braunschweig. …
Read further

Car rental on OrangeSmile.com

Preferred to Open 9 New Hotels in 2022
In September 2022, the Sommerro hotel in Oslo will start operating in a carefully restored 1930s Art Deco building. This building is a true landmark of Frogner, a historic neighborhood of the Norwegian capital. A multi-million-dollar renovation carefully turned the largest preservation project in Norway into a modern hotel with 231 rooms, including 56 residences. Preferred will open five more hotels in 2022, namely, The Wall Street Hotel in New York, Amrit Ocean Resort & Residences on Singer Island (Florida, the US), TOA Hotel & Spa in Zanzibar, Pendry hotel in Washington, and Pendry Park City hotel in Utah.
Read this
23.03.2023
Photogallery of best places of Wolfsburg
Children attractions (aquaparks, zoos, amusement parks) on the map of Wolfsburg
Interesting places to visit with children around Wolfsburg
Guide to sightseeing and entertainment for children in Wolfsburg - parks, attractions, museums, zoos, water-parks. All fascinating and educational sites of Wolfsburg, which are must visit and see for your child. Find out the best discovery routes and places for kids (local theaters, exhibitions and museums), where you can spend quality time together. Wolfsburg for families with children.