Cuisine of Wolfsburg for gourmets. Places for dinner - best restaurants
Local cuisine is characterized by an abundance of game dishes, a variety of meat delicacies and sausages. Fish dishes are equally popular, carp is considered the most common type of fish. Local chefs masterfully cook it on a grill, bake it with vegetables and fry over an open fire, so each restaurant offers a special recipe. Popular national dishes cannot be called sophisticated, as their ingredients and methods of preparation are quite simple.
The famous Autostadt Amusement Park opened in 2000 remains one of the tourists' most favorite leisure zones. The theme park is located on the territory of the Volkswagen automobile plant and …
Open
Connoisseurs of traditional European cuisine will love Sächsische Kartoffelsuppe soup, which is prepared with potatoes and homemade sausage slices. Fans of meat delicacies will appreciate venison goulash, and those with a sweet tooth will be pleased with the abundance of pastries and homemade cakes. In coffee shops, guests are invited to try fragrant cheesecakes with fruit fillings, pancakes, and pies.
Local pubs are also very popular with foreigners, as each one presents the best German beers. Along with the favorite drink, visitors can order potato flour pancakes, homemade sausages, cold cuts, and a lot of other interesting snacks. Copyright www.orangesmile.com
1. Currency exchange is quite problematic in the city. Exchange offices in banks are quite rare. They can be found near the railway station or at the airport, but it's still best to exchange …
Open
Not far from the train station there is Celona, a cozy cafe popular not only among locals but also among visitors to the city. Its menu consists of a variety of salads, snacks, and meat dishes, where meatloaf is considered a house specialty. Celona is especially attractive in the morning when it offers a grandiose breakfast buffet. You can try a lot of interesting treats for little money, an additional fee will only be charged for drinks.
Cadera is a must-have for vacationers with a sweet tooth. Although it can boast a pleasant interior, in the warmer months, visitors prefer to sit on a beautiful terrace. In addition to a wide selection of cakes, pancakes and other culinary delights, guests will be offered cold and hot sandwiches as well as salads. Guests will be pleased with reasonable prices, here they can spend a relaxing time as a family. Those who want a quick bite in between sightseeing will enjoy Back wezern. This snack bar offers a rich selection of sandwiches, hot and cold drinks. Back wezern is one of the most popular budget-friendly places in town. Thus, visitors can buy a big meat sandwich for only 1 euro and order takeaways, if necessary.
Together with a variety of meat dishes, local restaurants and cafes also offer numerous dishes containing trout and eel. In order to make a meal more diversified and not only focused on fish, consider ordering the traditional boiled sausages that have already become a popular everyday food in the region. These sausages are usually served together with fermented cabbage. Naturally, delicious sausages remain the most popular addition to beer.
The prestigious Wolfsburg Hotel Innside by Melia Wolfsburg attracts guests with not only an impeccable quality of service, but also with its original designer setting. Its rooms are …
Open
Pinkel is one of the most popular meat dishes in Wolfsburg. This is a nutritious sausage stuffed with mush, onion, and spices. There is no one universal Pinkel recipe, so different restaurants can offer their own versions of the popular food. Some chefs add small pieces of bacon or liver fat to the sausage. Quite an interesting fact – Wolfsburg restaurants often offer Pinkel together with fish.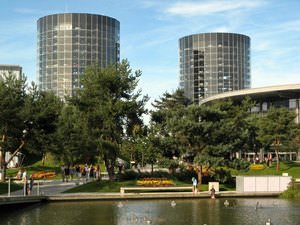 When it comes to first-course dishes available in the national restaurants, it is important to mention Eintopf soup, the recipe of which appeared more than a century ago. In the past, this soup was the main everyday food of local farmers. It was traditionally cooked in large cauldrons that were kept heated all day long in order to keep the soup warm. Nowadays, there is also no universal recipe for this dish. Eintopf is usually cooked from ingredients that are available at the moment. The soup can contain various types of meat, smoked sausages, cabbage, potatoes, mushrooms, carrots, and various beans. Needless to say, the soup is very nutritious and hearty, so it easily replaces first- and second-course dishes for guests of the regional cuisine restaurants.
The most prestigious and famous hotel outside of the city of Wolfsburg is The Ritz-Carlton. This designer hotel offers customers 170 luxury rooms to choose from, with the minimum area being …
Open
Desserts with fresh fruit are very popular in the regional cuisine. It is particularly important to pay attention to local pastries. When visiting local cafes and confectioneries, don't forget to order the traditional pear pie. Besides that, tourists will also find a selection of nutritious buns. Days of the national holidays are the best time to try many interesting desserts and other delicacies.

This guide to cuisine and restauraunt in Wolfsburg is protected by the copyright law. You can re-publish this content with mandatory attribution: direct and active hyperlink to
www.orangesmile.com
.
City tours, excursions and tickets in Wolfsburg and surroundings
Reference information
Michelin-starred restaurants in Wolfsburg
♥ Restaurant 'Awilon' Wolfsburg. Type - Market cuisine. 0.3 km from the center.
On the map
Photo
♥ Restaurant 'Ven' Wolfsburg. Type - Market cuisine. 0.5 km from the center.
On the map
Photo
♥ Restaurant 'Terra' Wolfsburg. Type - International. 1.1 km from the center.
On the map
Photo
♥ Restaurant 'Chardonnay' Wolfsburg. Type - International. 1.3 km from the center.
On the map
Photo
♥ Restaurant 'Parkhotel Wolfsburg' WOLFSBURG. Type - International. 1.6 km from the center.
On the map
Photo
♥ Restaurant 'Saphir' Wolfsburg-Neuhaus. Type - Creative. 4.8 km from the center.
On the map
Photo
♥ Restaurant 'L'Oliva nera' Fallersleben. Type - Italian. 4.9 km from the center.
On the map
Photo
♥ Restaurant 'La Fontaine' Wolfsburg-Fallersleben. Type - Classic French. 5.3 km from the center.
On the map
Photo
♥ Restaurant 'Ratsweinkeller' Gifhorn. Type - Country|Classic cuisine. 17.9 km from the center.
On the map
Photo
♥ Restaurant 'Das Alte Haus' BRAUNSCHWEIG. Type - Modern cuisine. 25.8 km from the center.
On the map
Photo
Car rental on OrangeSmile.com

Expo 2020 in Dubai Was Visited by More Than 7 Million Visitors
If you haven't visited this event yet, there is still time to book a hotel in Dubai because Expo 2020 Dubai runs until 31 March 2022. People who are unable to visit the emirate can make a virtual tour on the Expo 2020 website. By the way, the virtual visitation has already reached 31.6 million by the end of December.
Read this
20.03.2023
Wolfsburg in photo set
Searching where to eat - restaurants and cafe on Wolfsburg map
Cuisine and restaurants in the neighbours of Wolfsburg
Travel notes on best cuisine and restaurants of Wolfsburg (Germany) on OrangeSmile.com. Famous recipes and traditional dishes and courses in Wolfsburg restaurants. Where to eat - our recommendations on popular places in Wolfsburg, where you can taste delicious meal and also spend a good time with your friends.