Cuisine of Hannover for gourmets. Places for dinner - best restaurants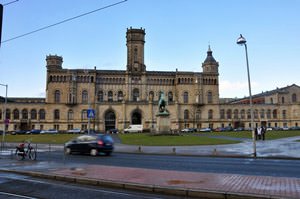 Hanover is rich in dining facilities that specialize in a variety of culinary traditions. Guests of the city usually praise Basil restaurant, the spacious hall of which can accommodate up to 130 visitors at a time. During warm months the restaurant's tables are served on the terrace in front of the restaurant. Among the signature dishes of the restaurant are risotto, roast beef and artichoke soup.
New Town Hall, Opernhaus, Hannover Congress Centrum, Norddeutsche Landesbank, as well as many others, they all become the world's cultural heritage objects and remain as iconic monuments for Hannover …
Open
Bell'Arte restaurant is located next to the famous church. This is also one of most original and attractive restaurants in this wonderful city. Here visitors will be offered to try most popular dishes of Italian cuisine. Traditional pasta, several varieties of crispy pizza and gentle homemade tiramisu will please even most demanding visitors. Bell'Arte will be surely liked by fans of meat dishes – the choice of various meat delicacies is really huge and makes up a significant portion of the restaurant's menu.
Chimú restaurant specializes on cooking dishes from Peruvian cuisine. Among its specialties you will find many delicacies. Gourmet visitors are recommended to try turkey baked in chocolate sauce as well as signature Mayan pate. The restaurant is also distinguished by the original design of the hall. Its walls are decorated with colorful masks and all items of furniture are made of fine wooden twigs. Fans of Mediterranean cuisine simply cannot fail to visit the restaurant of Die Insel. In addition to classic Mediterranean dishes guests will be offered to try French cuisine meals. Guests will be surely delighted with cozy atmosphere of the hall. Copyright www.orangesmile.com
Hannover is an administrative center of Lower Saxony, Germany. The city is located on the Leine River, in the place where mountain massive Weserbergland meets Luneburg Heath. Hannover is 160 …
Open
The opening of Minoas restaurant dedicated to Greek cuisine took place more than 20 years ago. During its long history the restaurant has won love and devotion from numerous visitors from different countries of the world. Here guests will be offered to try delicious lamb and most original seafood dishes. Even traditional Greek salads are prepared by local chefs in accordance with special recipes.
Verve is one of the most popular restaurant dedicated to German cuisine. In addition to delicious beer guests of Verve prefer to order roast pork meatballs with rich vegetable garnish, liver pate and perch baked with vegetables. When it's dessert time, guests will be offered to enjoy a great selection of home-made baking. A wide choice of French cuisine dishes can be found in Le Chalet restaurant. One of the main features of this dining facility is the so called "wine corner", which features most famous sorts of French wine. Visitors can choose a drink that will complement their favorite food by themselves, or the restaurant's staff will help to make the choice.
Among the sights of Hannover which are perfect for families with children, the Erlebnis Zoo Hannover deserves priority. Large and equipped, it is considered one of the best in Germany. The …
Open
Brauhaus Ernst Augus is a historic brewery that remains one of the main gastronomic symbols of Hannover. The opening of the brewery took place yet at the beginning of the 16th century. A small historical restaurant appeared in the brewery approximately 30 years ago. It shares the same name with the brewery and offers not only the legendary beer but also many dishes that are very popular in the regional cuisine.
It is one of a few venues where visitors can try a rare type of red beer called Sephir. Fans of dark beer will be thrilled to try Dunkel. In addition to beer, visitors of the restaurant can choose from a great range of meat delicacies, as well as traditional hot dishes. Besides that, the restaurant offers the traditional potato soup, various types of meat goulash, and a simply astonishing selection of various snacks and appetizers.
Hannover attracts visitors not only by its numerous attractions and places of interest, but also by amazing holidays and festivals that are held annually in this wonderful city. For more …
Open
Waiters use massive wooden cutting boards to serve different meat platters, locally produced ham and cheese, smoked sausages, and pickled vegetables. Moreover, the restaurant offers amazing grilled meat and the traditional pork knuckle. It is also important to mention a rich choice of fish dishes that are also available in the charming restaurant. For example, perch baked with vegetables is one of the signature treats.
When you are in a mood to try interesting local delicacies, don't forget to visit the main market of Hannover called Hannover Market Hall. It is an absolutely fabulous place where visitors will find the most popular national food brought from different regions of Lower Saxony. It is a great place to try rare types of local sausages, and various smoked delicacies. It is particularly important to mention the gorgeous local cheese – there are dozens of different variations. Finally, there are several stalls that offer locally produced wine. There are several charming and affordable cafes in the territory of the market. They sell popular everyday food. Some tourists head straight to vendors who offer fresh pastries.
Start your observation of the city's attractions from making a visit to the New Town Hall (Neues Rathaus), the construction of which lasted for 12 years and was completed in 1913. Nowadays …
Open
Residents of Hannover are in love with the drink called Luettje Lage. This is an incredibly popular cocktail that is made on the basis of corn and dark beer. Many tourists are surprised when they see the serving method of this drink for the first time. The thing is, the drink is served in two mugs, and it is important to drink from the both simultaneously. There is even a special instruction for foreign guests on how to drink Luettje Lage.

This guide to cuisine and restauraunt in Hannover is protected by the copyright law. You can re-publish this content with mandatory attribution: direct and active hyperlink to
www.orangesmile.com
.
City tours, excursions and tickets in Hannover and surroundings
Reference information
Michelin-starred restaurants in Hannover
♥ Restaurant 'MARY's' HANNOVER. Type - Classic French. 0.4 km from the center.
On the map
Photo
♥ Restaurant 'Röhrbein' Hannover. Type - Country. 0.6 km from the center.
On the map
Photo
♥ Restaurant 'BISTRO Schweizerhof' HANNOVER. Type - International. 0.9 km from the center.
On the map
Photo
♥ Restaurant 'Clichy' HANNOVER. Type - Classic French. 1.3 km from the center.
On the map
Photo
♥ Restaurant 'Jante' Hannover. Type - Modern cuisine. 1.7 km from the center.
On the map
Photo
♥ Restaurant 'boca' List. Type - Modern cuisine. 1.8 km from the center.
On the map
Photo
♥ Restaurant 'Hindenburg-Klassik' Hannover-Zoo. Type - Italian. 1.8 km from the center.
On the map
Photo
♥ Restaurant 'Die Insel' Hannover-Döhren. Type - Modern cuisine. 3.4 km from the center.
On the map
Photo
♥ Restaurant 'Schlossküche Herrenhausen' Herrenhausen. Type - International. 3.4 km from the center.
On the map
Photo
♥ Restaurant '5th Avenue' Hannover-List. Type - International. 3.7 km from the center.
On the map
Photo
Hannover in photo set
Searching where to eat - restaurants and cafe on Hannover map
Cuisine and restaurants in the neighbours of Hannover
Travel notes on best cuisine and restaurants of Hannover (Germany) on OrangeSmile.com. Famous recipes and traditional dishes and courses in Hannover restaurants. Where to eat - our recommendations on popular places in Hannover, where you can taste delicious meal and also spend a good time with your friends.