Detailed hi-res maps of Pyatigorsk for download or print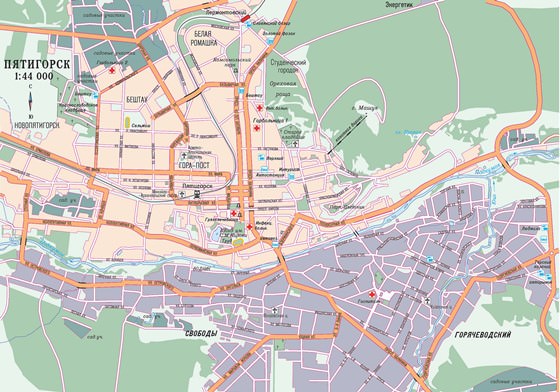 The actual dimensions of the Pyatigorsk map are 2360 X 1652 pixels, file size (in bytes) - 861781. You can open this downloadable and printable map of Pyatigorsk by clicking on the map itself or via this link:
Open the map
.
City tours, excursions and tickets in Pyatigorsk and surroundings
Car rental on OrangeSmile.com

Hard Rock Hotel in Madrid Welcomes Its First Guests
Located in the Golden Triangle of Art, this hotel blends together beach recreation, music, art, history, and culinary. The vibrant spirit of Madrid is perfectly suitable for the Hard Rock brand. For the first time, this hotel brand was introduced to Europe in 2014, when Hard Rock opened a hotel in Ibiza. Later, another hotel in Tenerife joined the portfolio. The Madrid hotel has 161 rooms and suites sized from 194 square feet. There are rooms that face the capital for those who want to enjoy a vibrant city view and rooms that face the garden for a more tranquil atmosphere. A large event space and rooftop venues make this hotel suitable for meetings and celebrations.
Read this
24.07.2021
Search for services, infrastructure and sights on map of Pyatigorsk
Photogallery of Pyatigorsk sightseeing
Our guide chapters over Pyatigorsk
All fans of theatrical performances should visit the Stavropol Theatre of Musical Comedy opened in 1939. The building occupied by the theatre was built at the beginning of the 20th century and is known as the House of National Cultures. After the Revolution, the establishment of the Soviet authority was officially announced exactly in this building. In the period of the Great Patriotic War, the building was …
Open
The first civil settlements were formed here only several centuries later. It was quite difficult to reach the city so it was not developing as fast as it could. Despite this, the glory of the local healing water encouraged the population influx. In the city, the first stone house was built in 1812. It was leased to rich families, which members came to Pyatigorsk for water. The locals understood the benefits fast …
Open