Family trip to Oberhausen with children. Ideas on where to go with your child
Oberhausen enjoys well-deserved popularity among vacationing families due to a wide choice of picturesque walking areas and interesting entertainment centers. Nature enthusiasts begin their recreation program with a visit to Kaisergarten. This is not just a beautiful park where you can walk among mighty trees and admire flowering plants in spring, but a real nature center. The park has a small zoo where children can feed friendly lamas and birds, as well as admire free-walking peacocks. Kids are provided with lots of playgrounds and gymnastic rides. There is also a beautiful lake in the park.
1. Oberhausen is a small city so it is comfortable to explore it on foot. All its major attractions are located within walking distance from each other. 2. The city has a large railway …
Open
Another interesting place for nature lovers is SEA LIFE Oberhausen. This aquarium's collection is extensive and multifaceted, here you can see rare colorful fish, stingrays, and rare marine predators striking with their original appearance. SEA LIFE features an original design and covers a vast area so you'll need several hours to explore all of its collections. The center conducts interesting educational tours for children. The aquarium is especially popular during school holidays.
Another entertainment center known far beyond the city is LEGOLAND Discovery Centre. This theme amusement park is dedicated to well-known LEGO construction toys. It has many unusual figures constructed from colorful small bricks. In this center, children will be able to build their favorite structures and get acquainted with interesting exhibitions, as well as take a lot of interesting memorable photos. The entertainment center houses a great store where you can buy the latest toys and a host of other thematic souvenirs. Copyright www.orangesmile.com
Among children-friendly Oberhausen museums, it is worth mentioning the LVR-Industriemuseum, Zinkfabrik Altenberg. This industrial museum stores a very interesting collection of old industrial equipment. Here you can see vintage cars and devices that were used in the railroad industry decades ago. Museum visitors can sit in old cars and even take pictures in them. If you want, you can see how old industrial equipment works. Despite the museum's serious subject, it is highly appreciated by vacationers with children.
The most popular shopping spot in Oberhausen is CentrO Shopping Center. It is one of the largest in the region, accomodating about 220 stores of various profiles. The shopping center is also …
Open
In the warm season, guests of Oberhausen are encouraged to take a stroll through its picturesque parks. One of the most interesting for families is Abenteuer Park. It is located near the aquarium and offers visitors a lot of interesting water attractions. Here, children can play pirates, go down water slides, and even splash around in an artificial waterfall. The park regularly holds interesting recreational activities and games for kids.

This guide to family holidays in Oberhausen is protected by the copyright law. You can re-publish this content with mandatory attribution: direct and active hyperlink to
www.orangesmile.com
.
City tours, excursions and tickets in Oberhausen and surroundings
Famous sights of Oberhausen
Abteiberg Museum
From the series
"Famous buildings of Postmodern architecture"
Check on the map:
Distance from Oberhausen center - 42.1 km.
The building in which the museum is located today was designed by the famous Austrian architect Hans Hollein. The building built by him is characterized by a very complex structure. It has a large-scale underground part. As the architect notes, he sought to make the museum multidimensional and unpredictable, so that his visit turned into an exciting adventure. The museum moved to the current building in 1982. It became known all over the world for its large-scale collection of avant-garde art. …
Read further

Crouching Tiger and Turtle
From the series
"Furious Footways Around the World That Make You Dizzy"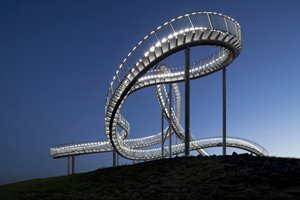 Check on the map:
Distance from Oberhausen center - 12.8 km.
The authors of the project of an unusual staircase are Heike Mutter and Ulrich Genth. They managed to combine in one structure two functions at once: to make an excellent viewing platform and an unusual attraction. Many tourists prefer to stroll through the stairs in the evening, when it is decorated with spectacular artistic illumination. The design is quite of impressive scale. Its height reaches 13 meters. From the highest point of the staircase opens a wonderful panoramic view of the city. …
Read further

Photogallery of best places of Oberhausen
Children attractions (aquaparks, zoos, amusement parks) on the map of Oberhausen
Interesting places to visit with children around Oberhausen
Guide to sightseeing and entertainment for children in Oberhausen - parks, attractions, museums, zoos, water-parks. All fascinating and educational sites of Oberhausen, which are must visit and see for your child. Find out the best discovery routes and places for kids (local theaters, exhibitions and museums), where you can spend quality time together. Oberhausen for families with children.