Preparing your trip to Gelsenkirchen: advices & hints - things to do and to obey
1. The best time for vacation is spring and summer. In the autumn-winter period, plans can be ruined by prolonged rains. For tourists who expect to spend a lot of time walking in the fresh air, it wouldn't be superfluous to take along some warm clothes. In the evening, it can be pretty cold outside.
2. It is recommended to exchange money in banks where the most favorable rates are offered. Banks and government agencies serve visitors from 8:30 am to 3:00 pm, a long working day is Thursday when offices are open until 5:00 pm - 6:00 pm.
3. You can withdraw money from a credit card at one of the many ATMs; it's best to use the services of Geldautomat ATMs. It is worth noting that most shopping centers, restaurants, and gas stations accept cashless payments.
4. The city has a well-developed public transport system with a single type of tickets. Tickets are sold at special kiosks standing close to public transport stops, as well as newspaper and tobacco kiosks.
5. Budget travelers should think about buying a ticket for 25 hours, a few days, a week, or a month. With WelcomeCard, one adult and three children can travel by bus for free. It also gives discounts at many museums and other cultural institutions. Copyright www.orangesmile.com
6. It's best to make calls to other cities and countries from public telephones, which can be found close to transport stops, public institutions, and shopping centers. They work with special plastic or credit cards.
7. The mains voltage is 220 V; standard European-type sockets are installed in all inns and hotels. If necessary, adapters for electrical appliances can be requested at the hotel desk or bought at any specialty store.
The city concentrates a huge number of various entertainment facilities, from traditional nightclubs and elite bars to large-scale shopping malls and restaurants. There is also a great zoo …
Open
8. When visiting restaurants and cafes, keep in mind that portions of dishes can be quite large. It's quite advisable to order one dish for two, so you shouldn't hesitate to ask questions.
9. Shops are open to visitors from 9:00-10:00 am to 6:00-7:00 pm. All major shopping centers work with a "tax-free" system allowing customers to receive sales tax refunds when leaving the country.
10. In restaurants, it is customary to leave tips, which make up 10% of the total bill. Taxi drivers can be tipped as well - just round the sum to the nearest convenient number.

Preparing your trip to Gelsenkirchen: advices & hints - things to do and to obey You can re-publish this content with mandatory attribution: direct and active hyperlink to
www.orangesmile.com
.
What to visit being in Gelsenkirchen - unique sights
Zeche Zollverein
From the series
"The Scariest Mines in the World"
Check on the map:
Distance from Gelsenkirchen center - 3 km.
After admiring priceless artifacts in museums, it's worth to have a stroll through the deserted underground; just the simple descent via worn metal ladders makes adrenaline go rushing. Many mysterious stories are associated with Zeche Zollverein mines, as many industrialists have faced there with phenomenon of abnormal knocks. Tourists who visit these places often hear unexplained sounds. They are so distinct and realistic, that it seems that there is still active work in some areas of mines. …
Read further

Crouching Tiger and Turtle
From the series
"Furious Footways Around the World That Make You Dizzy"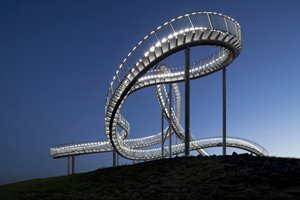 Check on the map:
Distance from Gelsenkirchen center - 26.7 km.
The length of the staircase is 220 meters. It is open day and night. Admission is free. The original attraction in Duisburg was opened in 2011 and became instantly known worldwide and popular with lovers of unusual entertainments. 'Tiger and Turtle' staircase is located in the picturesque Angerpark. One of the most important secrets of the ladder is the traditional roller coaster dead loop, which is much easier to pass through than it might seem at first glance. …
Read further

City tours, excursions and tickets in Gelsenkirchen and surroundings
Car rental on OrangeSmile.com

Hilton builds third luxury hotel in Kyoto
Hilton has announced that it will soon begin a project to build a new hotel in Kyoto. It will be located in the heart of the city, in the prestigious area of Sanjo-Kawaramachi. Guests will be able to easily reach all areas of interest in the dynamic city, many popular attractions and recreation areas will be within a walking distance from the hotel.
Read this
30.05.2023
Photos of Gelsenkirchen
Services search (pharmacy, police, parking, banks) on Gelsenkirchen map
Tips for the cities around Gelsenkirchen
Travelling to Gelsenkirchen - advices and tips. What should be provisioned in advance, the rules you might want to follow, and the things you better avoid doing in Gelsenkirchen. We help you to make your trip smooth and easy, with no unexpected surprises.