Preparing your trip to Essen: advices & hints - things to do and to obey
1. The main train station in Essen is one of the most advanced in Germany, so you can get to almost any city in the country from it. Tourists who expect to visit nearby towns are recommended to travel by high-speed trains. They are very comfortable and can take you to the city of interest in the shortest possible time.
2. Public transport is represented by three lines of Metrotram. It is very convenient and fast transport, with which you can easily reach to any area of interest.
3. The city has a decent selection of hotels for every taste and budget, but it's better to book a hotel room in advance. The fact is that Essen is visited by many foreign guests because of the huge number of exhibitions, so it isn't easy to find a suitable accommodation place.
4. It is very clean on the streets, in parks and gardens; in any case, don't leave trash on the street, as a large fine will be charged for this. Smoking is allowed only in designated smoking areas; they are close to all major public places.
5. Going on vacation to the park, don't settle for a picnic in a very first place. Not the whole territory of local parks allows such an activity; current rules have to be specified in advance. Copyright www.orangesmile.com
6. Budget travelers should be aware that prices in local hotels and restaurants are pretty high. It is because of the rich cultural life of the city and a huge number of tourists. Thrifty travelers have to choose hotels and restaurants located away from the center and major exhibition centers.
7. All major shopping centers and restaurants accept credit cards. Before the trip, be sure to specify whether your credit card is valid outside your home country.
Essen starts its history in 800 AD, from the moment of the foundation of Verdun Abbey. It was the abbey which gave birth to this city. Essen is widely known for its exhibitions that are …
Open
8. Many cultural events in the city are free to visit, so all those interested can take part. Interesting exhibits and cultural events are held throughout the year, but the peak season is in summer months.

Preparing your trip to Essen: advices & hints - things to do and to obey You can re-publish this content with mandatory attribution: direct and active hyperlink to
www.orangesmile.com
.
What to visit being in Essen - unique sights
Zeche Zollverein
From the series
"The Scariest Mines in the World"
Check on the map:
Distance from Essen center - 4.3 km.
After admiring priceless artifacts in museums, it's worth to have a stroll through the deserted underground; just the simple descent via worn metal ladders makes adrenaline go rushing. Many mysterious stories are associated with Zeche Zollverein mines, as many industrialists have faced there with phenomenon of abnormal knocks. Tourists who visit these places often hear unexplained sounds. They are so distinct and realistic, that it seems that there is still active work in some areas of mines. …
Read further

Crouching Tiger and Turtle
From the series
"Furious Footways Around the World That Make You Dizzy"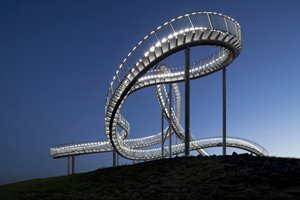 Check on the map:
Distance from Essen center - 21.2 km.
The length of the staircase is 220 meters. It is open day and night. Admission is free. The original attraction in Duisburg was opened in 2011 and became instantly known worldwide and popular with lovers of unusual entertainments. 'Tiger and Turtle' staircase is located in the picturesque Angerpark. One of the most important secrets of the ladder is the traditional roller coaster dead loop, which is much easier to pass through than it might seem at first glance. …
Read further

City tours, excursions and tickets in Essen and surroundings
Car rental on OrangeSmile.com

Hilton builds third luxury hotel in Kyoto
The project organizers note that the new Kyoto hotel is perfect for both business and leisure. Just to remind you, the opening of the Roku Kyoto hotel took place in the city in 2021. The luxury hotel also never ceases to amaze guests with its exquisite atmosphere and variety of services. It is close to famous attractions like Kinkaku-ji Temple, and Shozan Resort Kyoto Pavilion is a short walk from the hotel.
Read this
23.03.2023
Photos of Essen
Services search (pharmacy, police, parking, banks) on Essen map
Tips for the cities around Essen
Travelling to Essen - advices and tips. What should be provisioned in advance, the rules you might want to follow, and the things you better avoid doing in Essen. We help you to make your trip smooth and easy, with no unexpected surprises.