Shopping in Hannover - authentic goods, best outlets, malls and boutiques
The usual way to begin shopping in Hanover is to visit a popular Kaiser shopping center. It is a great place to buy new clothes and shoes. The complex includes shops of various price categories. Affluent customers can visit Lacoste and Boss brand pavilions. Brand stores of budget categories are also found here. The shopping center is located near the railway station, so it is very popular with tourists.
For quality shoes go to Street One store. It is located near the railway station. This shop attracts customers with a wide range of goods and affordable prices. Ladies will be able to choose a pair of wonderful summer shoes for up to 15 euros, and for 20 euros you can choose nice boots. They sell shoes for all seasons. You'll be pleasantly surprised by a variety of models for both men and women. Copyright www.orangesmile.com
Within walking distance of the Hannover Central Station is the unique design Hotel Loccumer Hof. It was designed with the direct input and participation of its owner. Its bright and …
Open
One of the largest and most popular shopping centers in the city is Karstadt. It is focused on a wide range of customers. There are shops of popular brands with affordable prices, as well as Armani and Lacoste boutiques, which will attract the attention of wealthy buyers. Swarowski store is no doubt popular with ladies. Women can choose luxurious jewelry to create a new outfit. You'll find excellent lingerie stores, as well. Men will be more interested in electronics stores.
Travelers with children should definitely come by Werner und Werner store. It is considered one of the best children's shops in the city. They have excellent clothes for children of different ages. The price level in this store is rather high. Children's jackets cost about 130 euros. However, the store is always full of customers.
For many years now, the Kastens Hotel Luisenhof has been especially popular among wealthy guests of Hannover. It is the most upscale and prestigious hotel in the city occupying an …
Open
There is a brand Salamander shoe store in Hanover, where you can purchase great shoes at the most attractive prices. A pair of classic men's or women's shoes will cost about 40 euros. Lovers of exclusive shoes will find models for 50 - 80 euros. The quality of shoes in this store deserves the highest praise.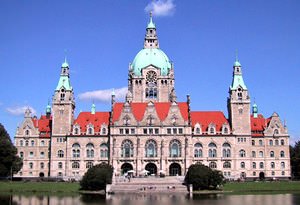 Travelers who like to go round malls should not ignore Kaufhof complex. It is difficult to imagine a category of goods that could not be purchased at this shopping center. There are dozens of clothing, footwear and cosmetics shops, large electronics stores and pavilions with goods for children. A whole day won't be enough to explore all the shops of this huge center.
There are for fans of the traditions of past centuries, several attractive hotels in Hannover that will be interesting to visit. One of such is the Central-Hotel Kaiserhof, located opposite …
Open
Horstmann + Sander Outlet is quite an unusual place that will be of interest to fans of Dolce & Gabbana brand. In this outlet brand things from past collections are sold with huge discounts. For example, ladies can purchase luxury bags for 300 euros and shoes for 150 - 200 euros.
Kaesemann jewelry shop deserves particular attention. It presents jewelry for every taste and purse. Those who are fond of gold will be offered exclusive designer necklaces costing from 400 euros. Those who do not expect to spend such huge sums on new jewelry can appreciate articles made of amber or silver jewelry.
Some hotels in Hannover have a particularly romantic setting. Maritim Grand Hotel being one such, is very popular among couples. Its double rooms are decorated in a romantic style and …
Open
Book lovers should really turn their attention to Schmorl bookstore. Besides fiction in various languages, excellent tourist guides, postcards and other attractive souvenirs are sold here.

This guide to shopping in Hannover is protected by the copyright law. You can re-publish this content with mandatory attribution: direct and active hyperlink to
www.orangesmile.com
.
City tours, excursions and tickets in Hannover and surroundings
Reference information
Shopping streets in Hannover
♥ Shopping area ' Georgstraße' Hannover, 0.3 km from the center.
On the map
Photo
♥ Shopping area ' Bahnhofstraße' Hannover, 0.4 km from the center.
On the map
Photo
Designer outlets in Hannover and nearby
♥ Outlet 'Designer Outlets Wolfsburg' An der Vorburg 1 Wolfsburg 38440 Germany, 72 km from Hannover.
On the map
♥ Outlet 'Ochtum Park' Bremer Strasse Stuhr 28816 Germany, 98.4 km from Hannover.
On the map
♥ Outlet 'DESIGNER OUTLET NEUM' Oderstrasse Neum 24539 Germany, 186.5 km from Hannover.
On the map
Photogallery of Hannover best places
Search for shopping areas, streets, boutiques and supermarkeets on Hannover map
Shopping advices for the whole region around Hannover
Shopping advices for Hannover. The best spots for buying designer clothes and local delicacies from Germany - shops, galleries, boutiques and outlets. We provide you with the shopping streets map, so you can plan your efficient shopping routes, while hunting for authentic souvenirs, goods, drinks, shoes and clothes in Hannover.