Family trip to Wuppertal with children. Ideas on where to go with your child
Wuppertal with its variety of attractions will be interesting to visit for all without exception, even travelers with children. The city has a beautiful Zoo Wuppertal, the diversity of whose inhabitants is amazing. Here you can see tigers and lions, watch elephants and rare birds, as well as in the immediate vicinity, view rare African animals. The zoo is very interestingly decorated; there is a beautiful lake on its territory, in which live pink flamingos and a beautiful park zone where squirrels and chipmunks that are absolutely not afraid of people, run. In addition, visitors to the zoo can explore the terrarium. Many come to the zoo by the indicated time to see how the staffs are feeding the penguins.
Friedrich Engels' hometown and its surroundings are perfect for cycling or walking tours. The most popular routes are Nordbahntrasse and Sambatrasse. It is not surprising that locals look …
Open
Those who just want to relax in beautiful natural surroundings should go to the park Barmer Anlagen. This park is the largest in the city, to get around it all will take several hours. Children will certainly love the spacious paths and lawns, where they can run and play active games. There is a beautiful pond with ducks and some interesting historical sites in the park. In the park, there are special areas where you can have a picnic and benches under the crowns of trees.
On a rainy day, you can go to the most original pool of the city – Schwimmoper Wuppertal, which is also great for a family holiday. In the center, there is a large swimming pool for adults, as well as several small pools for children. Visitors can enjoy excellent relaxation areas with sun loungers. In the center, there is a café, next to which is a beautiful park which will be pleasant for a stroll after water activities. Copyright www.orangesmile.com
1. While communicating with the locals, it is worth keeping in mind some important nuances. When you talk to other person, you should say not only his/her name, but also the position of …
Open
Wuppertal is has a variety of museums, some of which will be especially interesting to visit with children. Among these institutions is the open-air Bergische Museumsbahnen, which is dedicated to the history of railway and trams. Its main "exhibits" are ancient trains and trams, which absolutely everyone can walk around the coaches. Some ancient trams are still in working condition and visitors are offered to ride them on the territory of the museum and even learn how to manage these amazing vehicles independently. Children are guaranteed a lot of impressions from visiting the museum.
There is a well-known Skulpturenpark in the city, which is also suitable for a family walk. The main feature of this park is the sculptures on its territory, among which there are quite original and abstract ones. The park is especially interesting for visiting in the summer. It often hosts interesting exhibitions, workshops on art, and other cultural and entertainment events. Also in the park, there is an excellent restaurant where you can always arrange a family lunch or dinner.

This guide to family holidays in Wuppertal is protected by the copyright law. You can re-publish this content with mandatory attribution: direct and active hyperlink to
www.orangesmile.com
.
City tours, excursions and tickets in Wuppertal and surroundings
Famous sights of Wuppertal
Zeche Zollverein
From the series
"The Scariest Mines in the World"
Check on the map:
Distance from Wuppertal center - 26.7 km.
Coal mining has been conducted in the mines until 1986, until the field was completely exhausted. However, it was decided not to close it. Currently, extensive underground tunnels and old factories house interesting thematic museums, and desert tunnels attract curious tourists no less than the halls with unique exhibits. …
Read further

Crouching Tiger and Turtle
From the series
"Furious Footways Around the World That Make You Dizzy"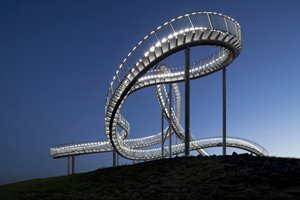 Check on the map:
Distance from Wuppertal center - 33.2 km.
The authors of the project of an unusual staircase are Heike Mutter and Ulrich Genth. They managed to combine in one structure two functions at once: to make an excellent viewing platform and an unusual attraction. Many tourists prefer to stroll through the stairs in the evening, when it is decorated with spectacular artistic illumination. The design is quite of impressive scale. Its height reaches 13 meters. From the highest point of the staircase opens a wonderful panoramic view of the city. …
Read further

Photogallery of best places of Wuppertal
Children attractions (aquaparks, zoos, amusement parks) on the map of Wuppertal
Interesting places to visit with children around Wuppertal
Guide to sightseeing and entertainment for children in Wuppertal - parks, attractions, museums, zoos, water-parks. All fascinating and educational sites of Wuppertal, which are must visit and see for your child. Find out the best discovery routes and places for kids (local theaters, exhibitions and museums), where you can spend quality time together. Wuppertal for families with children.