Family trip to Duisburg with children. Ideas on where to go with your child
There are many beautiful and interesting places in Duisburg where one can have a great time with the whole family. Lovers of outdoor recreation often go to the park Blauer See Duisburg-Bissingheim, in whose territory is a large beautiful lake. One can wonderfully spend an entire day here by playing active games or just taking a walk in the vast park, while children will be able to feed the ducks living in the lake. The park is very large and beautiful. It is especially interesting to visit it in the warm season, when holidaymakers are offered boat trips on the lake.
1. Do not forget to leave tips in restaurants and cafes of the city. As a rule, the size of tips depends on the total amount of your order. If your order is 5 euros or more, the size of …
Open
On a rainy day, one can go to the entertainment center Moonlight Minigolf, which is also focused on family recreation. It has very original mini-golf courses decorated with artistic illumination and unusual figures. Not only adults, but also children who are given special small sticks for hire, can hone the skills of golfing here. In the center, one can perfectly relax during the day, enjoying your favorite game and trying out signature dishes in the cafe.
Travelers with children should definitely visit the Zoo Duisburg. It does not have an impressive scale, but it offers visitors the opportunity to admire rare exotic animals. In the zoo, there are typical representatives of the African fauna, inhabitants of the faraway rainforests, children's beloved- monkeys, as well as a large pavilion with birds. There is also a small aquarium on the territory of the zoo, where one can watch tropical fish and other mysterious inhabitants of the sea depths. Among other interesting features of the zoo, is worth noting the presence of a Chinese garden with very nice gazebos, and playgrounds equipped for kids. Copyright www.orangesmile.com
In Duisburg, there is the magnificent Sportpark Duisburg. It will be a great relaxation place for those who cannot imagine everyday life without their favorite sports entertainments. The park is quite large and well maintained. There is a beautiful lake with ducks on its territory, a small stadium with a football field, and many paths for hiking and cycling. This park is beautiful at any time of the year. There are always many cyclists and joggers in the summer and in winter, one can ski or enjoy other winter entertainments in the park.
The largest shopping street of Duisburg, Königstraße begins near the railway station. The choice of shops on it is simply huge, from common clothing stores and exclusive designer boutiques …
Open
There are also quite unusual vacation spots in Duisburg, which adventure lovers would like. An excellent example is the Landschaftspark, which was opened on the territory of an old industrial plant. When the plant was closed, the city authorities wanted to dismantle all the buildings on its territory, but later decided to leave everything as it is and make the territory open for visiting. While walking around this unusual "technopark", one can see a lot of the most incredible structures and cob webbing of pipes and stairs. Many old industrial buildings in summer are entwined with plants, which makes their appearance even more original.

This guide to family holidays in Duisburg is protected by the copyright law. You can re-publish this content with mandatory attribution: direct and active hyperlink to
www.orangesmile.com
.
City tours, excursions and tickets in Duisburg and surroundings
Famous sights of Duisburg
Abteiberg Museum
From the series
"Famous buildings of Postmodern architecture"
Check on the map:
Distance from Duisburg center - 34.7 km.
The building in which the museum is located today was designed by the famous Austrian architect Hans Hollein. The building built by him is characterized by a very complex structure. It has a large-scale underground part. As the architect notes, he sought to make the museum multidimensional and unpredictable, so that his visit turned into an exciting adventure. The museum moved to the current building in 1982. It became known all over the world for its large-scale collection of avant-garde art. …
Read further

Crouching Tiger and Turtle
From the series
"Furious Footways Around the World That Make You Dizzy"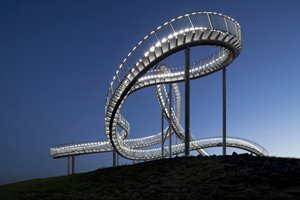 Check on the map:
Distance from Duisburg center - 6.5 km.
The authors of the project of an unusual staircase are Heike Mutter and Ulrich Genth. They managed to combine in one structure two functions at once: to make an excellent viewing platform and an unusual attraction. Many tourists prefer to stroll through the stairs in the evening, when it is decorated with spectacular artistic illumination. The design is quite of impressive scale. Its height reaches 13 meters. From the highest point of the staircase opens a wonderful panoramic view of the city. …
Read further

Photogallery of best places of Duisburg
Children attractions (aquaparks, zoos, amusement parks) on the map of Duisburg
Interesting places to visit with children around Duisburg
Guide to sightseeing and entertainment for children in Duisburg - parks, attractions, museums, zoos, water-parks. All fascinating and educational sites of Duisburg, which are must visit and see for your child. Find out the best discovery routes and places for kids (local theaters, exhibitions and museums), where you can spend quality time together. Duisburg for families with children.