Shopping in Wiesbaden - authentic goods, best outlets, malls and boutiques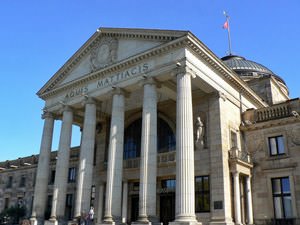 Wiesbaden remains an incredibly popular and attractive city for shoppers. Here, you'll find stores for every taste. Arcade Passage is one of the largest in the city. You can walk around it all day long in search of new clothes, shoes, and accessories. The mall is popular with wealthy travelers. It has designer shops and pavilions with elite cosmetics and perfumery.
Wiesbaden in considered the main city of the district that has the same name. The district is referred to a German province Hessen-Nassau and is located 5 km away from the Rheine River. In …
Open
On the streets of Wiesbaden, you'll find numerous small specialized stores, among which Nanu Nana is particularly popular. They sell a lot of inexpensive indispensable stuff, so necessary for all tourists. Sunglasses, headgear, hair combs, bags and lovely souvenirs - they have everything.
Only a handful of travelers know that excellent souvenirs can be purchased at Paperbeck store. In addition to classical souvenir products, they sell very beautiful exclusive cards with images of city attractions and landscapes. They are very cheap. Cards like these are hardly found in other stores. Copyright www.orangesmile.com
In Wiesbaden you will find a great variety of gastronomic facilities of various levels and will be offered to try food of various culinary traditions. Rest in local restaurants will bring …
Open
Little Schwalbach Street is considered the most popular shopping street in the city. It is entirely at the disposal of pedestrians. Besides hundreds of various shops, tourists are attracted here by street artists. They give their performances every day. It is a good place for walking with children. A huge LEGO store is located here. In this store, interesting events are often held for visitors. If children will be able to collect the necessary figures from the construction kit elements, they will be necessarily offered a discount.
Tourists with children should definitely come by Topomini store, which offers wonderful baby clothes of high quality at the most affordable prices. For 4 - 5 euros, customers can choose excellent T-shirts. Summer pants for boys and dresses for girls will cost no more than 15 euros. There is also a small department with women's clothing.
Every year in the middle of August Wiesbaden hosts the world-famous wine festival - Rheingau Wine Festival. The festival traditionally attracts fans of this drink from all over the world. …
Open
Wilhelmstrasse is extremely popular with dandies, who do not save on new outfits. Its beautiful historic houses house elite clothing and perfumery boutiques nowadays, including Kennel & Schmenger, and a large Ursula Hoffman Due center. On this street, there are shops of the most different stylistic directions. It will be of interest to young fashionistas and to people of mature age.
One of the best city's stores offering clothes and leather goods - Burresi Collezioni is also there. It attracts visitors not only with a variety of goods but with affordable prices. For a moderate fee, you can purchase great jackets and raincoats, bags and stylish purses. Frugal tourists can also treat themselves. For example, to buy a new leather belt or purse.
A beautiful Russian church, which is located on Mount Neroberg, is considered the main symbol of the city. The church was built in a unique Russian-Byzantine style and is a replica of Christ …
Open
Wiesbaden offers shoppers a huge number of jewelry stores. The most famous and interesting one is Strebel. This is a unique salon, where, besides traditional jewelry, many more original items made of precious metal are sold. Here, you can buy silver cutlery, incredibly beautiful coasters, and handmade charms, as well as various household decorations. Prices for jewelry will pleasantly surprise.
For new bags and suitcases, you can come by Lederpyramide store. They sell bags of famous European brands. Stylish Roadsign handbag will cost about 20 euros. The choice of goods in the store is huge, from miniature handbags to huge suitcases.
Wiesbaden will definitely please fans of active pastime by a huge choice of entertainment. The city's center is the location of Holiday Park - a favorite place of rest of both locals …
Open
Active tourists will be interested in visiting Rathaus Passage. It offers sporting goods of European quality. Here you'll find great new sneakers, practical clothes in a sporty style, backpacks, and various sports accessories. Fashionable clothes, cosmetics, and perfumery are sold there, as well.

This guide to shopping in Wiesbaden is protected by the copyright law. You can re-publish this content with mandatory attribution: direct and active hyperlink to
www.orangesmile.com
.
City tours, excursions and tickets in Wiesbaden and surroundings
Reference information
Shopping streets in Wiesbaden
♥ Shopping area ' Wilhelmstraße' Wiesbaden, 0.2 km from the center.
On the map
Photo
♥ Shopping area ' Kirchgasse' Wiesbaden, 0.3 km from the center.
On the map
Photo
Designer outlets in Wiesbaden and nearby
♥ Outlet 'Wertheim Village' Almosenberg Wertheim 97877 Germany, 101.7 km from Wiesbaden.
On the map
♥ Outlet 'Zweibruecken' Londoner Bogen 10-90 Zweibruecken 66482 Germany, 112.2 km from Wiesbaden.
On the map
♥ Outlet 'Roppenheim The Style Outlets' 1 Route de L'Europe, Roppenheim, 67480, France, 138.8 km from Wiesbaden.
On the map
♥ Outlet 'Metzingen Outlet City' Reutlinger Strasse 53, Metzingen, 72555, Germany, 187.6 km from Wiesbaden.
On the map
Photogallery of Wiesbaden best places
Search for shopping areas, streets, boutiques and supermarkeets on Wiesbaden map
Shopping advices for the whole region around Wiesbaden
Shopping advices for Wiesbaden. The best spots for buying designer clothes and local delicacies from Germany - shops, galleries, boutiques and outlets. We provide you with the shopping streets map, so you can plan your efficient shopping routes, while hunting for authentic souvenirs, goods, drinks, shoes and clothes in Wiesbaden.