Cuisine of Wiesbaden for gourmets. Places for dinner - best restaurants
In Wiesbaden you will find a great variety of gastronomic facilities of various levels and will be offered to try food of various culinary traditions. Rest in local restaurants will bring you only unforgettable experiences. Here fans of different national cuisines will easily find a suitable place to eat. Spital is a very popular restaurant that serves European cuisine. In the morning its spacious bright hall attracts fans of fresh pastries and coffee, and in the evening the restaurant is the favorite place of rest of big friendly companies. The menu of the restaurant offers a wide selection of both meat and vegetable dishes, so Spital will be definitely liked by adherents of vegetarian food.
Every year in the middle of August Wiesbaden hosts the world-famous wine festival - Rheingau Wine Festival. The festival traditionally attracts fans of this drink from all over the world. …
Open
Nova Lounge restaurant is located in a beautiful park. This dining facility specializes in cooking dishes of the national cuisine. A part of its tables is served on the terrace among old trees and fragrant flower beds. Turm is one more interesting gastronomic institution. This is a cozy snack bar, an attractive restaurant, and an excellent beer house. The location of Turm is also very unusual – it is located in an old tower, which has enough space for three different branches of the restaurant. Visitors are also welcome to sit on the open terrace, which offers panoramic views of the city.
Der Andechser im Ratskeller is a national restaurant with a very unusual location. It occupies a remarkable historical building - the town hall, which is located right in the heart of Wiesbaden. Here guests will be served most popular dishes from German cuisine. Various meat delicacies are especially popular among visitors. Paulaner remains one of the most popular restaurants of the city. Its spacious hall can accommodate more than 300 people at a time. It will become an excellent venue for various banquets and celebrations. The hall of Paulaner is decorated in a unique style of past centuries. Copyright www.orangesmile.com
A beautiful Russian church, which is located on Mount Neroberg, is considered the main symbol of the city. The church was built in a unique Russian-Byzantine style and is a replica of Christ …
Open
Gourmet travellers should definitely visit the restaurant of Ente, the menu of which consists entirely of Oriental delicacies. The chefs of the restaurant prepare many dishes in accordance with special original recipes, so here visitors have a great opportunity to enjoy truly unique dishes. Osteria Da Enzo restaurant serves the best Italian food in the city. In its menu you will always find original author's meals, traditional national food and a great selection of dishes made of seafood. The opening of the restaurant named «M» took place in 2003. Since then the restaurant has won fame and recognition among local residents as sell as foreign travelers. Here guests will be offered to try best dishes from international cuisine. Guests will be also delighted by a wide selection of wines.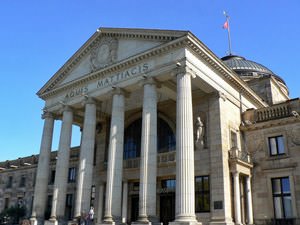 In Wiesbaden, travelers can try the most popular dishes of German cuisine, but the city is still not deprived of some interesting gastronomic peculiarities. For example, Currywurst sausages are equally popular in Wiesbaden and Berlin, so travelers will find them in many national cuisine restaurants and pubs in the city. Together with sausages, local dining establishments usually offer a great range of interesting sauces and the traditional French fries.
Wiesbaden will definitely please fans of active pastime by a huge choice of entertainment. The city's center is the location of Holiday Park - a favorite place of rest of both locals …
Open
Sauces occupy an important role in the regional cuisine of Wiesbaden and the country in general. They are traditionally served with various meat dishes and with potato dishes. Many sauce recipes and traditions of making them were influenced by Belgium that is located nearby, so there is nothing strange in the fact that one of the most popular local sauces is called Pommes Frites.
Besides visiting restaurants and pubs, tourists should not neglect grocery shops during their stay in Wiesbaden. They offer many interesting national products. Sweet tooths will find it very interesting to visit The Princess Revolution shop that is open on Grabenstrasse. The owner of this shop, Wiesbaden resident Stefanie Kleinjung, has offered her signature confitures to locals and guests of the city for several years already.
1. The best time to visit the resort is July, when the city is distinguished by best weather perfectly suitable for walking and recreation. It should be noted that it may be pretty cool in …
Open
The display windows of this shop are decorated with hundreds of jars with all kinds of confitures that the shop owner makes herself from seasonal fruit and berries. Some types of confiture contain nuts and even rum. Frau Kleinjung also prepares special jam types for holidays. The shop's visitors will find more than a hundred types of jams in total. Besides that, it is possible to buy delicious jelly and marmalade.
Wiesbaden is the center of a large wine region, so it is the right place for everyone who wants to try the best German wine. Every year, the traditional wine week, Rheingauer Weinwoche, takes place in the city in the second half of August. During this holiday, more than 120 food stalls and carts appear on the main streets and central squares of the city. They offer popular local wine and main delicatessen of the region. During warm months, guests of Wiesbaden are welcome to participate in thematic wine tours, during which they can visit famous local vineyards and historical wineries. Finally, there are excellent wine shops in Wiesbaden that offer the best wine produced in the region.

This guide to cuisine and restauraunt in Wiesbaden is protected by the copyright law. You can re-publish this content with mandatory attribution: direct and active hyperlink to
www.orangesmile.com
.
City tours, excursions and tickets in Wiesbaden and surroundings
Reference information
Michelin-starred restaurants in Wiesbaden
♥ Restaurant 'martino KITCHEN' Wiesbaden. Type - International. 0.4 km from the center.
On the map
Photo
♥ Restaurant 'Orangerie' Wiesbaden. Type - Country. 0.4 km from the center.
On the map
Photo
♥ Restaurant 'Chez Mamie' Wiesbaden. Type - Classic cuisine|French. 0.5 km from the center.
On the map
Photo
♥ Restaurant 'Käfer's Bistro' Wiesbaden. Type - International|French. 0.5 km from the center.
On the map
Photo
♥ Restaurant 'Linner' Wiesbaden. Type - Market cuisine. 0.6 km from the center.
On the map
Photo
♥ Restaurant 'Maloiseaus Lohmühle' Wiesbaden. Type - French|Country. 2.9 km from the center.
On the map
Photo
♥ Restaurant 'Gollner's Burg Sonnenberg' Wiesbaden-Sonnenberg. Type - Austrian. 3 km from the center.
On the map
Photo
♥ Restaurant 'Landhaus Diedert' Wiesbaden-Alt Klarenthal. Type - International. 3.6 km from the center.
On the map
Photo
♥ Restaurant 'Villa im Tal' Wiesbaden. Type - Market cuisine. 4 km from the center.
On the map
Photo
♥ Restaurant 'Domäne Mechtildshausen' Wiesbaden-Erbenheim. Type - Market cuisine. 6.6 km from the center.
On the map
Photo
Wiesbaden in photo set
Searching where to eat - restaurants and cafe on Wiesbaden map
Cuisine and restaurants in the neighbours of Wiesbaden
Travel notes on best cuisine and restaurants of Wiesbaden (Germany) on OrangeSmile.com. Famous recipes and traditional dishes and courses in Wiesbaden restaurants. Where to eat - our recommendations on popular places in Wiesbaden, where you can taste delicious meal and also spend a good time with your friends.