City break in Wiesbaden. Active leisure ideas for Wiesbaden - attractions, recreation and nightlife
Wiesbaden will definitely please fans of active pastime by a huge choice of entertainment. The city's center is the location of Holiday Park - a favorite place of rest of both locals and tourists. Here you can sit comfortably and enjoy a picnic in the shade of old trees, ride a bike or make a walk through the winding alleys of the magnificent park. Children will particularly like this place as the park is equipped with several playgrounds. It is also suitable for sports entertainment.
Fans of shopping will be definitely impressed by a wide selection of shops, a walk in which can be as exciting as exploring the picturesque natural sites of Wiesbaden. Taunusstrasse and Wilhelmstrasse are considered the most popular shopping streets of the city. This is the place where you can find modern shopping centers, high-end boutiques, and small souvenir shops. By the way, many stores are located in beautiful historic buildings, so your shopping will be not only enjoyable but also very interesting. Copyright www.orangesmile.com
One of Wiesbaden's most stylish and attractive hotels is the prestigious NH Wiesbaden. Its rooms combine modern elegance, vibrant trends of past centuries, and original uniquely …
Open
Strebel is known as one of the most famous shopping halls. The luxury store sells jewelry. The items presented here are true works of art. These are unique author's masterpieces. If you want to shop for fashionable apparel by internationally popular brands, Ursula Hoffmann DUE mall will be your best choice. The mall is home to a few dozen of shops that sell clothing, footwear and accessories. A wide choice of leather goods will be found in Burresi store located on Wilhelmstrasse. The goods sold here are distinguished not only by quality but also attractive prices. Finally, gifts and souvenirs are best to be bought in Taunusstrasse, which is often called "antique mile". Here you will find many attractive art galleries, antique shops and souvenir shops.
Fans of gambling should not forget to visit the local casino of Kurhaus, which was opened nearly 200 years ago. Among frequent visitors of this casino were many famous people. Nowadays the casino attracts not only fans of roulette and poker, but also ordinary tourists who want to see the famous historical landmark. There are many nightclubs in Wiesbaden and Wiesbadener Rathbrau is definitely one of the most notable among them. Stylish hall with upholstered furniture, a great bar with a huge choice of drinks and signature snacks, interesting entertainment and friendly atmosphere are perfect for amazing pastime in a company of friends.
Wiesbaden has a variety of luxury resort hotels that attract travelers. For many years, Dorint Pallas Wiesbaden has remained at the peak of the popularity of the city's guests. It …
Open
Fans of active pastime will not regret visiting Wiesbaden. In this case, the must-have is Kletterwald Neroberg where both children and adults can enjoy zipline. This is one of the best options for those wishing to feel the adrenaline rush, while the activity itself is absolutely safe. There are also Actionboot cruises on the Rhine River bewitching with its beauty just like Lorelei sitting between the rocks. By the way, the place where the fair-haired beauty lives is only three hours drive from the city. Therefore it is just impossible to ignore this legendary place, while in Wiesbaden.
You can use the services of Rheinboot if you prefer going on a cruise in a close friendly atmosphere. Fans of outdoor activities will appreciate tours organized by Rettbergsaue Schierstein. For those who want to get to know the multi-faceted culture of Wiesbaden, there are tours from Cult-Touren, and you cannot miss such a unique opportunity. If there is a desire to swim, both locals and tourists visit Frei- und Hallenbad Kleinfeldchen, Freizeitbad Mainzer Strasse, Thermalbad Aukammtal or Freibad Opelbad.
Wiesbaden is the location of unique historic hotels, some of which have been accommodating guests for more than a hundred years. Among such establishments is the classy Radisson Blu Hotel …
Open
An interesting pastime awaits those who decide to try escape quests. In Wiesbaden, the best places of this kind are represented by TIXS UG, Exitmission, and EscapeX. Popular activities include mini golf, and you can play it in Minigolf Strassenmühle. traveling with children, you should definitely go to have fun to Superfly Air Sports where you can jump until you drop - all children will really like it.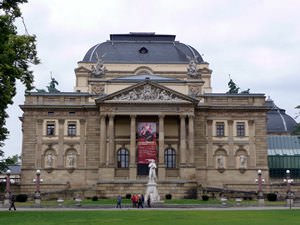 Another interesting entertainment for both locals and tourists is going to the movies, so if you want to watch some new works in the world of cinema, choose the best cinema in town. It is called Caligari FilmBuehne. Those who prefer cultural performances should head to Hessisches Staatstheater or Galli Theater- Verein für interkulturelles Theater. Travelers wishing to do sports and fitness are recommended to explore Sportif - Fitnessstudio. Bowling enthusiasts go to City Bowling where they have the opportunity to enjoy their favorite game to its fullest.
Find the best hotel for a romantic getaway in the picturesque resort will not be difficult. The ACHAT Premium City-Wiesbaden, for example, is distinguished by its very pleasant and conducive …
Open
Tier-und Pflanzenpark Fasanerie is another place worth visiting in Wiesbaden. This is a zoo where you can not only watch animals and birds but also touch and pet them, as well as have a picnic. Despite the fact that there are not so many animals here, they are all properly cared for, which mainly attracts locals and tourists. In addition, the good news is that you don't have to pay an entrance fee. Another place worth visiting with kids is Amerikanischer Spielplatz where children will really enjoy having great fun.
Get an unforgettable experience from visiting city museums. First and foremost it is worth noting multifaceted Museum Wiesbaden presenting a contemporary art exhibition, collections of antiques and butterflies, stuffed animals. Fans of souvenirs will be interested in Gebr. Stern. History buffs must go to Roman open-air Museum, and Museum für Antike Schiffahrt would be a great place for fans of marine themes. There is also a truly unique museum called Frauenmuseum, which, as the name implies, is dedicated to women. Those wishing to get acquainted with the local culture through visiting interesting museums should definitely pay attention to Harlekinaeum.
Wiesbaden remains an incredibly popular and attractive city for shoppers. Here, you'll find stores for every taste. Arcade Passage is one of the largest in the city. You can walk around it …
Open
Wiesbaden's Nightlife has something to offer too. Thus, fans of the Irish pub atmosphere must go to the simple-named Irish Pub Wiesbaden, where, among other things, visitors are entertained by musicians every evening. Manoamano is a great place for lovers of great cocktails, Yours Sports Bar Wiesbaden is suitable for those who like to watch sports a glass of tasty beer, partymakers gather at Litfassaule Wiesbaden, and those who want to dance all night long go to Alibi Club. Qba Lounge is another great place for those looking for a relaxed, casual atmosphere.

This guide on active recreation and leisure in Wiesbaden is protected by the copyright law. You can re-publish this content with mandatory attribution: direct and active hyperlink to
www.orangesmile.com
.
City tours, excursions and tickets in Wiesbaden and surroundings
Reference information
National and city parks around Wiesbaden
♥ National Park 'Kellerwald-Edersee' , 128.6 km from the center.
On the map
Photo
♥ Regional Nature Park 'Vosges du Nord' , 134.4 km from the center.
On the map
Photo
Amusement parks near Wiesbaden
♥ Amusement park 'Taunus Wunderland' Schlangenbad, 10.1 km from the center.
On the map
Photo
♥ Amusement park 'Zoo Frankfurt' Frankfurt, 33 km from the center.
On the map
Photo
♥ Amusement park 'Freizeitpark Lochmühle' Wehrheim, 33.1 km from the center.
On the map
Photo
♥ Amusement park 'Holiday Park' Haßloch, 84.9 km from the center.
On the map
Photo
♥ Amusement park 'Technik Museum Speyer' Speyer, 86.8 km from the center.
On the map
Photo
Michelin-starred restaurants in Wiesbaden
♥ Restaurant 'Käfer's Bistro' Wiesbaden. Type - International|French. 0.5 km from the center.
On the map
Photo
♥ Restaurant 'Linner' Wiesbaden. Type - Market cuisine. 0.6 km from the center.
On the map
Photo
♥ Restaurant 'Maloiseaus Lohmühle' Wiesbaden. Type - French|Country. 2.9 km from the center.
On the map
Photo
♥ Restaurant 'Gollner's Burg Sonnenberg' Wiesbaden-Sonnenberg. Type - Austrian. 3 km from the center.
On the map
Photo
♥ Restaurant 'Landhaus Diedert' Wiesbaden-Alt Klarenthal. Type - International. 3.6 km from the center.
On the map
Photo
Photogallery of picturesque Wiesbaden
Search for active leisure and attraction spots on Wiesbaden map
City break ideas for neighbours of Wiesbaden
Guide to your best city break in Wiesbaden - popular places for recreation and leisure. Things to do during the day in Wiesbaden - attractions, parks, beaches, aquaparks, racing tracks, biking trails or waterski. Recommendations (with addresses, phone numbers and links) where to spend your time in the evening (bars, discos, clubs, etc.). We share some good ideas and the question 'What to do in Wiesbaden?' disappears immediately.