Shopping in Offenbach - authentic goods, best outlets, malls and boutiques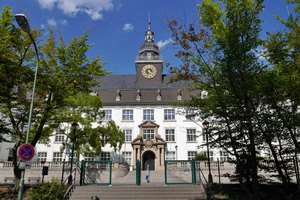 In Offenbach, shopping enthusiasts should pay special attention to designer shops where they can buy original clothes and shoes, accessories, and exclusive souvenirs. Besides specialized shops, there are also attractive shopping malls in the city. One of the beautiful historic buildings houses KOMM Shopping Center. Within its walls are about 50 high-end stores, including boutiques bearing world-famous names and exclusive stores. You can buy literally everything here, from chic designer outfits for all occasions to unique artworks and designer accessories. The mall also has a large bookstore that sells fresh world literature, as well as cosmetics and jewelry stores beloved by ladies. Even though most of the shops offer quite high prices, there are many local residents among the center's regular customers.
Families would never regret coming to Offenbach. The city has many interesting attractions, you can have a great time visiting parks, enjoying picturesque panoramic views and extraordinary …
Open
Ladies who are not used to spending huge sums on new outfits might find it interesting to check Nisa store on one of the central city streets. It is a multi-brand store specializing in high-quality women's clothing. One of its main attractive features is an affordable price level. Here you can pick chic blouses and summer trousers for only 5 euros. Nisa also offers a wide selection of shoes, handbags, and other accessories. It is also worth noting that visitors are offered clothes of a variety of styles, from colorful summer outfits to formal business suits.
Wicky is another store popular with budget travelers. This one sells essential goods and all sorts of home accessories. The prices are more than affordable here. Many of the products presented here will cost you 0.99 euros. Here you can always buy a new umbrella of good quality or a luggage set, original interior decorations and colorful socks, which often serve as a souvenir to loved ones. Copyright www.orangesmile.com
One of the most remarkable places to eat in Offenbach is the Fleischeslust restaurant. The eating house is placed not fat from the city center and specializes in local cuisine dishes. …
Open
Woolworth is a mid-priced department store that would be of interest to travelers who prefer stylish clothes of European quality standards. The store offers a huge selection of both women's and men's clothing for any season. Customers will have no difficulty in finding the most stylish jeans at the price of 15 euros, and for 25 euros, you can pick up a nice off-season jacket. Woolworth has a special department where you can buy last season's clothes at the lowest possible prices.
In search of new outfits and stylish accessories, go to C&A Shopping Center on Berlinerstrasse. It sells high-quality European-made men's and women's clothing. All products presented in the mall are attractively priced though. The most fashionable men's jacket will cost customers about 50 euros. Regular sales make the shopping center even more attractive in terms of pricing.
Offenbach's unique culture and traditions made this city one of the most interesting and distinctive cities in Germany. It was a major leather-making, as well as printing industry center for …
Open
Offenbach has many jewelry stores, and Bauer is an outstanding one. Here you can buy not only exquisite jewelry worth up to several thousand euros but also stylish watches. This store is aimed at a wide range of customers though. Here you can buy classy Tissot watches for 200 euros or pick up a luxurious necklace that would cost you about 3,000 euros.
Apart from stores and shopping malls, pay special attention to the local farmers' markets. The largest and most interesting one is the Wochenmarkt. It is open every week on Tuesdays, Fridays, and Saturdays. This is a historic market occupying a spectacular century-old building. The most popular seasonal products and delicacies are presented on its counters. Customers can always enjoy a decent selection of vegetables and fruits. You can also buy high-quality farm meat and wild game, as well as dairy products and confectionery.
The city of Offenbach is known for its nature sights and attractions. Majestic woods are covering almost all the south part of the city. However exciting excursion fans will not get bored in …
Open
Tourists are attracted here by a rich selection of fresh pastries, as well as honey from local apiaries and various meat delicacies. The historic market opened in 1902 is now a permanent venue for fairs and food festivals. Several times a year, it hosts craft exhibitions where visitors have the opportunity to buy some exclusive souvenirs made by local craftsmen. A lot of interesting shops can also be found on the numerous historic streets that branch out from the historic market area.

This guide to shopping in Offenbach is protected by the copyright law. You can re-publish this content with mandatory attribution: direct and active hyperlink to
www.orangesmile.com
.
City tours, excursions and tickets in Offenbach and surroundings
Reference information
Shopping streets in Offenbach
♥ Shopping area ' Zeil' Frankfurt am Main, 5.9 km from the center.
On the map
Photo
♥ Shopping area ' Neue Kräme' Frankfurt am Main, 6.2 km from the center.
On the map
Photo
Designer outlets in Offenbach and nearby
♥ Outlet 'Wertheim Village' Almosenberg Wertheim 97877 Germany, 68.6 km from Offenbach.
On the map
♥ Outlet 'Zweibruecken' Londoner Bogen 10-90 Zweibruecken 66482 Germany, 137.7 km from Offenbach.
On the map
♥ Outlet 'Roppenheim The Style Outlets' 1 Route de L'Europe, Roppenheim, 67480, France, 148.8 km from Offenbach.
On the map
♥ Outlet 'Metzingen Outlet City' Reutlinger Strasse 53, Metzingen, 72555, Germany, 177.8 km from Offenbach.
On the map
Car rental on OrangeSmile.com

Saudi Arabia to Open 38 Hotels in Diriyah
Diriyah is one of the first mega projects in Saudi Arabia. Hotels and other infrastructure will start opening next year, and all works are expected to end in 2026. The first 18 restaurants in Bujairi Terrace will start operating already in early 2022.
Read this
27.03.2023
Photogallery of Offenbach best places
Search for shopping areas, streets, boutiques and supermarkeets on Offenbach map
Shopping advices for the whole region around Offenbach
Shopping advices for Offenbach. The best spots for buying designer clothes and local delicacies from Germany - shops, galleries, boutiques and outlets. We provide you with the shopping streets map, so you can plan your efficient shopping routes, while hunting for authentic souvenirs, goods, drinks, shoes and clothes in Offenbach.