Colors of Wiesbaden - traditions, festivals, mentality and lifestyle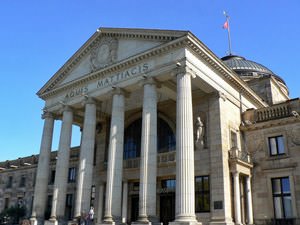 Every year in the middle of August Wiesbaden hosts the world-famous wine festival - Rheingau Wine Festival. The festival traditionally attracts fans of this drink from all over the world. During ten days the city hosts many interesting events, exhibitions, workshops and fairs. Each year the festival is visited by more than one hundred thousand foreign tourists. The tradition of celebrating the holiday of wine appeared more than thirty years ago. It should be noted that Rheingau Wine Festival is the longest event of its kind. The festival's program is very rich and diverse.
Wiesbaden is the location of unique historic hotels, some of which have been accommodating guests for more than a hundred years. Among such establishments is the classy Radisson Blu Hotel …
Open
Guests of the city are invited to participate in fascinating tours to most famous local wineries. Each winery of the city has its own cellars and wine shops, where you can taste the drink and buy a bottle of quality wine as a memorable gift. During an excursion visitors will find out a lot of interesting information about the secrets of wine making and experienced staff will give several tips on choosing a high quality beverage.
The majority of celebrations takes place near Palace Square. Here also takes place the biggest fair trade with several hundred outlets. This is a perfect place to find your favorite wine, try national food, and look at interesting crafts and souvenirs. Each year local wine-makers offer new sorts of wine along with well-known and popular types of the drink. Many of these new drinks are very original and will be surely liked by visitors. Wonderful stages are installed in each district of Wiesbaden. Here take place various music concerts and theatre performances. Copyright www.orangesmile.com
Find the best hotel for a romantic getaway in the picturesque resort will not be difficult. The ACHAT Premium City-Wiesbaden, for example, is distinguished by its very pleasant and conducive …
Open
Children are also welcome to participate in numerous entertainment activities, such as funny presentations, various competitions and games. During the days of the festival several amusement parks work in the city. The wine festival traditionally takes place together with another important event - Rheingau Music Festival. The music festival kicks off in late July and lasts until late August, so its entertainment program is very diverse.
Wiesbaden is a multinational city, which means that locals are by definition friendly and always ready to help. Even the city's cuisine is international, here people treat the foreign culture with respect (of course, as long as foreigners respect German culture, laws, and traditions). Local people are owners of a wonderful sense of humor but often complaining and grumbling - this is in their blood. There is a special attitude to old age, and more specifically to maturity: no one considers themselves old even at 50, 60 or 70 years old. Another quality of local residents is the openness to everything new. Due to this special attitude towards old age, people can go discover new facets even at 50. This is something we all should learn from them.
Wiesbaden remains an incredibly popular and attractive city for shoppers. Here, you'll find stores for every taste. Arcade Passage is one of the largest in the city. You can walk around it …
Open
That is why festivals in Wiesbaden are something amazing and worth visiting. The festival season opens with a traditional carnival that takes place in mid or late February. The fest begins on traditional Altweiberfastnacht ("Fat Thursday") in Wiesbaden's old quarter. A procession of costumed participants passes through the whole city, being a wonderful example of how to celebrate holidays - with great fun, scope, and festivities. The festival ends with a children's festival offering an extensive program for the smallest ones. The culmination of the celebration is Sunday festivities on Elsässer Platz. At this time, pubs and restaurants are as crowded as possible, and no one leaves them early.
In early June, there is another carnival known as Wilhelmstraßenfest. At this time, the audience has a chance to enjoy excellent cuisine, participate in contests, visit a fair presenting hand-made product or listen to performances and quality music. In the past, the festival had a theatrical focus, and today it is more like a mass street action. Arriving in the capital of Hesse at the end of the month, you can witness Schlossplatzfest taking place on Schlossplatz. It is dedicated to people with disabilities. Preparing this celebration, organizers make it clear: "Each of them deserves to live as he or she wants". The program includes gastronomic events and holding theatrical and musical performances.
Wiesbaden in considered the main city of the district that has the same name. The district is referred to a German province Hessen-Nassau and is located 5 km away from the Rheine River. In …
Open
Schiersteiner Hafenfest takes up the baton next. Its time is the beginning of July, and the place, as can be understood from the name, is the harbor of Wiesbaden. Many gourmets are eager to visit this gastronomic festival where they can taste a variety of dishes. A flea market opens as part of the event, a music show is presented to the audience, and colorful fireworks become the festival's culmination. In addition, a spectacular regatta is organized, following the results of which the best participants are honored. But that's not all - the audience expects a truly cheerful event known as Wiesbadener Entenrennen. This is nothing like Rubber Duck Races.
Those who prefer high-quality music are invited to Jazz im Hof - an open-air festival that takes place for the whole of July. How can you sit in a stuffy room when there is such a beautiful weather outside? Wiesbaden shows its multinationality at the beginning of the first month of autumn when Internationales Sommerfest is held on Schlossplatz. Here you can hear Latin rhythms, African drums, and Turkish songs. Besides that, you can taste tasty dishes from all over the world, which are sure to please all lovers of tasty and hearty food.
In Wiesbaden you will find a great variety of gastronomic facilities of various levels and will be offered to try food of various culinary traditions. Rest in local restaurants will bring …
Open
But the most intense program awaits those who decide to visit the city in late September. The thing is that it's time for Wiesbadener Stadtfest. It involves music, a gastronomic program, theatrical, circus and dance performances, a fair, a car show, a special program for the youngest citizens, as well as rally and interesting contests. Different locations (both open-air and inside clubs or bars) in the center of Wiesbaden serve as its venues. In general, at this time the city is fully plunged into great fun and it's not easy to find a place that has no program for the special occasion. After all, as already mentioned, people in Wiesbaden know how to party!

This guide to traditions and festivals in Wiesbaden is protected by the copyright law. You can re-publish this content with mandatory attribution: direct and active hyperlink to
www.orangesmile.com
.
City tours, excursions and tickets in Wiesbaden and surroundings
Reference information
Cathedrals and basilicas near Wiesbaden
♥ Kaiserdom St. Martin von Tours und St. Stephan, Mainz, 9.7 km from the center.
On the map
Photo
♥ Basilika SS. Dionysius und Valentinus, Kiedrich im Rheingau, 12.1 km from the center.
On the map
Photo
♥ Abtei St. Hildegard, Rüdesheim am Rhein, 24.5 km from the center.
On the map
Photo
♥ Basilika Sankt Martin, Bingen am Rhein, 28.1 km from the center.
On the map
Photo
♥ Dom Ss. Georg und Nikolaus, Limburg an der Lahn, 36.4 km from the center.
On the map
Photo
♥ Basilika St. Severus, Boppard, 49.5 km from the center.
On the map
Photo
♥ Kaiserdom-Basilika SS. Peter und Paul, Worms, 50.9 km from the center.
On the map
Photo
Survived castles around Wiesbaden
♥ Castle 'Schloss Biebrich' , 4.9 km from the center.
On the map
Photo
♥ Castle 'Burg Frauenstein' , 6.5 km from the center.
On the map
Photo
♥ Castle 'Kurfürstliches Schloss Mainz' , 8.5 km from the center.
On the map
Photo
♥ Castle 'Gustavsburg' , 11.3 km from the center.
On the map
Photo
♥ Castle 'Festung Mainz' , 11.5 km from the center.
On the map
Photo
♥ Castle 'Schloss Johannisburg' , 20.6 km from the center.
On the map
Photo
♥ Castle 'Klopp Castle' , 27.8 km from the center.
On the map
Photo
Colors of Wiesbaden in photos
Search for popular touristic sites on Wiesbaden map
Traditions and festivals in cities around Wiesbaden
Cityguide on traditions, mentality and lifestyle of people in Wiesbaden. Learn the best periods to visit Wiesbaden to discover its soul - authentic festivals, events and celebrations. We will also reveal the interesting habits, attitude towards the world and to tourists in Wiesbaden.