Preparing your trip to Munster: advices & hints - things to do and to obey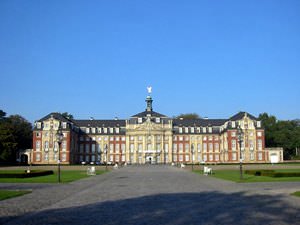 1.
The most popular means of transport among local people is a bicycle. Travelers also have a chance to rent a bicycle in one of the numerous rental centers. The most profitable rates and rental terms are offered in Canu Camp and Radstation Münster Hundt KG rental centers. Tourists should better get a city map with marked cycling routes in one of the tourist information offices.
2. The most popular means of public transport is still a bus. The buses cruise the streets of the city day and night. However at night (after 23. 00) the buses run in rather long intervals thus one should not plan distant trips in the evening.
3. Taxi service is available day and night. A taxi car is recommended to be taken from special taxi parking lots located in close vicinity to hotels and restaurants.
4. Muenster is considered to be a rather rainy city as rains are rather frequent there regardless of the season of the year. However the rains are rather short that is why the weather will not disrupt city exploration or interrupt the vacation of tourists in any way. Setting off to a walking tour one should take an umbrella and for a cycling tour one will need a waterproof overcoat.
5.
The most popular boutiques and shopping centers are located in the Prinzipalmarkt street. This is the final destination for those hunting some memorable gifts and souvenirs. Shop-a-holics are recommended to visit Muenster during the Christmas fests as during this period the shops and stores of the city present scale sales. The city also invites its guests to visit numerous festive open markets. Copyright www.orangesmile.com
6. The city offers a great variety of attractive restaurants and pubs. Prudent tourists should give preference to the remote from the city center eating establishments as in this case one will find the most attractive pricing.
7. Choosing a restaurant, tourists should keep tracking of the eating preferences of local people. If an eating house is avoided by local folks then the restaurant has gained bad repute or features rather high price tags. Tips are a must in all gastronomy establishments of the city. The amount of tips depends on the level of the establishment and lies within 5 to 15% of the total sum of the bill.
There are many fascinating specialized stores in Munster. If you need a new stylish watch, try the Zumnoid store. This store is quite unusual since it has no extremely expensive brands. Say, …
Open
8.
Muenster is considered to be a rather safe and quiet city. Its central streets are safe for tourists even late at night meanwhile the remote areas of the city should not be visited by the tourists alone. These areas should be visited only accompanied with a guide.
9.
One should not keep valuables, precious things and large amounts of cash by oneself unless necessary. Upscale large restaurants, shopping centers and supermarkets accept international credit cards meanwhile cash will be in use at the markets and private shops and boutiques.

Preparing your trip to Munster: advices & hints - things to do and to obey You can re-publish this content with mandatory attribution: direct and active hyperlink to
www.orangesmile.com
.
What to visit being in Munster - unique sights
Roombeek Street
From the series
"Top 13 Most Fantastic and Colorful Streets and Quarters"
Check on the map:
Distance from Munster center - 59.3 km.
For locals, the Memory Stream is a reminder about the tragic events of 2000, when 23 people died. The monument was created in memory of the tragic event. A beautiful park, where the locals love to relax, serves as a commemoration place too. Not only popular shops, but also some modern cultural centers, where amazing activities are held every week, can be found on one of the most original Dutch streets today. …
Read further

Zeche Zollverein
From the series
"The Scariest Mines in the World"
Check on the map:
Distance from Munster center - 66.2 km.
Coal mining has been conducted in the mines until 1986, until the field was completely exhausted. However, it was decided not to close it. Currently, extensive underground tunnels and old factories house interesting thematic museums, and desert tunnels attract curious tourists no less than the halls with unique exhibits. …
Read further

City tours, excursions and tickets in Munster and surroundings
Car rental on OrangeSmile.com

Thailand Relaxes Its COVID-19 Policy
New Year events in Thailand are likely to bring more people this year because everyone is tired of lockdowns and craving normal life. Many tourists, who book hotels in Pattaya, Krabi, or Phuket for the holiday season, also want to participate. As champagne has become an essential drink for New Year celebrations, the question regarding alcohol consumption comes to mind. The government allowed serving alcoholic drinks during the New Year countdown but only open-air cafes and restaurants with good ventilation will be permitted to do this until 1 am on 1 January 2022. This rule is nationwide.
Read this
25.03.2023
Photos of Munster
Services search (pharmacy, police, parking, banks) on Munster map
Tips for the cities around Munster
Travelling to Munster - advices and tips. What should be provisioned in advance, the rules you might want to follow, and the things you better avoid doing in Munster. We help you to make your trip smooth and easy, with no unexpected surprises.