Shopping in Munster - authentic goods, best outlets, malls and boutiques
There are many fascinating specialized stores in Munster. If you need a new stylish watch, try the Zumnoid store. This store is quite unusual since it has no extremely expensive brands. Say, an elegant watch from the Events brand will cost you around 80 euros. If you'd like to get something more expensive, then there is a Puccini watch for 120 euros. The store sells both men's and women's watches, so it's worth visiting by all fans of stylish accessories.
The history of this city enumerates over 1,200 years. This is one of the most beautiful and attractive tourist towns of Germany. Here you will find both modern buildings and ancient medieval …
Open
The Foot Locker store offers high-quality sportswear, and fans of the Nike and Reebok brands will surely enjoy shopping there. All products available to customers are of high quality, so the price level for clothes and shoes is quite high as well. Which doesn't prevent numerous customers from coming here all day long.
In the very center of Munster, there's the Royal Passage, a shopping center located in a spectacular old-fashioned building. It houses attracting apparel and footwear stores, sportswear shops, as well as a large jewelry store named Saphir, one of the best in the city. Despite the upscale nature of the shopping center, a significant part of its stores belongs to the middle price category. After shopping, visitors can relax in a cozy cafe or attend an Asian restaurant. Copyright www.orangesmile.com
Munster is famous for its historic landmarks and has many places of interest and entertainment venues to enjoy as a family. Schwarzlicht Semester 3-D Minigolf is one of the most fun-filled …
Open
People of fashion will love the Terzi store, offering men's and women's clothing. It sells very high-quality fashionable apparel for affordable prices. Here, ladies can buy stylish blouses as cheap as 30 euros, and just for 40 euros men will be able to add a beautiful shirt to their collection. It's worth pointing out that the store is mainly visited by young people.
Pieper store offers visitors a wide selection of perfumes, and it also has a large beauty department. The store sells both men's and women's perfumes within a pretty wide price range. Women will surely be pleased with a large selection of high-quality and inexpensive cosmetics from European manufacturers, excellent body cream or lipstick can be bought here for 7 euros or less.
Travelers looking to explore the most popular and original eating houses of Muenster should pay attention to local folks and their eating preferences. If a hall of a restaurant is filled …
Open
If you're looking for original jewelry, pay a visit to the Knepper store. It will surprise you with a huge selection of jewelry and a wide range of prices. Tourists with deep pockets and low budget travelers will both find something suitable here, whether it be exclusive jewelry with precious stones or plain silver or golden rings.
Wochenmarkt Muenster street market is an important city landmark surrounded by beautiful historic buildings. The most popular local products are sold at the market, and in summer you can always expect to see here some gorgeous flowers at affordable prices. Salted olives and vegetables of all kinds and shapes, farm cheese and freshly baked pastries, popular sweets and canned foods are what attracts all fans of fine food here. There are several tables right in the market, so you can taste local delicacies on the spot. The market also offers organic cosmetics, and women will especially enjoy handmade soap with the addition of plant extracts.
Munster is a marvelous city packed with cultural landmarks, as its history spans over 1200 years. It offers an impressive variety of extremes, apparent in its every feature. The city has …
Open
Ladies fond of modern fashion trends will be interested in visiting the S.Oliver store. It sells very nice-looking and modern fashionable clothes at a really low price. For instance, the most fashionable blouse in the store will cost you no more than 30 euros, and for just 40 euros more you will be able to choose a great pair of pants to match the blouse. The store has a department with items from past collections, sold 2-3 times cheaper.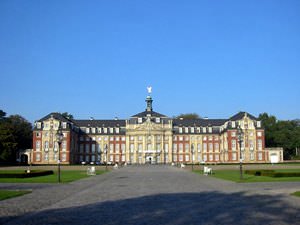 Travelers with children will be interested in visiting the Koch store, offering a great choice of children's clothing. The clothes are of high quality and can be bought at quite a reasonable price. Say, cool T-shirts will cost customers about 7 euros, if that. The store always has some top-notch jeanswear, elegant dresses for girls, as well as practical children's clothes for casual wear. This store also regularly runs sales, allowing you to buy stuff at the most attractive prices, so keep an eye out for them!

This guide to shopping in Munster is protected by the copyright law. You can re-publish this content with mandatory attribution: direct and active hyperlink to
www.orangesmile.com
.
City tours, excursions and tickets in Munster and surroundings
Reference information
Designer outlets in Munster and nearby
♥ Outlet 'Ochtum Park' Bremer Strasse Stuhr 28816 Germany, 137.6 km from Munster.
On the map
♥ Outlet 'Designer Outlet Roermond' Stadsweide 2, Roermond, 6041, Netherlands, 141.4 km from Munster.
On the map
♥ Outlet 'Maasmechelen Village' Zetellaan 100, Maasmechelen, 3630, Belgium, 170.4 km from Munster.
On the map
Photogallery of Munster best places
Search for shopping areas, streets, boutiques and supermarkeets on Munster map
Shopping advices for the whole region around Munster
Shopping advices for Munster. The best spots for buying designer clothes and local delicacies from Germany - shops, galleries, boutiques and outlets. We provide you with the shopping streets map, so you can plan your efficient shopping routes, while hunting for authentic souvenirs, goods, drinks, shoes and clothes in Munster.