Colors of Hannover - traditions, festivals, mentality and lifestyle
Hannover attracts visitors not only by its numerous attractions and places of interest, but also by amazing holidays and festivals that are held annually in this wonderful city. For more than twenty years Hanover has been a permanent venue for Festival of Fireworks. The event takes place at the Royal Garden. This festival traditionally attracts pyrotechnics teams from different countries of the world. Experienced pyrotechnics prepare truly spectacular shows for the audience – not only the jury, but also ordinary viewers give their marks to contestants. The magnificent performances take place every night in the garden.
Hannover is an administrative center of Lower Saxony, Germany. The city is located on the Leine River, in the place where mountain massive Weserbergland meets Luneburg Heath. Hannover is 160 …
Open
In order to demonstrate their achievements, each team is given just 25 minutes. As a rule, the shows here include not only pyrotechnic performances, but also a music show. This fact makes these performances even more interesting for spectators. The festival is held in September and traditionally attracts a huge number of spectators.
During a year Hanover becomes the location of several large music festivals. The local AWD-Arena is considered the major concert venue of the city. A series of interesting events is organized during the holiday of Ascension. This is traditionally the time for a jazz festival that attracts many visitors and jazz bands. The Festival of Shooters is one more interesting event. It is organized in October. The festival is accompanied by beautiful parades and marches. The main squares of the city lure visitors with beer tents and open-air cafes. People usually rest there till late at night. During the celebration children get a unique opportunity to try out dozens of original attractions and carousels, visit a beautiful fair of sweets and participate in interesting contests. Copyright www.orangesmile.com
Among the sights of Hannover which are perfect for families with children, the Erlebnis Zoo Hannover deserves priority. Large and equipped, it is considered one of the best in Germany. The …
Open
The festival held on Maschsee Lake is considered the most beautiful summer event. Hundreds of attractions are installed along the shore of the lake. In the evening they are lit up with colorful illuminations. The local concert halls host performances of music bands and exciting theatre performances. The celebration is ended with magnificent fireworks. The suburban areas of Hanover also host many interesting events and agricultural festivals. Travelers will be interested in visiting races on lawn mowers. They are also welcome to participate in the bow celebration. The locals cherish their traditions of past centuries, so the national celebrations are distinguished not only by original customs, but also by interesting stories and legends.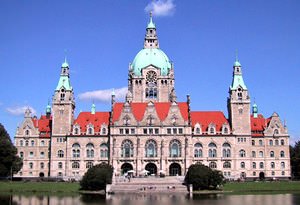 The city is also attractive for the good nature of local people. They are famous for their tolerance to almost everything. Of course, it is worth to know where to draw the line, because any tolerance has its limits. It's quite easy to get in good with residents of Hannover - firstly, be sure to learn at least a couple of phrases in German and try to use them, and secondly, follow the local rules. People who live here never violate them, otherwise, it will cause deep pangs of conscience. Germans are known for their punctuality and pedantry, and locals are no exception in this regard.
Hanover is rich in dining facilities that specialize in a variety of culinary traditions. Guests of the city usually praise Basil restaurant, the spacious hall of which can accommodate up to …
Open
Eastphalian dialect predominates in Hannover. It is somewhat different from the traditional one, but not that much. As for culinary specialties of Hannover, it is worth noting that the main products are meat and vegetables, while the favorite drink is traditional beer, although wine is also popular here. National dishes worth mentioning include roast pork, "Bethmännchen" (marzipan pastry balls with the addition of almond), perch with vegetables, beef sausages.
One of the most famous events in the city is Schützenfest, starting at the end of June and ending at the beginning of the second summer month. More than 1.5 million viewers attend the festival every year - this is enough to understand that the event is worthwhile. At this time, a parade of about 10,000 marksmen takes place on the central streets, rides open, visitors have a unique chance to watch fire shows, learn to shoot at master classes and listen to music. In addition, drinking Lüttje Lage dark beer with schnapps has already become a kind of tradition. This means that the holiday promises to be fun and positive. The main actions take place on Schutzenplatz.
Start your observation of the city's attractions from making a visit to the New Town Hall (Neues Rathaus), the construction of which lasted for 12 years and was completed in 1913. Nowadays …
Open
The famous Oktoberfest is not only held in Munich - this holiday is also part of the festival life in the "City of Kings". It starts in late September, ending in early October in the same location - Schutzenplatz. Brewing companies make huge profits, offering visitors a choice of hundreds of varieties of the divine drink. The number of visitors is more than 1 million people. The most popular drinks are Hannoversche Festbier and above-mentioned Lüttje Lage. Here there are fairs, tastings, contests, festivities - everything for those wishing to have fun. Organizers don't forget about children for whom a special program with rides is prepared. This is the largest German event of this kind after the eponymous festival in Munich.
At the beginning of June, all high-tech enthusiasts flock to Hanover. The thing is that at this time there is a fantastic exhibition - Centrum der Büro- und Informationstechnik, or simply CEBIT. It is devoted to the latest technologies and innovations. This is the largest event of its kind in the whole of Europe where visitors are shown fresh developments from the IT world. It gathers in one place hundreds of businessmen who've arrived in Hannover from all over the world to use their chance to conclude attractive deals. The event takes place at an exhibition complex on Messegelände, 30521.
Tourists are recommended to mix rich excursion program offered by Hannover with walks through beautiful parks, famous shopping streets and colorful markets. The city is also home to a …
Open
At the end of April, all art connoisseurs have a unique opportunity to witness the Long Night of the Theatres when cultural institutions keep their doors open until late at night. The festival is held in different theaters, both small and large ones. A special program prepared for visitors is sure to please everyone who has ever experienced a truly aesthetic pleasure from watching interesting performances. The theater program is truly extensive, including drama, puppet and circus shows, opera, and performances.
Another exhibition takes place in early December and is called Pferd & Jagd. As can be understood from the name, it is dedicated to hunting, fishing, and horseback riding. The venue is the same exhibition complex on Messegelände, 30521. Here you can witness amazing shows with the participation of graceful animals, wonderful flights of hunting birds, and a hunting dog show. Well, or just enjoy fishing, which is great news for its fans. Fans of entertaining gizmos should not ignore a flea market that opens every Saturday in Am Hohen Ufer, 30159. Here you can buy truly unique souvenirs - jewelry, comics, accessories, hand-made products.

This guide to traditions and festivals in Hannover is protected by the copyright law. You can re-publish this content with mandatory attribution: direct and active hyperlink to
www.orangesmile.com
.
City tours, excursions and tickets in Hannover and surroundings
Reference information
Cathedrals and basilicas near Hannover
♥ Basilika St. Clemens, Hannover, 0.6 km from the center.
On the map
Photo
♥ Dom Mariä Himmelfahrt, Hildesheim, 28.7 km from the center.
On the map
Photo
♥ Basilika St. Godehard, Hildesheim, 29.2 km from the center.
On the map
Photo
♥ Verdener Dom St. Maria und Cäcilia, Verden, 69.6 km from the center.
On the map
Photo
Survived castles around Hannover
♥ Castle 'Calenberg Castle' , 20 km from the center.
On the map
Photo
♥ Castle 'Marienburg Castle' , 22.3 km from the center.
On the map
Photo
♥ Castle 'Landestrost Castle' , 23.5 km from the center.
On the map
Photo
♥ Castle 'Celle Castle' , 36.3 km from the center.
On the map
Photo
♥ Castle 'Ahlden Castle' , 44.7 km from the center.
On the map
Photo
♥ Castle 'Erichsburg' , 61.1 km from the center.
On the map
Photo
♥ Castle 'Grubenhagen Castle' , 67.5 km from the center.
On the map
Photo
Colors of Hannover in photos
Search for popular touristic sites on Hannover map
Traditions and festivals in cities around Hannover
Cityguide on traditions, mentality and lifestyle of people in Hannover. Learn the best periods to visit Hannover to discover its soul - authentic festivals, events and celebrations. We will also reveal the interesting habits, attitude towards the world and to tourists in Hannover.