City break in Hannover. Active leisure ideas for Hannover - attractions, recreation and nightlife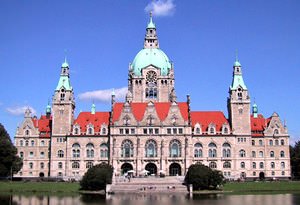 Tourists are recommended to mix rich excursion program offered by Hannover with walks through beautiful parks, famous shopping streets and colorful markets. The city is also home to a beautiful zoo - Erlebnis Zoo, which is located not far away from the center of Hannover. This place will be liked not only by children but also by adults. Visitors will be pleasantly surprised at the atmosphere of wild nature that reigns in the zoo. All enclosures are specially designed to maximize similarity with the terms of the natural habitats of animals. This makes a walk in the park even more impressive and interesting.
There are for fans of the traditions of past centuries, several attractive hotels in Hannover that will be interesting to visit. One of such is the Central-Hotel Kaiserhof, located opposite …
Open
Among the natural attractions of the city and its suburbs we should definitely mention the beautiful lake of Maschsee, which has already become the regular venue for various national holidays. In winter the lake is turned into a large ice rink, which traditionally attracts numerous locals and visitors who come to have fun there. Berggarten Garden is a perfect place for outdoor recreation and sports entertainment. The territory of the garden is equipped with numerous pedestrian and bicycle paths, picnic areas and special play areas for children.
Sea Life aquarium is a perfect place to get acquainted with inhabitants of the deep sea. Every day the aquarium hosts exciting shows and events, during which you can watch the exciting procedure of feeding predators and to see the skills of talented inhabitants of the aquarium. Tourists, who enjoy spending evenings watching newest movies, fare recommended visiting Apollo Movie Theater. Modern and comfortable halls are a great choice for perfect rest. There are several attractive gastronomic facilities next to the cinema. Copyright www.orangesmile.com
Some hotels in Hannover have a particularly romantic setting. Maritim Grand Hotel being one such, is very popular among couples. Its double rooms are decorated in a romantic style and …
Open
We should also tell you about night clubs of Hanover. The most famous of them is called Capitol. Among its numerous visitors you can see even celebrities. The club attracts visitors with its luxury design, enchanting entertaining programs and great music. Fans of dancing will enjoy Men's Factory club, which has become the permanent venue of performances of popular European DJs. Guests of the club will surely like its huge and colorful dance floor, a stylish bar with lots of drinks and snacks and a cozy lounge that is a great place to relax in an intimate setting.
Zaza is often called the most famous disco of Hannover. Here you can hear the music of various directions. Several times a week guests are welcome to visit interesting theme parties. In addition to a truly excellent music program Zaza is famous for its great bar. The club's bar is a great place to relax in a big company and try delicious signature dishes.
The usual way to begin shopping in Hanover is to visit a popular Kaiser shopping center. It is a great place to buy new clothes and shoes. The complex includes shops of various price …
Open
Hannover, or the City of Kings, as it has long been known, is a great destination for those preferring active recreation. Thus, locals and tourists can enjoy all kinds of water activities, as the city lies on the river Leine. You should definitely go to conquer the underwater world with Tauchschule Tauchteam Wasserfest, Traum Center Tauchen or Tauchschule Blue Water. This will be a great surprise for those who think that good diving can only be experienced in Australia or the Caribbean islands.
For exploring the City of Kings' attractions, be sure to rent a convenient mode of transport. It must be said that the choice often falls on bicycles. Look for them in HPT & E-Motion e-Bike/Pedelec-Touren. Hannover can also offer many interesting tours like Natourwissen and Hannover Tours. Gastronomic tours of the region from Weltfein Whiskey & Tasting, BeerTours and Chocolats-de-Luxe are no less popular. You can also enjoy segway sightseeing, and this interesting opportunity is provided by 6-way and eco4drive.
Discovering the architecture of Hannover from bird's eye view! Marktkirche, Neustadter Kirche, Christuskirche, Wilhelm Busch Museum, all those monuments are defining the image of Hannover …
Open
Those who want to play golf do not need to go to Scotland, the game's homeland. You will find a great opportunity to play the game of aristocrats, and a very good one, in Golfclub Gleidinge. Those who want to try mini-golf are welcome in NeonGolf, Hannover's best center of this kind. Bowling enthusiasts will love such places as Bowling World Hannover, Toms Bowling Hannover, and Kegelcenter & Sportsbar Hannover. Other centers worth noting include SnooBi, especially for those who want to play billiards, as well as LaserTag Hannover where friends meet to increase the level of adrenaline in the body.
For children, it will be interesting and fun to visit Superfly Hannover, RennCenterHannover. Escape quests are popular in Hannover, this is a great pastime for a noisy group of friends. The best centers where you can entertain yourself with a good game are ROOM - Running Out Of Minutes, Hidden in Hannover, The Key Hannover. Volksbad Limmer and Foessebad are great for those who like swimming, and if you want to keep yourself in top shape on vacations, find time to visit Kaifi Sportslodge.
New Town Hall, Opernhaus, Hannover Congress Centrum, Norddeutsche Landesbank, as well as many others, they all become the world's cultural heritage objects and remain as iconic monuments for Hannover …
Open
Those who think about going to the movies will like cinemas like ASTOR Grand Cinema, Lodderbast, Cinemaxx Hannover, as well as above-mentioned Apollo. Fans of theatrical performances should be advised to visit GOP Variete Theater Hannover, Pavillon Kulturzentrum, Theater am Kuchengarten, and Swiss Life Hall. Hanover Opera is highly valued too, so you can always enjoy it at Opernhaus Hannover. Good comedy connoisseurs should never pass by Werkstatt Galerie Calenberg, a comedy club where you can have a good laugh and get to know the German sense of humor.
Some more must-visit institutions are museums, of course. Hannover with its rich culture has something to show. Luftfahrtmuseum Hannover-Laatzen highly appreciated by aviation buffs and Niedersachsisches Landesmuseum, an excellent museum for anthropology fans, must be visited first as the most famous. Those wishing to learn more about the life of local residents in different eras should definitely go to explore the Historisches Museum, and connoisseurs of non-standard institutions will like Panorama am Zoo. Visiting Museum Schloss Herrenhausen and Kestnergesellschaft is must-have for any tourist.
Hannover is an administrative center of Lower Saxony, Germany. The city is located on the Leine River, in the place where mountain massive Weserbergland meets Luneburg Heath. Hannover is 160 …
Open
When night falls, it's time to think about where to spend it. Hannover doesn't cease to please adventure seekers here. All who have singing souls are welcome in El Pancho or Downtown Karaoke & Bar, while party makers who are used to enjoying life while dancing the night away will be happy to open local clubs - Sansibar and Capitol. A very colorful bar awaits those who've decided to visit Acanto where it is always noisy and fun. Connoisseurs of beer are invited to Harry's New-York Bar and those who prefer picturesque views from the window to Julian's Bar & Restaurant. Those who're planning to spend this night in a relaxed, casual atmosphere will surely appreciate Auszeit Bar.

This guide on active recreation and leisure in Hannover is protected by the copyright law. You can re-publish this content with mandatory attribution: direct and active hyperlink to
www.orangesmile.com
.
City tours, excursions and tickets in Hannover and surroundings
Reference information
National and city parks around Hannover
♥ National Park 'Harz' , 85 km from the center.
On the map
Photo
♥ National Park 'Kellerwald-Edersee' , 146.7 km from the center.
On the map
Photo
♥ National Park 'Hainich' , 151.5 km from the center.
On the map
Photo
Amusement parks near Hannover
♥ Amusement park 'Freizeitpark Kirchhorst' Isernhagen, 15.4 km from the center.
On the map
Photo
♥ Amusement park 'Rasti-Land' Salzhemmendorf, 30.8 km from the center.
On the map
Photo
♥ Amusement park 'Erse-Park' Uetze, 35.4 km from the center.
On the map
Photo
♥ Amusement park 'Serengeti Safaripark' Hodenhagen, 42.7 km from the center.
On the map
Photo
♥ Amusement park 'Potts Park' Minden, 61.9 km from the center.
On the map
Photo
Michelin-starred restaurants in Hannover
♥ Restaurant 'Clichy' HANNOVER. Type - Classic French. 1.3 km from the center.
On the map
Photo
♥ Restaurant 'Jante' Hannover. Type - Modern cuisine. 1.7 km from the center.
On the map
Photo
♥ Restaurant 'boca' List. Type - Modern cuisine. 1.8 km from the center.
On the map
Photo
♥ Restaurant 'Hindenburg-Klassik' Hannover-Zoo. Type - Italian. 1.8 km from the center.
On the map
Photo
♥ Restaurant 'Die Insel' Hannover-Döhren. Type - Modern cuisine. 3.4 km from the center.
On the map
Photo
Photogallery of picturesque Hannover
Search for active leisure and attraction spots on Hannover map
City break ideas for neighbours of Hannover
Guide to your best city break in Hannover - popular places for recreation and leisure. Things to do during the day in Hannover - attractions, parks, beaches, aquaparks, racing tracks, biking trails or waterski. Recommendations (with addresses, phone numbers and links) where to spend your time in the evening (bars, discos, clubs, etc.). We share some good ideas and the question 'What to do in Hannover?' disappears immediately.