Detailed hi-res maps of Venice for download or print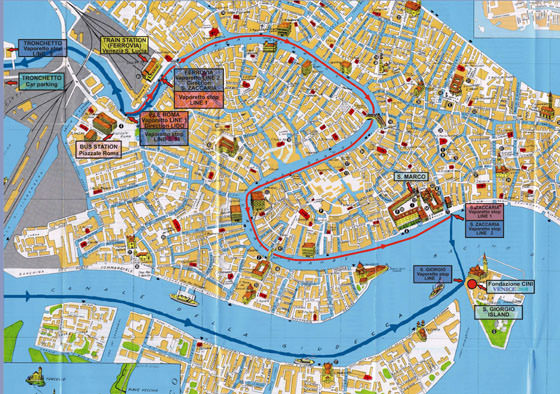 The actual dimensions of the Venice map are 3451 X 2428 pixels, file size (in bytes) - 1385867. You can open this downloadable and printable map of Venice by clicking on the map itself or via this link:
Open the map
.
Additional maps of Venice
City tours, excursions and tickets in Venice and surroundings
Moving around in Italy - transportation

In large cities such as Rome or Milan, you will meet an underground metro. Statistics show that the Roman metro carries an average of more than 3 million passengers daily. The quality of the subway is also at a very high level, equipped with all necessary security measures, paying great attention to the comfort of passengers waiting and traveling by metro. Rome's city subway has two lines, just like that of Milan. The railway infrastructure is also at a very high level. The total length of railways is more than 15,000 kilometers. Of this number, about 1,000 kilometers are high-speed tracks. It should be noted that all the large cities are connected by direct rail routes. If you plan a trip to a remote province, then, most likely, transfers during the trip cannot be avoided. The government pays much attention to the safety of movement along the railway track. Therefore, all local electric trains and long-distance trains are serviceable and equipped with everything necessary for a comfortable transport of passengers. Please note that all long-distance trains are divided into first and second class, and the cost of tickets varies significantly. …
Open

Economy roadmap of Italy
Main imports of Italy are food products, various consumer goods, precise measuring instruments, and specialized equipment. The main trading partners are Germany, France, Italy, and China. According to data for the past year, unemployment in the country is more than 15% and this figure is constantly increasing. The average salary is 16,895 euros per month. More than 70% of GDP is income from the service sector, about 14% comes from the industry sector, and about 10% from construction. Italy's GDP per capita according to the International Monetary Fund for 2016 was $20,217. This allowed the republic to rank the 28th place in the world. Inflation in Italy is less than 1.4%. During the crisis, GDP fell by 9%. However, according to the projections of international economic companies, the situation of the country is stabilizing. The external debt is 43 million dollars. …
Open

Car rental on OrangeSmile.com

Hyatt Offers Special Rates for Long-term Guests
The idea of "The Great Relocate" came up to Hyatt as a result of limitations caused by the pandemic. COVID-19 has greatly speeded up the "work from anywhere" trend. Instead of being locked at home, modern employees now can enjoy a dinner in a rooftop bar with panoramic views and swimming pool sessions after an important meeting. Being not tied to one place is a luxury of modern time and an opportunity to make one's life even more interesting and exciting. The "digital nomads" can stay at a hotel alone or bring their family and even pets to stay at a Hyatt hotel. The promotion is valid until 31 December 2021.
Read this
09.03.2021
Search for services, infrastructure and sights on map of Venice
Photogallery of Venice sightseeing
Our guide chapters over Venice
Detailed maps of neighbouring cities to Venice