Preparing your trip to Erfurt: advices & hints - things to do and to obey
1.You can easily go from Erfurt to nearby towns. High-speed train will get you to Berlin, Frankfurt, Dresden and Dusseldorf in just 2 or 3 hours. Train tickets cost about 45 euros.
2. Travelers arriving to the local airport can get to the city center by tram route 4. You can also use taxi; it would be about 15 euros from the airport to the center.
3. Public transport in Erfurt is represented by an extensive network of buses and trams cruising throughout the city. The cost of a trip by public transport is about 1.5 euros; anyone can buy a ticket for one day, which costs 5 euros.
4. Tourists planning a rich program of rest are recommended not to go for a trip in June, as this month is considered as the rainiest. The warmest weather prevails in July and August; the average daily temperature is +23 C. The coldest month is February, but at this time, the temperature rarely drops below -4 C.
5. Almost all major stores and restaurants accept credit cards, so it isn't necessary to carry a large amount of cash. You have to pay for goods and services in euros; currency can be exchanged in the bank or in specialized exchange offices. Copyright www.orangesmile.com
6. Fans of rock music will be interested in visiting the city in August, when the annual Highfield Festival is held. A significant part of its activities are carried out in the open air; all street concerts and performances are absolutely free.
7. The city has perfect cleanliness, so you have to throw garbage only in special boxes. There are special smoking areas close to all major shopping and entertainment centers.
Erfurt is the real boon for fans of German food. There are countless restaurants and small stands offering famous German sausages, Bratwurst. It's not widely known that world's famous …
Open
8. Erfurt is a pretty calm city; however, travelers shouldn't forget about basic measures of caution. Don't leave personal belongings unattended and don't go for a walk in remote areas of the city in the evening.
9. In restaurants and cafes it is appropriate to leave a tip for a good service; 10 - 15% of the total would be sufficient. Paying for taxi driver, you can round the resulting amount to any convenient sum.

Preparing your trip to Erfurt: advices & hints - things to do and to obey You can re-publish this content with mandatory attribution: direct and active hyperlink to
www.orangesmile.com
.
What to visit being in Erfurt - unique sights
Goseck Circle
From the series
"The Most Mysterious Constructions of the Planet"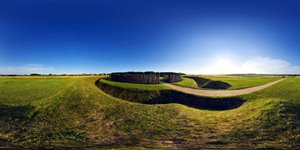 Check on the map:
Distance from Erfurt center - 63.8 km.
These have led the scientists to the idea that the old astronomical observatory could be located on the site of the Goseck circular excavation site. Perhaps such formations helped people to form the exact moon calendar several thousand years ago. If the assumptions of the scholars are confirmed, the Goseck circular excavation facility will be the oldest existing solar observatory on Earth. According to the approximate estimates, the observatory was erected about 4900 years bc. …
Read further

Gozec Circle
From the series
"15 Historical Monuments, with Riddles not yet Solved"
Check on the map:
Distance from Erfurt center - 64.2 km.
This unique historical monument was found accidentally in 1991 during the air exploration. While the specialists were examining the area from the air, they saw a clear outline made from the wheat-land. Something like Gozec circle was found in other regions of German, Croatia, Austria. Nevertheless, no one knows about its original usage. The researchers came up to the conclusion that all gates were made according to the sunrise and sunset during the solstice days. …
Read further

City tours, excursions and tickets in Erfurt and surroundings
Car rental on OrangeSmile.com

Iceland Wants to Open Its Doors for Vaccinated Tourists
Have you ever dreamt of enjoying an unforgettable holiday in Iceland? If yes, an anti-COVID-19 vaccine is your ticket to this northern country. The country's government decided to allow fully vaccinated tourists to enter without any need for quarantine or testing. The new rules have become valid starting from March 18. This means that everyone with proof of certified vaccination is welcome in Iceland. No PCR testing or self-isolation is mandatory for such tourists.
Read this
22.04.2021
Photos of Erfurt
Services search (pharmacy, police, parking, banks) on Erfurt map
Tips for the cities around Erfurt
Travelling to Erfurt - advices and tips. What should be provisioned in advance, the rules you might want to follow, and the things you better avoid doing in Erfurt. We help you to make your trip smooth and easy, with no unexpected surprises.