City break in Erfurt. Active leisure ideas for Erfurt - attractions, recreation and nightlife
Main tourist activities are walking along colorful city streets and sightseeing of historical landmarks. There are also several shopping places in Erfurt. Krämerbrücke houses lots of souvenir shops. Various shops and store also located at Anger, Marktstraße, Schlösserstraße and Bahnhofstraße. Huge Anger 1 shopping mall is located in the very city center and you can easily spend entire day walking around it.
1.You can easily go from Erfurt to nearby towns. High-speed train will get you to Berlin, Frankfurt, Dresden and Dusseldorf in just 2 or 3 hours. Train tickets cost about 45 euros. 2. …
Open
If that wasn't enough, there are Thüringenpark and TEC large trade centers. Among markets, Wenigemarkt offering various souvenirs and ancient items is the most interesting. Fischmarkt is the place to visit when looking for fresh food, as it offers a huge choice of quality foodstuff.
Egapark Erfurt is the very attractive place to rest in summer. It has everything for a comfortable rest, including beautiful flower arrangements, fountains, pathways and benches hidden in tree shadows. Zoopark Erfurt is another place especially popular among families with children. There are lots exotic animals, including elephants, camels and deer living in spacy comfortable enclosures. Copyright www.orangesmile.com
Many people compare Erfurt with beautiful and unique Prague. Probably, this comes from the same fabulous unpredictability that this city is famous for. It is hard to imagine what you will …
Open
Erfurt doesn't have much to offer in terms of nightclubs and discos, since local citizens prefer to spend time at bars and pubs, where they can taste the best sorts of beer and classic treats. Sometimes there are entertainment programs in bars. Still there are some interesting places to visit in the evening and Presseklub is the one of them. It offers various house special meals, an interesting music program and original interior.

This guide on active recreation and leisure in Erfurt is protected by the copyright law. You can re-publish this content with mandatory attribution: direct and active hyperlink to
www.orangesmile.com
.
City tours, excursions and tickets in Erfurt and surroundings
Reference information
National and city parks around Erfurt
♥ National Park 'Hainich' , 43.1 km from the center.
On the map
Photo
♥ National Park 'Harz' , 96.3 km from the center.
On the map
Photo
Amusement parks near Erfurt
♥ Amusement park 'Erlebnistierpark Memleben' Memleben, 46.1 km from the center.
On the map
Photo
♥ Amusement park 'Märchenwald Saalburg' Saalburg, 72.9 km from the center.
On the map
Photo
♥ Amusement park 'Erlebniswelt Seilbahnen Thale' Thale, 85.6 km from the center.
On the map
Photo
♥ Amusement park 'Rodelparadies Wasserkuppe' Gersfeld, 92.6 km from the center.
On the map
Photo
♥ Amusement park 'Belantis' Leipzig, 95.3 km from the center.
On the map
Photo
Michelin-starred restaurants in Erfurt
♥ Restaurant 'Anastasia' WEIMAR. Type - Market cuisine. 21 km from the center.
On the map
Photo
Sites around Erfurt from our surveys on extreme Earth places
Gozec Circle
From the series
"15 Historical Monuments, with Riddles not yet Solved"
Check on the map:
Distance from Erfurt center - 64.2 km.
In Germany on the territory of Gozec commune was found an unusual Neolithic building named Gozec circle. It is a complex of deep concentric form ditches, alternately with palisade 75 meters rings. In the palisade rings, we can see several gates. Actually, this part was reconstructed. …
Read further

Goseck Circle
From the series
"The Most Mysterious Constructions of the Planet"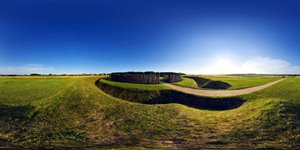 Check on the map:
Distance from Erfurt center - 63.8 km.
In the German town of Goseck, there is a curious Neolithic circular moat, called the 'Kreisgrabenanlage Goseck'. This is a group consisting of several concentric trenches, whose diameter is about 75 meters, as well as palisade rings, which are supplemented with the gates in the specific places. The unusual construction was discovered by the researchers quite recently, in 1991. During a flight over this terrain the researchers have noticed the strange round silhouette on the wheat field. …
Read further

Photogallery of picturesque Erfurt
Search for active leisure and attraction spots on Erfurt map
City break ideas for neighbours of Erfurt
Guide to your best city break in Erfurt - popular places for recreation and leisure. Things to do during the day in Erfurt - attractions, parks, beaches, aquaparks, racing tracks, biking trails or waterski. Recommendations (with addresses, phone numbers and links) where to spend your time in the evening (bars, discos, clubs, etc.). We share some good ideas and the question 'What to do in Erfurt?' disappears immediately.