Family trip to Darmstadt with children. Ideas on where to go with your child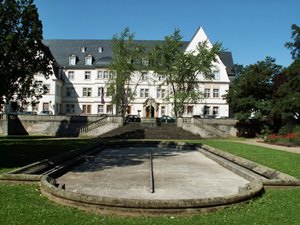 There are many interesting cultural and historical sites in Darmstadt, some of which will be interesting to visit with children. They will definitely like the Hessisches Landesmuseum Darmstadt, with its rich natural science collection. Among its exhibits are the skeletons of prehistoric animals and birds that inhabited our planet millions of years ago. Of great interest is the collection of ancient fossils. In the museum, you can even see replicas of world famous historical buildings, including the Colosseum. During the excursion, visitors are told about the peculiarities of life of primitive people and about what our planet was like millions of years ago.
Near the main train station of Darmstadt is situated the upscale InterCityHotel Darmstadt – one of the most stylish and attractive hotels in the city. Its rooms are decorated in soothing …
Open
In the city, operates the beautiful Zoo Vivarium Darmstadt, a visit to which must also be included in the excursion program. In it, you can see dangerous crocodiles and very nice sloths that live in a beautiful tropical pavilion. In one of the covered pavilions, is a rich collection of tropical butterflies. Among the most unusual inhabitants of the zoo is worth noting Australian kangaroos. There is also a small aquarium on the territory of the zoo, where rare species of turtles live in addition to colorful fish. The Zoo in Dallas is very large and well maintained that walking along it is a pleasure.
Those who like to spend time outdoors should definitely visit the park Herrngarten. It is considered the most beautiful in the city. It is nice to walk along this park on foot or ride a bicycle, studying the variety of plants and trees. There are a lot of birds in the park and children will definitely like to feed them. There are also special areas on its territory where you can have a picnic. In addition to a variety of plants in the park, you can find original play areas, including huge chessboards with figures, as well as traditional playgrounds for children. Copyright www.orangesmile.com
Miniature Darmstadt will not disappoint couples in love who decide to hold their wedding ceremony or spend a romantic getaway in the city. For wedding ceremonies, many couples choose the …
Open
Many travelers with children during their holidays in Dallas must visit the Hofgut Oberfeld farm. Guests are always welcome here. Travelers will have the opportunity to spend a day at the farm or stay longer in a small hotel. Here you can enjoy all the delights of country life such as take care of farm animals, try the best farm products and enjoy a variety of active entertainment. This farm is one of the oldest in Dallas. Recently, a wonderful hotel was opened in its territory, and is in demand even among family travelers.
With older children, one should definitely visit the park, Kletterwald Darmstadt. It is remarkable not only for its natural beauties, but also for the abundance of interesting attractions. In this park, you can take a ride on a bungee, walk along rope bridges among tree crowns and test your dexterity in dozens of other interesting ways. Visitors can only try out all obstacle courses and attractions in special safety equipment. A team of experienced instructors work in the park and with their help, it is possible to overcome literally any obstacle.
In Darmstadt, amateurs of shopping should necessarily go around small shops. They'll surely find a lot of useful and interesting things. Buttmi store specializes in selling men's and women's …
Open
Those who love nature and prefer to walk in quiet, low-lying places, would like the park Vortex Garten Mathildenhöhe. With its original design, it will impress not only adults, but also children. Many original sculptures are installed in the park. In this miniature park, there are beautiful stone-lined paths, and unusual sculptures and landscapes made out of old ceramics. Not many locals know about the existence of this park, not to mention travelers. The park is especially beautiful in late spring and summer.

This guide to family holidays in Darmstadt is protected by the copyright law. You can re-publish this content with mandatory attribution: direct and active hyperlink to
www.orangesmile.com
.
City tours, excursions and tickets in Darmstadt and surroundings
Reference information
Amusement parks near Darmstadt
♥ Amusement park 'Zoo Frankfurt' Frankfurt, 27.5 km from the center.
On the map
Photo
♥ Amusement park 'Freizeitpark Lochmühle' Wehrheim, 46.1 km from the center.
On the map
Photo
♥ Amusement park 'Taunus Wunderland' Schlangenbad, 47.1 km from the center.
On the map
Photo
♥ Amusement park 'Technik Museum Speyer' Speyer, 63.9 km from the center.
On the map
Photo
♥ Amusement park 'Holiday Park' Haßloch, 66.4 km from the center.
On the map
Photo
Water attractions around Darmstadt
♥ Water park 'SchwabenQuellen' Stuttgart, Baden-Württemberg, 132.9 km from the center.
On the map
Photo
Aquariums in Darmstadt and nearby
♥ Aquarium 'Sea Life Centre Speyer' , 63.1 km from the center.
On the map
Photo
Famous sights of Darmstadt
Burg Rheinstein
From the series
"Gothic Architecture – Magnificent Monuments"
Check on the map:
Distance from Darmstadt center - 58.4 km.
A small chapel was built on the territory of the castle in 1839. The tomb of Prince Frederick, as well as one of his sons, is located in it. The fortress was full of life during the years when the Persian prince owned it. He held grand jousting tournaments and balls here. He also invested huge sums in the design of the castle. Unique stained glass windows from the 14th century were delivered to it. Some of the unique wall paintings, including masterpieces by the famous artist Ludwig Pose, are preserved in the fortress. …
Read further

Heidelberger Castle
From the series
"Famous Buildings of Renaissance Architecture"
Check on the map:
Distance from Darmstadt center - 51.4 km.
After the reconstruction in the 19th century the castle became an attractive place for foreign travellers. Every year about a million people visit it. Outside the castle has spacious terraces with a marvellous panorama of the city. The last owner of the castle has made up an accurate guidebook. Until now it is popular among tourists. The castle has a complex structure. There you can see a lot of mashed-up halls and passages. It is quite impossible to walk alone in the castle. That's why this castle has professional guides who acquaint you with the castle halls and help not to get lost in the labyrinths. …
Read further

Photogallery of best places of Darmstadt
Children attractions (aquaparks, zoos, amusement parks) on the map of Darmstadt
Interesting places to visit with children around Darmstadt
Guide to sightseeing and entertainment for children in Darmstadt - parks, attractions, museums, zoos, water-parks. All fascinating and educational sites of Darmstadt, which are must visit and see for your child. Find out the best discovery routes and places for kids (local theaters, exhibitions and museums), where you can spend quality time together. Darmstadt for families with children.