Cuisine of Darmstadt for gourmets. Places for dinner - best restaurants
Many restaurants in Darmstadt are associated primarily with traditional German cuisine. At the same time, the city presents gastronomic institutions of a variety of directions, so each visit to a restaurant can be an interesting and exciting event. Those who still prefer classic German cuisine will love Sitte restaurant. Thanks to a rich menu, it's easy to choose food for both budget travelers and guests who can't imagine a meal without exquisite delicacies. A beautiful spacious hall can easily accommodate a large friendly company; Sitte is also suitable for family dinners.
The first thing that comes to mind at the mention of Darmstadt is its universities, research centers and institutes, due to which the city is often called "The City of Science". Looking at …
Open
Lilienschanke sports bar is considered a popular place to hang out among locals and visitors to the city. Literally every evening it broadcasts exciting competitions. In addition to a large selection of drinks, the bar serves excellent pizza, which is ordered by hundreds of visitors every day. In Lilienschanke you can relax after a busy day, taste interesting national snacks and the best local beers.
Ban Thai restaurant that specializes in Thai dishes has long been popular with fans of exotic food. Dishes suitable for fans of the classics are also available; Ban Thai menu is regularly updated and supplemented with new culinary masterpieces. Mezzo is considered the best Italian restaurant in town. Its menu includes traditional Mediterranean dishes in addition to traditional Italian dishes. During the daytime, the restaurant is perfect for business meetings, and in the evenings, guests are offered an interesting entertainment program. Copyright www.orangesmile.com
Darmstadt is rich in historical, architectural and natural attractions, offering its guests an excellent excursion program. Luisenplatz is considered the center of the city, and it is from …
Open
In its design, Enchilada Darmstadt resembles a beautiful bar. This Mexican cuisine restaurant welcomes guests until late at night. Visitors can stay at the counter or go to a beautiful cozy room. Enchilada Darmstadt won the recognition not only because of the excellent cuisine but also for reasonable prices, it is one of the best budget restaurants in town. Darmstadt has lovely Latin American restaurants, among which El Cid deserves special attention. A rich selection of national dishes prepared in full accordance with the recipes, a high level of service and the atmosphere of hospitality reigning in the restaurant will make the rest as comfortable as possible.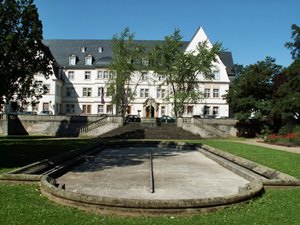 Wilhelminenstrasse Street is the location of one of the main gastronomic landmarks of Darmstadt – the historic Braustuebl brewery. Nowadays, there is one more popular establishment in the brewery building, one of the best restaurants specializing in the regional cuisine in the city. In this restaurant, visitors can not only try unique sorts of beer made in full accordance with the unchanged traditions developed centuries ago but also enjoy the most popular regional food. Despite the everlasting popularity of this restaurant, it remains quite affordable even to budget travelers. A large plate of meat with garnish costs approximately 10 euro.
In addition to an interesting cultural program, Darmstadt can offer its guests equally diverse entertainment program. Dancing lovers, gourmets, and those who dream of strolling through …
Open
Besides traditional restaurants, there are many pubs in the city. Needless to say, this is where Darmstadt residents like to relax and have fun in the evening. In addition to popular regional beer and other drinks, local pubs offer many interesting dishes, for example, various sausages, ham, and bacon.
Despite the fact that the regional cuisine mostly features classic German dishes, the serving method of some of them is completely different in Darmstadt. For example, meat is often served together with the green sauce made of spicy herbs. This sauce contains such ingredients as parsley, borage, dock, rhubarb, and different kinds of kale. This sauce is not only a mandatory addition to boiled pork but also a typical addition to all kinds of potato dishes.
Near the main train station of Darmstadt is situated the upscale InterCityHotel Darmstadt – one of the most stylish and attractive hotels in the city. Its rooms are decorated in soothing …
Open
All fans of ice cream will be pleasantly surprised to find out that their favorite refreshing dessert is incredibly popular and widespread in Darmstadt. Many local cafes and food carts offer ice cream, but experienced foodies recommend visiting Eis Venedig café for that purpose. It is distinguished not only by a fantastic range of ice cream in different flavors but also by some of the most affordable prices in the city. One scoop of high-quality ice cream costs approximately 0.7 euro. The charming café is always crowded as it is very popular among local people.
Budget tourists usually enjoy visiting bakeries in Darmstadt as they offer all kinds of locally baked foods at a very attractive price. They sell the traditional apple pie and various pastries. Many bakeries also offer chocolate pastries that are very popular in the region. Many of these establishments have tables inside, so visitors can purchase a bun or a pie together with a cup of fragrant coffee, sit at the table, and enjoy them right away.

This guide to cuisine and restauraunt in Darmstadt is protected by the copyright law. You can re-publish this content with mandatory attribution: direct and active hyperlink to
www.orangesmile.com
.
City tours, excursions and tickets in Darmstadt and surroundings
Reference information
Michelin-starred restaurants in Darmstadt
♥ Restaurant 'Daniela's Trattoria Romagnola' Darmstadt. Type - Italian. 0.6 km from the center.
On the map
Photo
♥ Restaurant 'Glasschrank "Steak & Meer"' Darmstadt. Type - International|Grills|Seafood|Classic cuisine. 1.1 km from the center.
On the map
Photo
♥ Restaurant 'Orangerie' Darmstadt. Type - Mediterranean cuisine|Italian. 1.3 km from the center.
On the map
Photo
♥ Restaurant 'Kavaliersbau' Darmstadt-Kranichstein. Type - Classic cuisine|International. 4.5 km from the center.
On the map
Photo
♥ Restaurant 'Weißer Schwan' Darmstadt-Arheilgen. Type - Home cooking|Country. 4.8 km from the center.
On the map
Photo
♥ Restaurant 'Hessischer Hof' Ober-Ramstadt. Type - International|Country. 8.7 km from the center.
On the map
Photo
♥ Restaurant 'Mosbach's Restaurant' LANGEN. Type - Classic French. 13.3 km from the center.
On the map
Photo
♥ Restaurant 'Merzenmühle' Langen. Type - International. 13.5 km from the center.
On the map
Photo
♥ Restaurant 'Kaltwassers Wohnzimmer' Zwingenberg. Type - Modern cuisine|Country. 16.6 km from the center.
On the map
Photo
♥ Restaurant 'Gutsschänke Neuhof' DREIEICH-GÖTZENHAIN. Type - Country. 17.2 km from the center.
On the map
Photo
Darmstadt in photo set
Searching where to eat - restaurants and cafe on Darmstadt map
Cuisine and restaurants in the neighbours of Darmstadt
Travel notes on best cuisine and restaurants of Darmstadt (Germany) on OrangeSmile.com. Famous recipes and traditional dishes and courses in Darmstadt restaurants. Where to eat - our recommendations on popular places in Darmstadt, where you can taste delicious meal and also spend a good time with your friends.