Shopping in Darmstadt - authentic goods, best outlets, malls and boutiques
In Darmstadt, amateurs of shopping should necessarily go around small shops. They'll surely find a lot of useful and interesting things. Buttmi store specializes in selling men's and women's footwear. They offer customers not quite ordinary, however, green footwear. Only natural, environmentally friendly materials are used for the production of such shoes. The price level is quite high here. A pair of modest summer shoes will cost about 60 euros, and for a pair of demi-season shoes you'll have to pay at least 100 euros.
Many restaurants in Darmstadt are associated primarily with traditional German cuisine. At the same time, the city presents gastronomic institutions of a variety of directions, so each visit …
Open
The largest shopping mall in the city is Luisencenter. It is located on the main square and presents dozens of clothing and footwear shops of various stylistic and price categories. There are large C&A and New Yorker trading pavilions here. Ladies will surely appreciate Yves Roches store, where cosmetics and perfumery from a famous French manufacturer are sold. Despite the huge popularity and significant number of visitors, the prices in this shopping complex always remain at an optimal level.
Netto supermarket is extremely popular with budget travelers. All popular products are available here at the lowest possible price. Ready-made salads at a cost of less than 1 euro per package are always on offer, a juice box can be bought for only 0.59 euros. Another attractive feature of the supermarket is a huge choice of fresh pastries. You may treat yourself to wonderful buns for only 10 cents. Copyright www.orangesmile.com
The first thing that comes to mind at the mention of Darmstadt is its universities, research centers and institutes, due to which the city is often called "The City of Science". Looking at …
Open
Original Bohn store will appeal to even those women who have never experienced a special excitement from costume jewelry. All the articles are skillfully executed, high quality an so attractive that cannot be resisted. A luxury necklace of artificial pearls costs less than 16 euros, for 10 - 15 euros you can pick up chic pendants and rings with large diamonds. At first glance, it's really hard to distinguish the presented costume jewelry from natural jewelry, all items look very dignified and noble.
Men can discover appropriate stores in the city for themselves. Militar shopping pavilion is really worth a visit. It specializes in selling camouflage suits and accessories, which are simply indispensable for those who prefer active leisure. It is important to note that in this store they have clothes for boys, as well. Customers of any age can pick up a wonderful ammunition.
Darmstadt is rich in historical, architectural and natural attractions, offering its guests an excellent excursion program. Luisenplatz is considered the center of the city, and it is from …
Open
Darmstadt enjoys a variety of souvenir shops. Gieselberg is one of the best among them. It is located in the very heart of the city. In this store, you can purchase wonderful postcards at a price of 0.40 euros, as well as other nice souvenirs. For 2.10 euros you will pick up large panoramic cards with city sights and landscapes. They also sell excellent bags with national symbols and guidebooks, so useful to all tourists.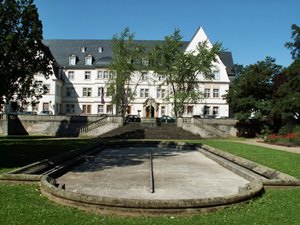 For quality footwear at affordable prices, you can go to Dielmann store. It is multibrand. They sell shoes for men and women. Affordable prices will surely please budget customers. For stylish Buffalo boots, you'll pay less than 50 euros. Ladies will surely love a huge choice of shoes of Ara and Neu brands. They offer not only street shoes, but really comfortable shoes for the house.
In addition to an interesting cultural program, Darmstadt can offer its guests equally diverse entertainment program. Dancing lovers, gourmets, and those who dream of strolling through …
Open
For those who expect to bring elite alcohol and delicious gifts for their loved ones, Geträenkemarkt Maruhn covered market will be of interest. To many, it is known as a place where one can purchase the most popular sorts of German beer, rum, and other alcoholic beverages.
For unusual memorable gifts go to Antiquitäten-Haus Heymann store. As you can guess from the title, it specializes in selling antiquities. The choice of goods is just great. Interesting inexpensive souvenirs and elegant works of art with centuries-long history are always on offer.

This guide to shopping in Darmstadt is protected by the copyright law. You can re-publish this content with mandatory attribution: direct and active hyperlink to
www.orangesmile.com
.
City tours, excursions and tickets in Darmstadt and surroundings
Reference information
Designer outlets in Darmstadt and nearby
♥ Outlet 'Wertheim Village' Almosenberg Wertheim 97877 Germany, 67.6 km from Darmstadt.
On the map
♥ Outlet 'Zweibruecken' Londoner Bogen 10-90 Zweibruecken 66482 Germany, 114.6 km from Darmstadt.
On the map
♥ Outlet 'Roppenheim The Style Outlets' 1 Route de L'Europe, Roppenheim, 67480, France, 121.9 km from Darmstadt.
On the map
♥ Outlet 'Metzingen Outlet City' Reutlinger Strasse 53, Metzingen, 72555, Germany, 155.3 km from Darmstadt.
On the map
Photogallery of Darmstadt best places
Search for shopping areas, streets, boutiques and supermarkeets on Darmstadt map
Shopping advices for the whole region around Darmstadt
Shopping advices for Darmstadt. The best spots for buying designer clothes and local delicacies from Germany - shops, galleries, boutiques and outlets. We provide you with the shopping streets map, so you can plan your efficient shopping routes, while hunting for authentic souvenirs, goods, drinks, shoes and clothes in Darmstadt.