Metro map of Munich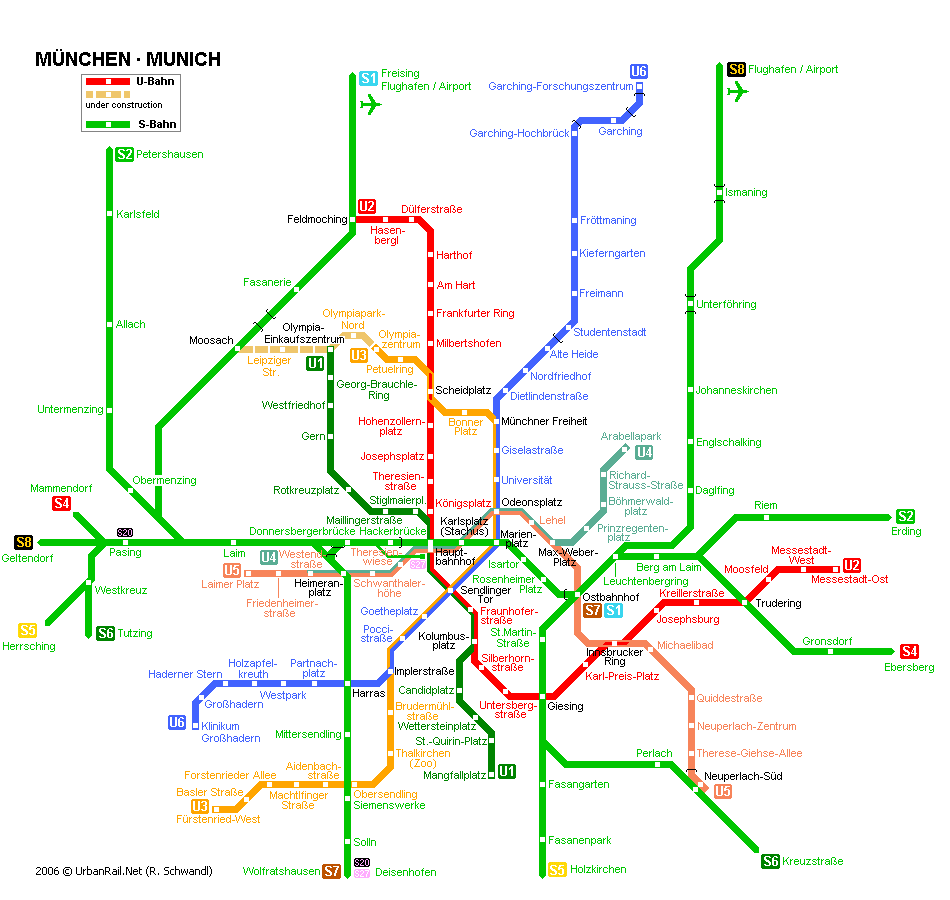 The actual dimensions of the Munich map are 950 X 900 pixels, file size (in bytes) - 40478. You can open, download and print this detailed map of Munich by clicking on the map itself or via this link:
Open the map
.
City tours, excursions and tickets in Munich and surroundings
Travelling inside Germany - transportation means

In Berlin, there is the small airfield, Tegel, which serves a number of famous international companies. The international airport Cologne Bonn operates around the clock that allows it to welcome more passengers than others. You can get to the city by taxi, by personal transport or by using public transport services. Schönefeld Airport is located not far from the town of the same name. It still has the status of international, although it works mainly with budget airlines and charter flights. On the vast territory of the airport, the most comfortable conditions for tourists are created. There is a pharmacy, a baby care room, several cafes and restaurants, as well as a variety of shops and souvenir stalls. …
Open

Car rental on OrangeSmile.com

The Demand for Travel with Bikes May Spike in Switzerland This Summer
Last summer, approximately 80,000 Bike Day Passes were sold in July, reaching an increase of 45% compared to 2019. For 2021, additional 15,000 bikes were brought to such popular routes as Bern to Brig and Zurich to Chur. The strong demand in 2021 is higher than supply which is still quite low. Moreover, bicycle traveling is a sustainable and eco-friendly way of exploring Switzerland, and this fact has brought the Swizz Transport and Environment Association together with Pro Velo on board.
Read this
22.04.2021
Metro, airports, railway and bus stations on Munich map
Munich in photostream
Our travel guides to Munich
Metro maps of cities around Munich