Colors of Kavala - traditions, festivals, mentality and lifestyle
Kavala is an ancient city, the culture of which was much shaped by various historic events that happened here since ancient times. The same applies to the national character. Kavala was an important merchant city in the past, so local people are accustomed to a big number of foreign guests. This fact has made locals more tolerant and willing to help guests to make them feel comfortable. Residents of Kavala are also great interlocutors. Moreover, it is not hard for travelers to understand what locals really feel because they are open-minded people who do not hide their wishes. Active, cheerful, and sincere – these are the main character traits that tourists mention when describing locals.
Each district of Kavala includes excellent places for shopping. You'll find colorful markets, modern shopping centers, and remarkable gastronomic stores. The wonderful Agiou Nikolaou market …
Open
Proud of the rich past of their motherland, residents of Kavala are true patriots despite the fact that they can sometimes criticize life in Hellas (by the way, Greeks prefer to call their country this way). However, they will never forgive a foreigner who criticizes the "best country in the world". This is one of the forbidden themes, so tourists are better to refrain from negative comments about Greece. The same applies to religion – Orthodox Christianity is very important for locals, as well as for people in other regions of the country. At the same time, they can easily discuss other themes. Locals are wonderful interlocutors and great listeners.
Without a doubt, the family is the main treasure of every resident of Kavala. Elderly people are always respected and kids are cherished. Locals tend not to notice small faults of their kids and try not to punish them. Mothers are also particularly respected in every family. By the way, it is good to be a woman in Greece – women frequently receive compliments and often feel like queens. It is simply impossible to accuse Greek men of neglecting or paying little attention to their women. Copyright www.orangesmile.com
Kavala is a small port town that has just recently won love of tourists due to its magnificent beaches, well developed infrastructure and rich choice of entertaining and excursion programs. …
Open
Local people like holidays because this is one more chance to have fun. Cosmopolis Festival remains one of the most popular events in the city. It is a multidimensional event, the schedule of which is packed with different exciting activities, such as dancing performances, music concerts of famous headliners, food shows, contests, and games. Children will not feel bored as well – they can always play at a special playground for kids. It stays open during the festival. In short, this festival is a wonderful event for the whole family. Cosmopolis is held in the middle of July. The locations can vary; as a rule, these are numerous bars, clubs, concert halls, and open-air venues.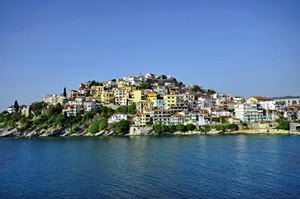 The theatre festival, which starts at the beginning of July and ends at the beginning of September, is one more unforgettable event that is a wonderful chance to participate in the cultural life of the city and enjoy the festive atmosphere. Different locations across Kavala, such as Frourio, Paleo Tsifliki, Imaret, and Mohammed Ali's Garden become the venues for various interesting events. The ancient city of Philippi, which is now completely in ruins, also often becomes the scene for performances. Theater art was invented by Greeks, and it is easy to understand that theater couldn't appear anywhere else in the world if you happen to visit this festival and watch theatrical and dancing performances.
Local cuisine is incredibly delicious and appealing. The majority of traditional dishes are nourishing and nutritious. Meat, fish, shellfish, fresh vegetables and fruit are the main …
Open
Actually, local people are so fond of holidays that there was a holiday for any notable event, such as harvesting of some vegetable or fruit. For example, tourists can participate in the Festival of Potato in September. At the event, visitors can try different dishes with potato and watch music and dancing performances. Everyone is welcome to join the fun and enjoy the festive atmosphere. The Grape Festival is a no less interesting event that takes place in October. During this event, visitors can sample local wine and find suitable appetizers to the drink, such as seafood, cheese or olives. Dancing and music make this festival even more entertaining.
As traditions of Orthodox Christianity are cherished in Kavala, just like in the rest of the country, all religious holidays are widely celebrated. Easter, Theophany, and the Assumption of the Mother of Christ are the most important holidays. Celebrations to honor the three saints, namely, Saint Nicholas Day (patron saint of sailors and travelers, celebrated on December 6), Saint Demetrios Day (patron saint of military people, celebrated on October 26), and St. John the Russian's Day (May 27). All religious holidays are always massively celebrated in the region. Tourists who visit Kavala during these celebrations can consider themselves lucky because they will be able to get acquainted with the local culture and heritage.

This guide to traditions and festivals in Kavala is protected by the copyright law. You can re-publish this content with mandatory attribution: direct and active hyperlink to
www.orangesmile.com
.
City tours, excursions and tickets in Kavala and surroundings
Reference information
Survived castles around Kavala
♥ Castle 'Kavala Castle' Kavala, 1.3 km from the center.
On the map
Photo
♥ Castle 'Stavronikita monastery-fortress' Mount Athos, 75.4 km from the center.
On the map
Photo
♥ Castle 'Ouranoupolis Tower' Ouranoupolis, 76.9 km from the center.
On the map
Photo
♥ Castle 'Xenophontos monastery-fortress' Mount Athos, 78.1 km from the center.
On the map
Photo
Car rental on OrangeSmile.com

Thailand Relaxes Its COVID-19 Policy
New Year events in Thailand are likely to bring more people this year because everyone is tired of lockdowns and craving normal life. Many tourists, who book hotels in Pattaya, Krabi, or Phuket for the holiday season, also want to participate. As champagne has become an essential drink for New Year celebrations, the question regarding alcohol consumption comes to mind. The government allowed serving alcoholic drinks during the New Year countdown but only open-air cafes and restaurants with good ventilation will be permitted to do this until 1 am on 1 January 2022. This rule is nationwide.
Read this
23.03.2023
Colors of Kavala in photos
Search for popular touristic sites on Kavala map
Traditions and festivals in cities around Kavala
Cityguide on traditions, mentality and lifestyle of people in Kavala. Learn the best periods to visit Kavala to discover its soul - authentic festivals, events and celebrations. We will also reveal the interesting habits, attitude towards the world and to tourists in Kavala.