Cuisine of Kavala for gourmets. Places for dinner - best restaurants
Local cuisine is incredibly delicious and appealing. The majority of traditional dishes are nourishing and nutritious. Meat, fish, shellfish, fresh vegetables and fruit are the main ingredients used in the national cuisine. There is a list of dishes that tourists should definitely try during their stay in the city. This list should certainly contain Souvlaki (meat grilled of a skewer), Greek salad, Moussaka (ragout with ground meat and vegetables), Stifado (meat stew with onion and wine), Paidakia (lamb ribs), and Tzatziki sauce (cottage cheese with garlic, cucumber, mint, fennel, and olive oil). Tzatziki is a typical sauce to meat and fish dishes.
Most of the dishes mentioned above are available in restaurants that specialize in national cuisine. To get acquainted with local cuisine, consider visiting spacious cafes Psaraki and Balaouro or To Araliki and To Koutoukaki restaurants. Travelers interested in authentic food cooked in accordance with original recipes will hardly find better places to eat. Fans of Italian cuisine will like Selini Bar that, besides its numerous advantages, is located in a gorgeous place that has striking views of surroundings. It is particularly pleasant to visit the bar in the evening. The design of Selini is no less amazing. Pizza Mama is usually recognized as the best pizzeria in the city. Seaview Kitchen Bar is particularly popular with visitors who like crowded cafes with charming sea views. Copyright www.orangesmile.com
Each district of Kavala includes excellent places for shopping. You'll find colorful markets, modern shopping centers, and remarkable gastronomic stores. The wonderful Agiou Nikolaou market …
Open
Mediterranean cuisine is very popular in the city, so there are dining establishments that specialize in this cuisine in Kavala. KyraVaggelio and Taverna Savvas are among the most popular restaurants in this area. They are particularly famous for seafood dishes. Gorgones k Magkes has many dishes suitable for vegetarians and vegans. Fans of Asian cuisine, in their turn, prefer to meet in El Greco restaurant that, by the way, has a charming home-like atmosphere. There is also a restaurant specializing in French cuisine in Kavala. It is called La Rocca.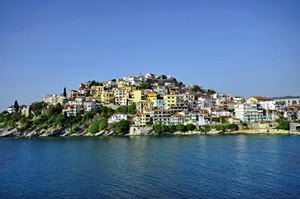 Sweet tooths are not forgotten in the city. Marmelo Patisserie and Allotino are always ready to please their guests with mouthwatering desserts. They are great for everyone who wants to try traditional Greek delights. The first restaurant is famous for its buns and sweetbreads while Allotino is an excellent choice for everyone who prefers ice cream to all other desserts. Fans of tea and coffee simply cannot fail to visit an establishment like Briki that also has a nice bonus – a charming panoramic view of surroundings. A visit to Daily's Crepe & Espresso Bar will also become a nice addition to any vacation in Kavala. Besides tea and coffee, this dining establishment offers different cocktails.
Kavala is a small port town that has just recently won love of tourists due to its magnificent beaches, well developed infrastructure and rich choice of entertaining and excursion programs. …
Open
Vacationers wishing to enjoy food that is delicious, nutritious, and inexpensive at the same time should pay their attention to such restaurants as Delikaris Ola Sta Karvouna that offers the best kebab in the city and Sousouro that specializes in traditional Souvlaki. The second restaurant is also famous for its rich menu full of meat dishes. Moreover, Vosporos is also a wonderful place to try nourishing and inexpensive food. Friendly staff and pleasant atmosphere are among the advantages of this restaurant. If you want to eat a delicious pizza that won't break a budget during your stay in Kavala, simply visit Castello Pizza. Tsalapeteinos offers healthy food for busy visitors.
The restaurants specializing in the national cuisine and mentioned at the beginning of this review are the most suitable for business meetings. Here are some other restaurants that also serve the purpose perfectly: Mpahari famous for its relaxing atmosphere and an interesting combination of traditional and modern cuisine and Art de Cuisine that specializes in fine cuisine. For a romantic date, it is hard to find a better restaurant than Alburo Sea Food that offers a breathtaking view of the seaside. The location of this charming restaurant is also incredibly romantic.
Kavala is an ancient city, the culture of which was much shaped by various historic events that happened here since ancient times. The same applies to the national character. Kavala was an …
Open
Fans of Mediterranean cuisine will find it very interesting to visit To Araliki restaurant that offers mouthwatering grilled meat, different types of young cheese, and vegetable salads. Food at To Araliki contains spicy herbs that are popular in the region, so even usual meat and fish dishes taste original and new. In addition to a rich selection of food, the restaurant has an excellent wine list that contains wine brought from different regions of Greece and other countries.

This guide to cuisine and restauraunt in Kavala is protected by the copyright law. You can re-publish this content with mandatory attribution: direct and active hyperlink to
www.orangesmile.com
.
City tours, excursions and tickets in Kavala and surroundings
Car rental on OrangeSmile.com

Expo 2020 in Dubai Was Visited by More Than 7 Million Visitors
If you haven't visited this event yet, there is still time to book a hotel in Dubai because Expo 2020 Dubai runs until 31 March 2022. People who are unable to visit the emirate can make a virtual tour on the Expo 2020 website. By the way, the virtual visitation has already reached 31.6 million by the end of December.
Read this
26.09.2023
Kavala in photo set
Searching where to eat - restaurants and cafe on Kavala map
Cuisine and restaurants in the neighbours of Kavala
Travel notes on best cuisine and restaurants of Kavala (Greece) on OrangeSmile.com. Famous recipes and traditional dishes and courses in Kavala restaurants. Where to eat - our recommendations on popular places in Kavala, where you can taste delicious meal and also spend a good time with your friends.