Sightseeing in Larisa - what to see. Complete travel guide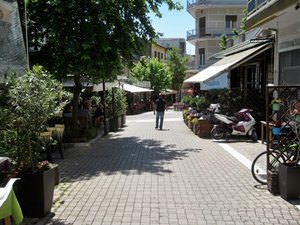 Larissa is a Greek town and the administrative center of Larissa nom. The town is connected with Thessaloniki and Athens through a system of railway and automobile roads. This place is also directly connected with Europe through International Airport of Central Greece located in Nea Anchialos that is not far away from Larissa. Larissa is situated on the bank of the Pineios River. The population of the city estimated over 131 thousands in 2006.
1. In the vicinity of Larisa is a large international airport, which every day receives flights from many European countries. The main railway line of Greece, as well as major highways, …
Open
In Larissa are well developed food, textile and paper industries, as well as building materials manufacturing. Farming is also well-developed here and so each year numerous faming fair trades take place in Larissa.
If you make a walk on the city, you will understand that Larissa is truly a city of fountains – there are really many of them here. Every fountain has its individual theme and sculpture. There are also many squares in Larissa and each one of them has an interesting name (Central, National, Jews, Post and so on). Copyright www.orangesmile.com
The city with the beautiful name of Larissa is a great place to spend a vacation. It has many historical and cultural attractions that are definitely worth being explored. Be sure to take …
Open
Among the most notable sights of Larissa are the ancient Greek Theater built in III BC, ancient Roman Theater built during the times of the Roman Empire, Acropolis on Frurio hill that is the only hill on the flat relief of the region, and the local Planetarium.
Nearby Larissa is located a small settlement named Tyrnavos. This place is famous for cheese making and growing fruit. The village features wide choice of small houses made of wood with interesting carvings, columns and balconies.
Larisa will be a great destination to explore the traditions of Greek cuisine. The local cuisine is known for its naturalness, as only regional products are used for cooking here. Fresh …
Open
Tourists, who seek solitude rest on fresh air, will enjoy visiting Alcazar park and Agia Marina Chapel Park.
The city has a very interesting art gallery in which visitors can see the works of the most famous contemporary artists of Greece. This gallery often hosts interesting themed events and exhibitions. Some of the pictures presented here can be bought by visitors. Many wealthy tourists come to the gallery specifically to buy paintings as memorable gifts about the trip to Greece.
No less interesting to visit is the Archaeological Museum with its rich collection of finds dating back to the Paleolithic era. Here you can see the collection of ancient weapons and household items of the very first settlers of these places. In the museum, there is an interesting collection of old coins and jewelry. The building in which the museum is located is of huge architectural value. It was built in the 19th century, and originally housed a mosque.
Greece is not by chance considered one of the most conservative countries in the world. Locals treat their historical traditions with great trepidation. On national holidays, residents of …
Open
Larissa is known not only for its ancient sights, but also for first-class wineries, tours to which are also very popular among travelers. As part of the popular Dougos Winery tour, travelers can visit several nearby factories, watch the production and storage of wine, and taste the best sorts of intoxicating beverages. In the territory of each factory there is a store where wine can be purchased at the most attractive prices.
In the immediate vicinity of the city are the legendary rocks of Meteora, on whose top are located ancient monasteries. Today, they are one of the most unusual and inaccessible monasteries in the world. Many of them were built in the Byzantine era. A trip to these monasteries will be accompanied by walks along the most interesting natural places.
The city of Larissa is one of the oldest in the world, it was founded over 4,000 years ago. Today, many unique ancient attractions can be found in the city and its immediate vicinity. The …
Open
Not far from the city is one of the most picturesque places in the world, which appears in many tourist guidebooks – Tempi Gorge. A beautiful river flows along the bottom of this gorge, and its slopes are covered with lush vegetation. Here you can also see many rare plants, this picturesque gorge has been chosen by rare species of birds and insects as their home. In these places there are several picturesque caves, which are also available for tourists to visit. Here, are ancient churches that attract pilgrims from all over the world.

This guide to iconic landmarks and sights of Larisa is protected by the copyright law. You can re-publish this content with mandatory attribution: direct and active hyperlink to
www.orangesmile.com
.
City tours, excursions and tickets in Larisa and surroundings
Reference information
Survived castles around Larisa
♥ Castle 'Platamon Castle' Platamon, 44.2 km from the center.
On the map
Photo
♥ Castle 'Lamia Castle' Lamia, 81 km from the center.
On the map
Photo
National and city parks around Larisa
♥ World Heritage Site 'Meteora' , 68 km from the center.
On the map
Photo
♥ National Park 'Ethniko Parko Tzoumerkon-Peristeriou kai charadras Arachthou (Zoni III)' , 110.2 km from the center.
On the map
Photo
♥ National Park 'Ethniko Parko ygrotopon ton limnon Koroneias - Volvis kai ton Makedonikon Tempon' , 148.9 km from the center.
On the map
Photo
♥ National Park 'Ethniko Parko limnothalasson Mesolongiou – Aitolikou' , 171.4 km from the center.
On the map
Photo
Sights around Larisa from our guide 'Extreme places on Earth'
Meteora
From the series
"The Most Remote Monasteries and Temples in the World"
Check on the map:
Distance from Larisa center - 67.7 km.
Given that the highest rock is more than 600 meters high, the path to the monastery won't seem simple. All staircases were cut directly into the rock; the 8 meters suspension bridge provides access to the monastery of St. Stephen. It's noteworthy that some stairs were cut just recently. However, monks have being constantly living in monasteries for over a thousand years. Initially, the path to the shrines was a deadly event, but now the main obstacle is a fear of heights. …
Read further

Car rental on OrangeSmile.com

Preferred to Open 9 New Hotels in 2022
In September 2022, the Sommerro hotel in Oslo will start operating in a carefully restored 1930s Art Deco building. This building is a true landmark of Frogner, a historic neighborhood of the Norwegian capital. A multi-million-dollar renovation carefully turned the largest preservation project in Norway into a modern hotel with 231 rooms, including 56 residences. Preferred will open five more hotels in 2022, namely, The Wall Street Hotel in New York, Amrit Ocean Resort & Residences on Singer Island (Florida, the US), TOA Hotel & Spa in Zanzibar, Pendry hotel in Washington, and Pendry Park City hotel in Utah.
Read this
06.06.2023
Search touristic sites on the map of Larisa
Sightseeing in regions nearby Larisa
All about Larisa, Greece - sightseeings, attractions, touristic spots, architecture, history, culture and cuisine. Prepare your trip together with OrangeSmile.com - find out the 'must see' things in Larisa, which places to visit, which excursions to take, where the breathtaking views are waiting for you. Planning your trip with this travel guide will help your to get the most out of Larisa in few days.