How to spend top weekend in Kavala - ideas on extraordinary attractions and sites
Horse Riding Lessons and Horse Walk
If you are not indifferent to horses and decide to go for a horse ride in Kavala and its surroundings, then you should contact the company "Opreti". Its staff will arrange entertainment for you. Its price is 20 euros per hour. You will pay 30 euros for a 2-hour ride on horseback. However, if you still do not know how to stay in the saddle, you'll be able to take riding lessons. You will visit the equestrian farmstead called Kehaidisa. It is located 10 kilometers from the city in the village of Amisyana. The course costs 30 euros for 1 hour of training.
Each district of Kavala includes excellent places for shopping. You'll find colorful markets, modern shopping centers, and remarkable gastronomic stores. The wonderful Agiou Nikolaou market …
Open
Exciting Journey to the Zygos Gorge
The company "Opreti" will organize for you a group or individual trip through the gorge of the mountain river of Zygos. If you go on this tour, you will have to walk along a winding path. It originates in the mountain village of Palma Kavala, located 20 kilometers from Kavala. You will reach the bottom of a narrow gorge. It has great depth. The gorge is overgrown with tall trees.
You will pass wooden bridges and will be on right and left banks of the river in turn. You will see an ancient water mill, the ruined huts of woodcutters and robbers, and a picturesque waterfall during the journey. You can also relax on a picnic. You will spend about 3 hours on the road. You will overcome 3 kilometers. Your walk will end near the village of Zigos. Copyright www.orangesmile.com
Kavala is a small port town that has just recently won love of tourists due to its magnificent beaches, well developed infrastructure and rich choice of entertaining and excursion programs. …
Open
Tour of the Fortress of Kavala
The city-fortress is a symbol of Kavala. It was built in 1425. It is open to the public from 8 am to 9 pm from the first of May until the end of September. You can visit this attraction until 8 pm in April and October. The fortress closes for the public at 4 pm from November to March. You will go on a tour here. You will pay 2.5 euros for the entrance ticket. You will see the food storage, arsenal, guardhouse, polygonal tower and 2 towers that have a square shape here. You will also admire the modern theater. It is located in the open air. You can also climb the central round tower to admire the amazing panorama of the city.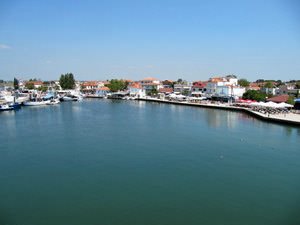 Tour of the Alistrati Cave and Journey to the Aggitis Canyon
Alistrati Cave is located 65 kilometers from Kavala. It was opened in 1975. The air temperature is 17 °C here all year round. Humidity is close to 100%. You can reach the natural attraction by car or by bus. You can get here from 9 am to 7 pm in the summer. The attraction is open to the public from 9 am to 5 pm during the winter months. The entrance ticket costs 6 euros. Keep in mind that it is forbidden to take photos in the cave.
Local cuisine is incredibly delicious and appealing. The majority of traditional dishes are nourishing and nutritious. Meat, fish, shellfish, fresh vegetables and fruit are the main …
Open
After you open the massive gate, you will be in a man-made tunnel. After you pass it, you will have to open the second gate. The cave is behind it. You will see stalactites of white color. They are 15 meters long. You will also admire the red stalagmites. They look like fire. There are helictites here. They look like corals.
After you leave Alistrati, you will visit the Aggitis Canyon. It is located near this cave. Its length is 15 kilometers. The depth of the canyon is 100 meters. It starts from the village and stretches to backwater. The ancient bridge is located here. It is made of stone. You can take a walk through the canyon on foot or on a tourist train.
Kavala is an ancient city, the culture of which was much shaped by various historic events that happened here since ancient times. The same applies to the national character. Kavala was an …
Open
Entertainment on the Nestos River
If you see all the sights of the city and decide to take an active leisure in nature, you can go to the picturesque Nestos River. It flows 30 kilometers east of Kavala. You can walk here. You can choose one of the tourist routes with the appropriate level of difficulty. You will see mountains, coniferous forest, and beautiful flowers during the trip. You can also take a dip in the clear river water and go rafting or canoeing here.

This article about ideas on extraordinary weekend in Kavala is protected by the copyright law. You can re-publish this content with mandatory attribution: direct and active hyperlink to
www.orangesmile.com
.
City tours, excursions and tickets in Kavala and surroundings
Reference information
Survived castles around Kavala
♥ Castle 'Stavronikita monastery-fortress' Mount Athos, 75.4 km from the center.
On the map
Photo
♥ Castle 'Ouranoupolis Tower' Ouranoupolis, 76.9 km from the center.
On the map
Photo
♥ Castle 'Xenophontos monastery-fortress' Mount Athos, 78.1 km from the center.
On the map
Photo
Car rental on OrangeSmile.com

Thailand Relaxes Its COVID-19 Policy
New Year events in Thailand are likely to bring more people this year because everyone is tired of lockdowns and craving normal life. Many tourists, who book hotels in Pattaya, Krabi, or Phuket for the holiday season, also want to participate. As champagne has become an essential drink for New Year celebrations, the question regarding alcohol consumption comes to mind. The government allowed serving alcoholic drinks during the New Year countdown but only open-air cafes and restaurants with good ventilation will be permitted to do this until 1 am on 1 January 2022. This rule is nationwide.
Read this
23.03.2023
Kavala by photo artists
Search for interesting places on Kavala map
Visiting neighbours of Kavala for exclusive entertainment
Walk through hidden local streets, sneak to a small cafe, breathe and enjoy Kavala from inside. Stay out from the beaten track during your city weekend, discover the soul of Kavala as a real travel gourment. Follow our guide, take one of the exclusive services and spend your time in Kavala unforgettably and with a full passion!