City break in Kavala. Active leisure ideas for Kavala - attractions, recreation and nightlife
Beach recreation is, of course, the main entertainment in Kavala. There is nothing strange in that as the city is located near the bay with the same name. There are beaches for any taste, so different tourists will easily find beaches that suit their requirements. Perigiali is famous for its high environmental standards. It possesses the honorable Blue Flag label. This beach is perfect for vacationers with children and is often referred to as the most popular beach. Because of that, Perigiali is usually quite crowded. Despite that, this beach is quite "wild". There are several wonderful restaurants with delicious food, and all of them specialize in fish and shellfish dishes.
Local cuisine is incredibly delicious and appealing. The majority of traditional dishes are nourishing and nutritious. Meat, fish, shellfish, fresh vegetables and fruit are the main …
Open
Tourists in search of a real aesthetic pleasure should visit incredibly beautiful Batis Beach. Besides that, it is the best choice for fans of staying under the tent. The beach has a modern infrastructure that makes it one of the best in the area. Batis has everything needed for active recreation at the seaside: beach gear rental offices, a swimming pool near the seaside, a playground for children, and, of course, charming restaurants. Vacationers who want to visit the best city beach should head to sunbathe on Rapsani. This is one more beach in Kavala with the Blue Flag label.
Nea Peramos is another gorgeous beach. It is also awarded the Blue Flag label by the European Union. Clean sand and azure water are everything that vacationers need to sunbathe and swim. No wonder, the beach is always quite crowded. Nea Peramos is one of the most popular beaches not only in Kavala and the surrounding areas but also in the country. To enjoy best diving and snorkeling in the region, consider visiting Nea Irakleitsa. Perhaps, several sea caves not far from the beach are the reason for such popularity. Copyright www.orangesmile.com
Kavala is an ancient city, the culture of which was much shaped by various historic events that happened here since ancient times. The same applies to the national character. Kavala was an …
Open
Among entertainments that are available at the beaches, tourists can choose from diving, surfing of different types, snorkeling, and cruising. By all means, an adventure to Kavala will be incomplete without trying these activities that will bring many positive memories for years to come. Nature is very generous in the region and so it added one more opportunity for active recreation, namely, rafting. The Angitis River to the north of the city is perfect for it. Here, to the north of Kavala, there are also two fabulous caves that are worth exploring.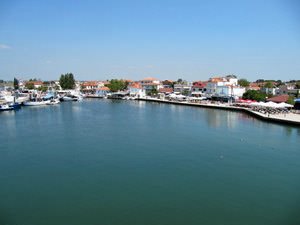 First of all, this is Alistratis Cave famous for its stalactites and stalagmites. It is one of the most beautiful caves in whole Greece that looks absolutely surreal with the original illumination and halls with white stalactites. Near the entrance to the cave, there is a unique fountain. Not far from Alistratis Cave, there is a souvenir shop and a couple of restaurants with local food. Cave Sources of Aggitis River is the biggest river cave not only in Greece but also in the world. The cave is famous for its unique fauna – both river- and ground-based.
Kavala is a city that has a rich history and because of this fact it has many interesting landmarks that are definitely worth visiting. In the past, the city often changed its "owners", …
Open
Kavala museums are also places that deserve the attention of tourists. The Museum of Tobacco is, perhaps, the most unusual venue. It is a must for everyone who wants to learn more about the manufacture of this product in the city. Mohammed Ali's House is the right place to find out interesting information about the great native of Kavala. As a rule, tourists want to visit this museum because local people keep suggesting visiting it – they are always proud of great people who were born in Hellas. The archaeological museum of Kavala is a no less interesting venue. It exhibits many fantastic artifacts of different epochs. The Marine Museum of Kavala is one more place that tourists shouldn't neglect. Everyone interested in sailing and offshore operations will be particularly excited.
In order to forget about all troubles and deeply relax under the skilled hands of a massager, visit local spa salons. Filio Moutafi Massage and Zen Relax are recognized as the best in this category. Kavala has also much to offer to all fans of nighttime entertainment. Everyone, who wants to listen to live music and enjoy the fabulous atmosphere, prefers to meet their friends in Sinatra Vintage Bar. Cuba Beach Bar is an ideal choice for all romantics who seek an unforgettable dinner. It is a truly unique bar. Poleitai is an ideal choice for all vacationers who are tired of loud bars, and Telonio bar is perfectly suitable for fans of beer and excellent cocktails.

This guide on active recreation and leisure in Kavala is protected by the copyright law. You can re-publish this content with mandatory attribution: direct and active hyperlink to
www.orangesmile.com
.
City tours, excursions and tickets in Kavala and surroundings
Reference information
National and city parks around Kavala
♥ National Park 'Ethniko Parko Oroseiras Rodopis' , 48.6 km from the center.
On the map
Photo
♥ World Heritage Site 'Mount Athos' , 76.7 km from the center.
On the map
Photo
♥ National Park 'Ethniko Parko ygrotopon ton limnon Koroneias - Volvis kai ton Makedonikon Tempon' , 80.3 km from the center.
On the map
Photo
♥ National Park 'Ethniko Parko Limnis Kerkinis' , 109.5 km from the center.
On the map
Photo
♥ National Park 'Pirin' , 117.3 km from the center.
On the map
Photo
Car rental on OrangeSmile.com

Saudi Arabia to Open 38 Hotels in Diriyah
Diriyah is one of the first mega projects in Saudi Arabia. Hotels and other infrastructure will start opening next year, and all works are expected to end in 2026. The first 18 restaurants in Bujairi Terrace will start operating already in early 2022.
Read this
10.12.2023
Photogallery of picturesque Kavala
Search for active leisure and attraction spots on Kavala map
City break ideas for neighbours of Kavala
Guide to your best city break in Kavala - popular places for recreation and leisure. Things to do during the day in Kavala - attractions, parks, beaches, aquaparks, racing tracks, biking trails or waterski. Recommendations (with addresses, phone numbers and links) where to spend your time in the evening (bars, discos, clubs, etc.). We share some good ideas and the question 'What to do in Kavala?' disappears immediately.