City break in Bochum. Active leisure ideas for Bochum - attractions, recreation and nightlife
The magnificent Tierpark remains one of the most popular destinations for outdoor recreation among tourists. This place is perfect for sports, strolling, and cycling. There is even a small zoo that is particularly appealing for visitors with children. All animals live in spacious cages that are designed in full accordance with their natural habitat. There is a picturesque lake that has become home to graceful flamingos and swans. Visitors will also see various tiny birds among exotic plants and big trees. The park even has an aquarium that is a great place to get acquainted with rich underwater life.
Within several years Bochum will celebrate its 700th birthday. This is a large industrial center and so its main sights and places of interest are connected with the theme of …
Open
Fans of active pastime will be pleased to find numerous sports complexes and swimming pools. Here we should mention the Medi-Spa center that offers a wide range of cosmetic and rejuvenating treatments to its visitors. To enjoy shopping, tourists are recommended to head to the most famous shopping center in the city – Ruhr Park. It will take more than one day to visit all shopping pavilions and boutiques of this shopping center. At Ruhr Park, there are more than a hundred clothes shops, jewelry salons, and perfume boutiques, as well as toy shops and souvenir stalls. The wonderful shopping center has several charming cafes, so visitors can always make a pause in shopping and enjoy their favorite food. In order to buy clothes and perfumes by premium brands, consider visiting Tipota. As a rule, fashionistas try to visit this shopping center at the end of season sales as this is the time when it is possible to purchase high-quality clothes and shoes with a significant discount.
During the daytime tourists prefer to shop and explore local landmarks, but everything changes in the evening. Local nightclubs and discos become the magnet for locals and guests of the city. Rombach is one of the most popular discos. Every evening, several hundred fans of dancing and loud music till the dawn gather on the spacious dance floor of this club. Energetic music, an interesting entertaining program, and a rich choice of drinks in the bar are perfect for relaxing and will help to enjoy a festive atmosphere even on a workday. Copyright www.orangesmile.com
For fans of an unusual holiday, in Bochum it is worth visiting the Deutsches Bergbau-Museum Bochum, which can safely be said to be one of the most unusual in the country. In this museum, …
Open
When it comes to describing nightclubs, it is important to mention Casa Electronica. Long menu with various delicacies, various music programs, and energetic parties will definitely please guests of this club. Moreover, Casa Electronica often hosts special themed parties. Tourists, who want to relax in a peaceful atmosphere, will enjoy a visit to the Absinth Bar. This venue accepts guests till late at night and entertains them with exciting performances.
In general, Bochum nightlife in mostly concentrated in the area, which is called "Bermuda Triangle" by locals. The Bermuda3deck is, without a doubt, the epicenter of the late-night entertainment in the city. The triangle itself is formed by Viktoriastraße, Südring, and the railroad. It is a great place where visitors will find more than 60 bars, numerous restaurants that offer different cuisines of the world, lounges, clubs, cinemas, and much more!
Livingroom restaurant offers a rich choice of national cuisine dishes and delicious desserts. It is perfectly suitable for groups of visitors. Livingroom accepts guests until late at night …
Open
What can be better than spending an evening in a cool bar? Cotton Club is that cool place that tourists will definitely want to visit. It is more than just a venue that offers a fine selection of alcoholic drinks and beers. The bar has the atmosphere of the 1940s. Of course, just like many bars, visitors can play a number of games there, including board games, darts, over twenty pool and snooker tables, and numerous TVs. If games are not your cup of tea, simply enjoy your drinks while listening to the background music – the bar mostly plays retro music such as swing, jazz, and blues.

This guide on active recreation and leisure in Bochum is protected by the copyright law. You can re-publish this content with mandatory attribution: direct and active hyperlink to
www.orangesmile.com
.
City tours, excursions and tickets in Bochum and surroundings
Sites around Bochum from our surveys on extreme Earth places
Zeche Zollverein
From the series
"The Scariest Mines in the World"
Check on the map:
Distance from Bochum center - 12.1 km.
After admiring priceless artifacts in museums, it's worth to have a stroll through the deserted underground; just the simple descent via worn metal ladders makes adrenaline go rushing. Many mysterious stories are associated with Zeche Zollverein mines, as many industrialists have faced there with phenomenon of abnormal knocks. Tourists who visit these places often hear unexplained sounds. They are so distinct and realistic, that it seems that there is still active work in some areas of mines. …
Read further

Crouching Tiger and Turtle
From the series
"Furious Footways Around the World That Make You Dizzy"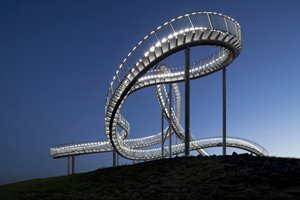 Check on the map:
Distance from Bochum center - 35.3 km.
The length of the staircase is 220 meters. It is open day and night. Admission is free. The original attraction in Duisburg was opened in 2011 and became instantly known worldwide and popular with lovers of unusual entertainments. 'Tiger and Turtle' staircase is located in the picturesque Angerpark. One of the most important secrets of the ladder is the traditional roller coaster dead loop, which is much easier to pass through than it might seem at first glance. …
Read further

Photogallery of picturesque Bochum
Search for active leisure and attraction spots on Bochum map
City break ideas for neighbours of Bochum
Guide to your best city break in Bochum - popular places for recreation and leisure. Things to do during the day in Bochum - attractions, parks, beaches, aquaparks, racing tracks, biking trails or waterski. Recommendations (with addresses, phone numbers and links) where to spend your time in the evening (bars, discos, clubs, etc.). We share some good ideas and the question 'What to do in Bochum?' disappears immediately.