Colors of Bochum - traditions, festivals, mentality and lifestyle
Bochum is a vibrant German city in the heart of the Ruhr area. The population of the city is nearly 400 thousand people; thanks to the famous university, the city is always filled with youth. It's a great place for everyone who wants to have fun, enjoy various festivals and activities. It should also be noted that the Ruhr area is the largest economic region in Europe with more than five million inhabitants. In the past, it was an important coal mining center, but nowadays the education sector has taken over.
For fans of an unusual holiday, in Bochum it is worth visiting the Deutsches Bergbau-Museum Bochum, which can safely be said to be one of the most unusual in the country. In this museum, …
Open
Local people love sports and love watching sports. This part of Germany is home to many famous football clubs, such as Borussia Dortmund, VfL Bochum, MSV Duisburg, Schalke 04, and Rot Weiss Essen. Naturally, sports competitions often take place in the city, and tourists are welcome to attend them and see professional sportsmen and German fans "in action". The city's university, Hochschulsport Bochum, offers more than 150 sports courses in nearly 50 disciplines.
Bochum has rich cultural life and so there's no wonder why its event calendar is packed with interesting events. Tourists will easily find events to fit any taste – music, culture, and the widely popular Christmas market. Bochum Total Festival is a true paradise for all fans of music. For several days, contemporary musicians and bands perform and communicate with their fans. It is one of the largest music events of this kind in whole Europe that draws many tourists to Bochum. This festival is also known as a stage for up-and-coming music bands that just need some promotion to become successful, so watch the musicians closely, maybe those are future superstars. Copyright www.orangesmile.com
Livingroom restaurant offers a rich choice of national cuisine dishes and delicious desserts. It is perfectly suitable for groups of visitors. Livingroom accepts guests until late at night …
Open
Tourists more interested in classical music also have a suitable event, Ruhr Piano Festival. If you love piano music, this festival is simply a must. Ruhr Piano Festival is known as the biggest music event of this type in whole Germany. Every year, professional pianists and amateurs gather to perform, meet each other, and share their love to this musical instrument. Ruhrtriennale Festival is widely known in the country. This magnificent event is dedicated to several aspects at the same time: the industrial part of the Ruhr area, the culture of the region and beyond, and, of course, art in different forms. Particularly for the event, old industrial buildings in Bochum are transformed into exhibitions galleries, stages, and meeting centers. Visitors come to enjoy theatre performances in such an unusual setting, listen to music band performances, attend literary readings and all kinds of shows.
The next festival in our review has a rich and long history. Maiabendgesellschaft Bochum first appeared approximately six hundred years ago. First mentions about the event date back to 1388 – it appeared because of a feud between Dortmund and Count Engelbert III. During the event, citizens of Bochum choose an oak in the forest in order to use it as a Maypole. The unusual and authentic tradition usually attracts many tourists who want to participate in the event.
Bochum is a city with an interesting history and numerous historical landmarks. An excursion in the city will be nothing but pleasant as tourists will be able to see many beautiful monuments …
Open
Christmas is one of the most popular and bellowed holidays in Germany, and Bochum is no exception. Christmas markets have become a good and old tradition that is adored by both locals and tourists. Closer to the holiday, charming festive stalls appear in Bochum. The city has one of the largest Christmas markets in the country with more than two hundred small shops that offer all kinds of goods – Christmas tree ornaments, wooden toys, handmade gifts, handicrafts, and, of course, food and drinks. Kids adore this time of the year not only because of holiday shopping and gifts but also thanks to the fairground with various amusements and park rides.

This guide to traditions and festivals in Bochum is protected by the copyright law. You can re-publish this content with mandatory attribution: direct and active hyperlink to
www.orangesmile.com
.
City tours, excursions and tickets in Bochum and surroundings
Reference information
Cathedrals and basilicas near Bochum
♥ Basilika St. Ludgerus, Essen-Werden, 18.1 km from the center.
On the map
Photo
♥ Basilika St. Laurentius, Wuppertal, 25.8 km from the center.
On the map
Photo
♥ Basilika St. Margareta, Düsseldorf-Gerresheim, 36.7 km from the center.
On the map
Photo
♥ Basilika St. Suitbertus, Düsseldorf, 39.2 km from the center.
On the map
Photo
♥ Basilika St. Lambertus, Düsseldorf, 41.9 km from the center.
On the map
Photo
♥ Münster-Basilika St. Quirin, Neuss, 48.2 km from the center.
On the map
Photo
♥ Basilika Mariä Heimsuchung, Werl, 49 km from the center.
On the map
Photo
Survived castles around Bochum
♥ Castle 'Hardenstein Castle' , 9.1 km from the center.
On the map
Photo
♥ Castle 'Schloss Bladenhorst' , 10.5 km from the center.
On the map
Photo
♥ Castle 'Schloss Cappenberg' , 29 km from the center.
On the map
Photo
♥ Castle 'Burg Vischering' , 36.1 km from the center.
On the map
Photo
♥ Castle 'Altena Castle' , 37.9 km from the center.
On the map
Photo
♥ Castle 'Hückeswagen Castle' , 38 km from the center.
On the map
Photo
♥ Castle 'Schloss Burg near Solingen' , 38.7 km from the center.
On the map
Photo
Unique landmarks in Bochum and around
Zeche Zollverein
From the series
"The Scariest Mines in the World"
Check on the map:
Distance from Bochum center - 12.1 km.
Coal mining has been conducted in the mines until 1986, until the field was completely exhausted. However, it was decided not to close it. Currently, extensive underground tunnels and old factories house interesting thematic museums, and desert tunnels attract curious tourists no less than the halls with unique exhibits. …
Read further

Crouching Tiger and Turtle
From the series
"Furious Footways Around the World That Make You Dizzy"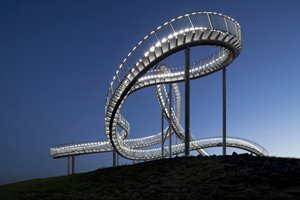 Check on the map:
Distance from Bochum center - 35.3 km.
The authors of the project of an unusual staircase are Heike Mutter and Ulrich Genth. They managed to combine in one structure two functions at once: to make an excellent viewing platform and an unusual attraction. Many tourists prefer to stroll through the stairs in the evening, when it is decorated with spectacular artistic illumination. The design is quite of impressive scale. Its height reaches 13 meters. From the highest point of the staircase opens a wonderful panoramic view of the city. …
Read further

Colors of Bochum in photos
Search for popular touristic sites on Bochum map
Traditions and festivals in cities around Bochum
Cityguide on traditions, mentality and lifestyle of people in Bochum. Learn the best periods to visit Bochum to discover its soul - authentic festivals, events and celebrations. We will also reveal the interesting habits, attitude towards the world and to tourists in Bochum.