Colors of Bonn - traditions, festivals, mentality and lifestyle
Each year Bonn becomes home to an engaging festival, which attracts a huge number of tourists. This is the famous fireworks show called "Rhine in flames". Incredibly beautiful fireworks, boat trips on the river, fairs and concerts - the festival's program is very rich and diverse. Because the event takes place near numerous famous historical sites of the city, the festival is truly unique and very interesting to visit. All main festivities and most significant events of the festival are held on the weekend.
Bonn is a former capital of Bundesrebublik Deutschland and this is the reason why you should definitely visit this rather small town with population around 300 thousand of people. The town …
Open
Starting from early in the morning all central streets and main squares of the city are used as venues for performances of music bands and theatre plays. Here visitors can attend games for children, as well as various sporting events and fairs with widest selection of goods. Numerous outdoor cafes offer visitors of the festival to try fresh pastries and sweets, as well as taste unique taste of wine, the best sorts of which are delivered to the city specifically for the holiday. Near ancient castles are organized spectacular jousting tournaments and beautiful costumed performances.
During the days of the festival everyone can put on an armor and mantle, and take part in the festive activities. Holiday cruises on the Rhine are also very popular among tourists. Festively decorated ships ply the river literally around the clock. On board are also organized numerous interesting concerts and performances. Participants of such cruises can visit several cities during the celebration. The Night of Bengal lights is considered one of the major festive events. Thousands of fans of this holiday around the world wait a whole year for this one night, when 60 beautiful ships sail on the Rhine. Their way is lit by huge light sparklers. The procession starts its journey in Linz and ends in Bonn. The city's pier attracts a huge number of viewers who come here to enjoy thousands of bright lights. Copyright www.orangesmile.com
Family holidays in Bonn should definitely begin with a visit to the Wildpark Venusberg. This is a real part of wildlife which is located right in the city. In this zoo, you can see the …
Open
In addition to the colorful parade of ships, many interesting events are held on land. For example, some castles and old buildings are decorated with bright illumination, and when night falls to the city near them are organized spectacular firework shows. It is worth noting that together with the large fireworks festival many neighboring towns organize their own wine festivals. Thus tourists have a unique opportunity to visit several unforgettable events, which will surely bring a lot of fun and will help to diversify your rest.
Beethoven's hometown offers many other interesting festivals. It's no wonder that a festival dedicated to the most famous native of the city is held here as well. Beethovenfest begins in early September and ends in early October. It's a kind of tribute to the great composer who was lucky enough to be born in Bonn. The festival has several venues such as Bundeskunsthalle, Rheinische Friedrich-Wilhelms-Universität Bonn, Beethovenhalle Bonn, Theater Bonn Opera House. Many famous and talented names can be noticed among orchestras, conductors, dance groups, and musicians.
OrangeSmile.com recommends best hotels in Bonn
The opening of Lebanese cuisine restaurant Arabesque in Bonn took place in 1990. The dining facility has immediately won love and dedication from both local residents and tourists. The …
Open
Carnival in Bonn is not just a holiday but a "fifth season". The festival starts in mid-November and lasts until mid-February, the dates depend on Easter. Traditionally, it begins with the election of the so-called "Prince of Fools", after which the holiday can be considered open. It is followed by parades, colorful theatrical performances, and a day when everything is run by women, it happens six weeks before the Easter week. On Monday, before Ash Wednesday, all the fun begins - there are fancy-dress parades. At this time, happy kids to whom parade participants throw handfuls of sweets can hear "Alaaf" and "Helau" everywhere.
In July, there is a beer festival - Bierbörse, which is held in Rheinaue park. At this time, you can try various beers - more than 700 types of the popular local drink are presented here. The festival is international, and therefore there are many "foreign" varieties that are not typical for this region, In September, one of the largest fairs in the whole of Germany opens - Pützchens Markt taking place in Beuel. Here you can buy everything "handmade and grown". This is a great opportunity to buy everything you need and get a lasting impression of your trip.
The University of Bonn is a well-known object of excursions, which is popular far beyond the borders of the country. Among the students of this university were such famous people as Karl …
Open
In summer, Rheinaue Park hosts a huge number of festivals, which are definitely worth visiting. For example, every third Saturday of the month (June, July, and August), there is a flea market where you can buy quite interesting things. Or Balloon festival held in early June that will be mainly of interest to the smallest tourists. Don't miss important events on the posters, as many curious music festivals with the participation of world stars are held in the summer.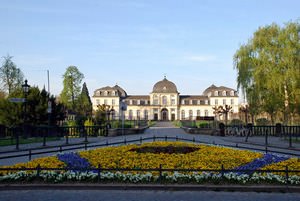 In August (usually at the end of the month), Beethoven's native city invites its guests to visit museums both during the day and at night, for completely free of charge. All this is possible thanks to the action known as the European Night of Museums. There are enough museums in Bonn to visit this city during the event - Zoologisches Museum Konig, Rheinisches Landesmuseum, Arithmeum, and Deutsches Museum. Another popular event is Bonn Videonale festival. The event lasts a month and a half, from the middle of April until the beginning of April. Here you can see both novice stars and celebrities who have already made a name for themselves.
Bonn will be surely loved by travelers who enjoy outdoor activities, fans of nightlife and people who adore visiting shopping malls and stores during their vacation. Fans of shopping will …
Open
On November 11, the whole of Germany celebrates St. Martin's Day dedicated to Martin of Tours. People traditionally light pumpkin lanterns with a candle inside and organize colorful parades often headed by a horseman dressed like a Roman soldier. The festival ends with lighting a fire and treating children with the so-called Weckmann - a yeast dough figure. It is a family holiday that is accompanied by the preparation of traditional special dishes such as baked goose and sweet treats.
December is the time of the biggest fair. Of course, we're talking about Weihnachtsmarkt. It opens in the central streets of the city (Münsterplatz, Bottlerplatz, Friedensplatz, Windeckstraßem, and Poststraße). At this time, the whole city, especially the fair venues, turn into a village where Weinachtsmann seems to live. Especially if you attend the fair at night when a unique fairy-tale atmosphere makes you feel like a child. The event begins on Friday before the traditional German holiday of Totensonntag and lasts until Christmas.
This guide to traditions and festivals in Bonn is protected by the copyright law. You can re-publish this content with mandatory attribution: direct and active hyperlink to
www.orangesmile.com
.
Reference information
Cathedrals and basilicas near Bonn
♥ Münster Basilika St. Martin, Bonn, 0 km from the center.
On the map
Photo
♥ Pfarrkirche St. Elisabeth, Bonn, 1.4 km from the center.
On the map
Photo
♥ Basilika St. Severin, Köln, 23.3 km from the center.
On the map
Photo
♥ Basilika St. Maria im Kapitol, Köln, 24.5 km from the center.
On the map
Photo
♥ Basilika Sankt Aposteln, Köln, 25.1 km from the center.
On the map
Photo
♥ Dom St. Peter und Maria, Köln, 25.2 km from the center.
On the map
Photo
♥ Basilika St. Kunibert, Köln, 25.6 km from the center.
On the map
Photo
Survived castles around Bonn
♥ Castle 'Palais Schaumburg' , 1.9 km from the center.
On the map
Photo
♥ Castle 'Godesburg Festung' , 6.4 km from the center.
On the map
Photo
♥ Castle 'Augustusburg and Falkenlust Palaces' , 17.2 km from the center.
On the map
Photo
♥ Castle 'Ehreshoven Castle' , 31.7 km from the center.
On the map
Photo
♥ Castle 'Homburg Castle' , 36.8 km from the center.
On the map
Photo
♥ Castle 'Gimborn Castle' , 44.9 km from the center.
On the map
Photo
♥ Castle 'Schloss Burg near Solingen' , 45.1 km from the center.
On the map
Photo
Colors of Bonn in photos
Search for popular touristic sites on Bonn map
Traditions and festivals in cities around Bonn
Cityguide on traditions, mentality and lifestyle of people in Bonn. Learn the best periods to visit Bonn to discover its soul - authentic festivals, events and celebrations. We will also reveal the interesting habits, attitude towards the world and to tourists in Bonn.