Cuisine of Bonn for gourmets. Places for dinner - best restaurants
The opening of Lebanese cuisine restaurant Arabesque in Bonn took place in 1990. The dining facility has immediately won love and dedication from both local residents and tourists. The design of the restaurant's hall is reminiscent of an oriental fairy-tale palace. It is decorated with colorful carpets and large sofas with soft cushions, and elegant furniture made of precious wood. Besides a large selection of meat dishes, the restaurant's menu is full of delicious vegetable fares, interesting salads and desserts. You will find well-known restaurant Meredo not far away from the city center. It specializes in cooking South American food. Here you can always order a juicy steak, fresh vegetables, salads, fish stuffed with herbs, various sorts of meat and seafood. The restaurant will be surely loved by vegetarian food adherents. If you're a vegetarian, do not forget to ask a separate menu.
Pedestrian streets of Bonn are renowned for the abundance of stores. Lovers of shopping will be interested in strolling along Sternstrasse. The length of this street is 250 meters. In fact, …
Open
Without any exaggeration, Efes restaurant can be called the best dining facility in Bonn dedicated to Turkish cuisine. All dishes here are prepared in full accordance with classic recipes that have remained unchanged for many centuries. On weekends Efes becomes the venue for engaging dance performances and concerts. The restaurant is so popular that tables should be reserved several weeks in advance. Bonner Brasserie is a cozy restaurant that is a perfect destination for a family dinner or rest of a large company. This restaurant is distinguished by quiet and pleasant atmosphere. If you want something livelier and more energetic, go to the restaurant's bar that is always very cheerful and noisy. Every night this bar attracts fans of delicious beer.
Baffo is a restaurant that specializes on cooking Italian cuisine. This dining facility is attractive not only because of its excellent menu, but also because of a rich selection of wines. Different sorts of this noble drink are delivered from various Italian provinces. Many signature dishes in Baffo are cooked in full accordance with home recipes. Therefore they are truly unique and delicious. Copyright www.orangesmile.com
Bonn is a former capital of Bundesrebublik Deutschland and this is the reason why you should definitely visit this rather small town with population around 300 thousand of people. The town …
Open
Bonn is home to a huge number of pubs, the most frequently visited of which is Bla. Simply every evening in this pub can become a unique one. Here visitors can become the participants of a noisy theme party or watch exciting sports matches. Only one thing remains the same - great beer and a rich selection of snacks and fares for every taste. The pub is particularly popular among fans of table football – the bar is equipped with several tables especially for fans of this popular game. These are just a few popular destinations in Bonn, visiting which will be very interesting and entertaining either for ordinary travelers or for fans of gastronomic tourism.
Cafes and restaurants of Bonn will please guests with their affordable prices. Even the most prestigious and expensive restaurants are still quite affordable and moderately priced. The majority of local restaurants take into consideration the main category of visitors in Bonn - numerous students. Because of that, the majority of food is simple and inexpensive. The Old Town has the highest concentration of popular restaurants specializing in the regional cuisine. There are also excellent restaurants in the area of Sudstadt. As a rule, the most expensive and prestigious restaurants are open on the banks of the Rhine River, but even those establishments will surprise their visitors with moderate prices.
OrangeSmile.com recommends best hotels in Bonn
Family holidays in Bonn should definitely begin with a visit to the Wildpark Venusberg. This is a real part of wildlife which is located right in the city. In this zoo, you can see the …
Open
Bönnsch beer is one of the main gastronomic symbols of the city. Tourists will not be able to find it in other cities across Germany. Not far from the Friedensplatz Square, there is a restaurant with the same name. Besides the delicious locally produced beer, the restaurant offers many popular regional cuisine dishes.
Himmel un Ääd remains one of the most popular national delights in local restaurants. It is a peculiar type of mashed potatoes cooked together with apple mousse. Himmel un Ääd is usually served together with traditional blood sausages and decorated with roasted onion. In the national restaurants of Bonn, travelers will find many interesting meat dishes that are usually served with no less interesting potato garnishes.
Each year Bonn becomes home to an engaging festival, which attracts a huge number of tourists. This is the famous fireworks show called "Rhine in flames". Incredibly beautiful fireworks, …
Open
All kinds of sausages have become an essential part in the menus of local restaurants and cafes. Big sausage can be eaten raw, while smaller sausages are usually roasted. Tourists wishing to try authentic local food will find it not only in local restaurants and pubs but also on the Market Square. Every day, several food carts appear on the square. These carts offer popular "street food". Here, visitors will be able to purchase big packs of fried potatoes, traditional roasted sausages, fresh vegetable salads, pastries, and many popular desserts.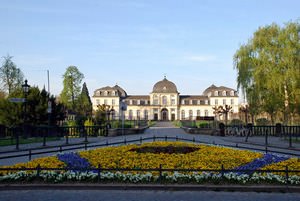 Sweet tooths should not forget that besides classic pastries and cakes, they can try and buy internationally famous Haribo candies. The factory that produces the legendary gummy bears is located in Bonn. These small gelatin candies are currently sold in many countries of the world. In Bonn, there are several souvenir shops that specialize in selling Haribo bears. They offer excellent sweet souvenirs for friends and family.
This guide to cuisine and restauraunt in Bonn is protected by the copyright law. You can re-publish this content with mandatory attribution: direct and active hyperlink to
www.orangesmile.com
.
City tours, excursions and tickets in Bonn and surroundings
Where to go for dinner in Bonn: recommended cafe and restaurants
Eleven
Where: Rua Marquês de Fronteira, Bonn; Telephone: +351 213 862 211;
Bica Do Sapato
Where: Cais da Pedra à Bica do Sapato, Bonn; Telephone: +351 218 810 320;
Terreiro Do Paço
Where: Praça do Comércio, Bonn; Telephone: +351 210 312 850;
La Moneda
Where: Rua da Moeda 1C, Bonn; Telephone: +351 213 908 012;
Martinho Da Arcada
Where: Praça do Comércio 3, Bonn; Telephone: +351 218 879 259;
Casa Do Alentejo
Where: Rua Portas de Santo Antão 58, Bonn; Telephone: +351 213 405 140;
Reference information
Michelin-starred restaurants in Bonn
♥ Restaurant 'Oliveto' Bonn. Type - Italian. 0.9 km from the center.
On the map
Photo
♥ Restaurant 'Kaspars' Bonn. Type - Creative. 1.1 km from the center.
On the map
Photo
♥ Restaurant 'EQUU' Bonn. Type - Modern cuisine. 2.7 km from the center.
On the map
Photo
♥ Restaurant 'Bistro Remise' Bonn. Type - International|Country. 2.7 km from the center.
On the map
Photo
♥ Restaurant 'Yunico' Bonn-Oberkassel. Type - Japanese|Modern cuisine. 4 km from the center.
On the map
Photo
♥ Restaurant 'Godesburg' Bonn-Bad Godesberg. Type - International. 6.5 km from the center.
On the map
Photo
♥ Restaurant 'Halbedel's Gasthaus' Bonn-Bad Godesberg. Type - Modern French. 6.8 km from the center.
On the map
Photo
♥ Restaurant 'Rheinterrassen' Königswinter. Type - International. 9.1 km from the center.
On the map
Photo
♥ Restaurant 'Petit Lion - Weinstube Krone' Königswinter. Type - Asian influences. 9.2 km from the center.
On the map
Photo
♥ Restaurant 'Clostermanns Le Gourmet' Niederkassel-Uckendorf. Type - Creative. 9.8 km from the center.
On the map
Photo
Bonn in photo set
Searching where to eat - restaurants and cafe on Bonn map
Cuisine and restaurants in the neighbours of Bonn
Travel notes on best cuisine and restaurants of Bonn (Germany) on OrangeSmile.com. Famous recipes and traditional dishes and courses in Bonn restaurants. Where to eat - our recommendations on popular places in Bonn, where you can taste delicious meal and also spend a good time with your friends.