City break in Berlin. Active leisure ideas for Berlin - attractions, recreation and nightlife
Fans of outdoor activities will be delighted to see the choice of entertainments offered in Berlin. If you enjoy the feeling of thrill, we suggest visiting Berlin Panic Room. In addition to haunted halls and houses this place has a museum dedicated to World War II. If walking is not for you, there is trishaw parking not far from Brandenburg Gate and Gendarmenmarkt Square. A rickshaw will bring you to a leisure walk through the city, so there's no wonder why it has become one of the most popular entertaining activities among the guests of the city.
Each district of Berlin is full of different monuments and sights, each of which is unique and may be very interesting to curious travelers. The eastern part of the city is the location of …
Open
Zoo Aquarium Berlin is open to its guests every day. Here you can explore the beauty and variety of marine flora and fauna. The botanical park called "Gardens of the world" never ceases to strike visitors with its beauty. The park is divided into several themed zones, each of which features plants and flowers brought from various parts of the world. Here you will see Italian and Japanese gardens, as well as an unusual garden maze. Travelers with children will be interested in visiting an entertainment complex named "Jacks Fun World". Here they will find rides for small kids. Young visitors are always welcome to take part in exciting games or take pictures with funny clowns and fairy tale characters. Adults will surely prefer places like Adlon Day Spa, which is considered the most prestigious and well known spa center in the city. Here you can take mud baths, enjoy massage, or simply have some rest near a huge swimming pool.
The choice of nightclubs in Berlin is so wide that it's even hard to make a choice. We can say for sure – clubs of this city will please fans of different musical directions. The club with an interesting name "90 ˚" is rather popular among both tourists and local people. This club is also considered one of the most prestigious entertaining facilities of the city, so before visiting it guests will need to choose the right outfit. The styles of music played in the club are changed daily, so every evening will be an unforgettable one. Boudoir Club was opened in an old soap factory. The club's interior reminds of the style of the 20s of last century. Currently the club hosts not only musical performances and discos, but also art exhibitions, as well as fashion shows. Knaack Club is a regular place of performances of most popular DJs. On Fridays Knaack turns into a territory of love as best romantic evenings are held here. If you are a fan of rock music, Mondays is your day. Copyright www.orangesmile.com
1. Tourists, who prefer to save on everything during their rest, should purchase a handy pass «Berlin - Potsdam Welcome Card». The pass provides discounted rates in public transport, …
Open
Do not think that all the entertainment in Berlin is finishing with the beer in the pubs. Actually, the capital offers a wide range of extreme entertainments to the tourists and local people who are eager to fill their bodies and mind with the adrenaline rush. If you are the fan of extreme sports, then you must try the almost free fall from the roof of Park Inn Hotel at Aleksanderplatts Square. The attraction of Base-Flying is a jump from the height of 125 meters down. The falling lasts about 10 seconds, and the price for this pleasure will cost you almost €100. If you feel comfortable in the air already, you can try to take the following step - to have dinner in the air. During Dinner in the Sky, you will be able to eat traditional food, hanging on the crane of the 50 meters high. Such entertainment can be found in Berlin, Munich and Cologne.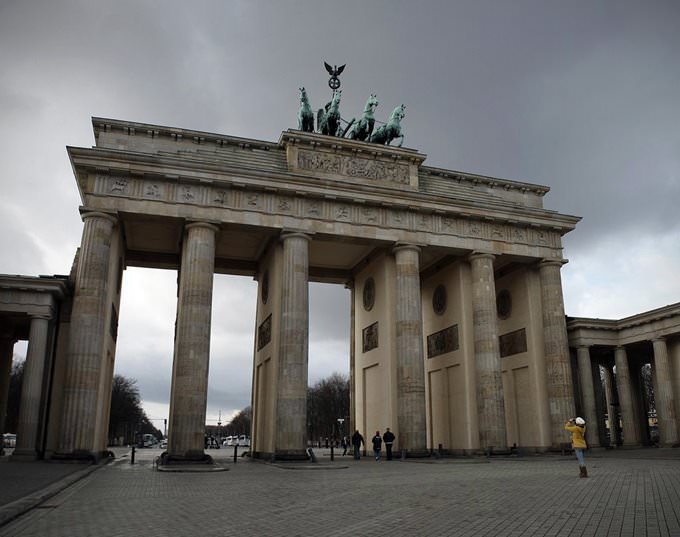 One of the best ways to get acquainted with Berlin and its landmarks is to rent the bike and take some interesting tours. Here in Berlin, you will find a lot of bicycle paths; their total length completes 1000 kilometres. One of the best and the most favourite tracks among the tourists is a bicycle path on the coast of the river Spree. The route is about eleven kilometres long leads towards picturesque green areas, near the residence of the president of Germany, the Bellevue Castle, through the area Charlottenburg, which is popular among artists. Another amazing direction you can discover is the route along the former Berlin Wall.
Berlin is one of major international hubs, so there are always many travellers there, despite of a season. However, experienced travellers can still find unusual entertainments in the city …
Open
Going to Berlin with family or friends? And don't know where to spend a good time here? Our strong advice is to visit the Tropical Island Resort the biggest aquapark on the planet Earth. This aquapark "Tropical Island" is located in the town of Briesen, which is 60 kilometres from Berlin. It is the man-made natural zone, which has been arranged in the building of the former military base. Nowadays this place turned into the modern centre of water entertainments and sports. In a shed, there is the real tropical resort with palm trees, lianas, pools and straw huts. During the whole year, the constant temperature not below +25ºC, and waters +28ºC is maintained in aquapark. The cost of the visit to Tropical Islands is up to €35. Children's tickets will cost up to €25. The similar prices are valid for a Spa complex and a wellness zone. The complex tickets including the visit of aquapark, Spa and fitness zones, will cost €40.
This guide on active recreation and leisure in Berlin is protected by the copyright law. You can re-publish this content with mandatory attribution: direct and active hyperlink to
www.orangesmile.com
.
City tours, excursions and tickets in Berlin and surroundings
Recommended places for active recreation and leisure in Berlin
Greenwich
Where: Gipsstr. 5, Berlin; Telephone: +49 (0)30 2809 5566; More info: (mitte);
Würgeengel
Where: Dresdener Str. 122, Berlin; Telephone: +49 (0)30 6155 560;
Victoria Bar
Where: Potsdamer Straße 102, Berlin; Telephone: +49 (0)30 2575 9977; More info: (tiergarten);
Weekend
Where: Alexanderplatz 5, Berlin; More info: (mitte);
Watergate
Where: Falckensteinstr. 49 a, Berlin; Telephone: +49 (0)30 6128 0396; More info: (kreuzberg);
WMF
Where: Klosterstrasse 44, Berlin;
PURO Lounge
Where: Tauentzienstr. 11, Berlin; Telephone: +40 (0) 2636 7875;
Solar
Where: Stresemannstr. 76, Berlin; Telephone: +40 (0)163 7652 700;
Sites around Berlin from our surveys on extreme Earth places
AquaDom
From the series
"Top 16 Most Exotic Elevators and Lifts in the World"
Check on the map:
Distance from Berlin center - 1.1 km.
The strange elevator was opened in the hotel in 2003. It is the result of the joint project of the companies International Concept Management, Inc. and Reynolds Polymer Technology. According to the calculations, the construction of the elevator cost almost 13 million euros. The elevator in the chic hotel of Berlin is two-storey. From the beginning it should serve not only as a practical element of the building, but also to decorate the interior. …
Read further
AquaDom
From the series
"The Coolest and Largest Oceanariums in the World"
Check on the map:
Distance from Berlin center - 1.1 km.
Caring for such an unusual object of decoration requires considerable time from the hotel staff, including labor and costs. Since opening of the aquarium, the staff of the luxurious hotel includes divers who clean the aquarium and feed its inhabitants. The best way to appreciate the most unusual aquarium in Germany in all its glory is to be a guest of the upscale hotel. A huge tank is set outdoors. There are cozy seating areas, as well as some windows and elegant rooms overlooking a courtyard. …
Read further
Panorama Punkt
From the series
"Breathtaking High-Altitude Observation Points with Panoramic Views on Cities"
Check on the map:
Distance from Berlin center - 1.2 km.
Panorama Punkt is equipped with special information stands that make a tour even more informative. One floor below, there is a wonderful coffee shop with a huge selection of traditional German desserts. Its hall features panoramic windows. Many travelers feel that fencing hinders in making nice photos. Attendants strongly recommend not to push cameras behind bars, because many visitors of Panorama Punkt have already lost their precious equipment doing that way. …
Read further
Photogallery of picturesque Berlin
Search for active leisure and attraction spots on Berlin map
City break ideas for neighbours of Berlin
Guide to your best city break in Berlin - popular places for recreation and leisure. Things to do during the day in Berlin - attractions, parks, beaches, aquaparks, racing tracks, biking trails or waterski. Recommendations (with addresses, phone numbers and links) where to spend your time in the evening (bars, discos, clubs, etc.). We share some good ideas and the question 'What to do in Berlin?' disappears immediately.