Preparing your trip to Turin: advices & hints - things to do and to obey
1.The fastest way to get from the airport to the downtown is a taxi; services will cost about 30 euros. It is also possible to travel by public transport, i.e. train, but in this case the trip will take much longer, about 40 minutes.
2. Tourists who are planning to use public transport have to purchase tickets in advance. You can buy them at special kiosks close to all stops of public transport. Heavy fines are charged for traveling without ticket.
3. There is an extremely mild climate in Turin; the warmest months of the year are July and August. Spring is rainy, so fans of excursions and outdoor recreation are recommended to plan a trip in other time of the year.
4. Travelers who expect to devote a lot of time to cultural activities and excursions should definitely buy a special tourist card. It is sold in tourist centers and some hotels. The card entitles you to significant discounts at various cultural events.
5. Going to a local restaurant it's worth considering several important features. It is customary to start a meal with an appetizer; it can be Cisano or martini vermouth, in addition to the aperitif guests will be offered snacks or canapes. Copyright www.orangesmile.com
6. It is customary to leave a tip for good service in restaurants and cafes; 10% of the bill would be sufficient. Even if a service charge is included in the total score, it is still necessary to leave a small monetary reward for a waiter.
7. Shoppers should be aware that prices in local stores and shopping malls are quite high;however, the quality of the goods remains high. Those who expect to save money are recommended to go to one of local markets. On weekdays, most of the markets work in the morning and on weekends - in the evening.
The best example of the Renaissance architecture is the Cathedral; it is considered a religious landmark of global scale. Construction of the Cathedral was completed in 1498. Its walls house …
Open
8. Fans of event tourism would find interesting to visit the city in September, as that month Turin hosts an interesting music festival. In January, the traditional carnival attracts travelers.

Preparing your trip to Turin: advices & hints - things to do and to obey You can re-publish this content with mandatory attribution: direct and active hyperlink to
www.orangesmile.com
.
What to visit being in Turin - unique sights
Savoy Residences in Turin
From the series
"16 Most Fascinating Objects of Unesco in Italy"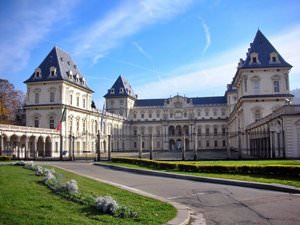 Check on the map:
Distance from Turin center - 0.3 km.
Castello del Valentino resembles a fabulous castle, that's why it is the most romantic. As the previous, the palace was built as a defence and at the end of the 19th century, it was under the threat of full destroy. The in-time reconstruction has saved this historical building and today the inner yard turned into an interesting botanic garden. The Palace of Venaria is an important part of the complex. It is surrounded by a splendid garden with old fountains and sculptures. …
Read further

Live House in Turin
From the series
"Unique Living Houses"
Check on the map:
Distance from Turin center - 11.8 km.
The very design of the building is also quite unique. It has an asymmetrical shape, and below you will notice unusual props that resemble roots. The facade is decorated with wooden shingles, which also make the buildings look natural and quite striking. You can admire the house for ages. Some compositions feature impressive scale. The height of the largest is 8 meters. …
Read further

City tours, excursions and tickets in Turin and surroundings
Car rental on OrangeSmile.com

Hilton builds third luxury hotel in Kyoto
The project organizers note that the new Kyoto hotel is perfect for both business and leisure. Just to remind you, the opening of the Roku Kyoto hotel took place in the city in 2021. The luxury hotel also never ceases to amaze guests with its exquisite atmosphere and variety of services. It is close to famous attractions like Kinkaku-ji Temple, and Shozan Resort Kyoto Pavilion is a short walk from the hotel.
Read this
29.09.2023
Photos of Turin
Services search (pharmacy, police, parking, banks) on Turin map
Tips for the cities around Turin
Travelling to Turin - advices and tips. What should be provisioned in advance, the rules you might want to follow, and the things you better avoid doing in Turin. We help you to make your trip smooth and easy, with no unexpected surprises.